Money isn't something one can throw away easily especially in this day and age, and it's the same when moving house. Recently, our team has made a competition research and examined the service prices with the actual benefits people get for each pound they pay.
A customer would always spare a fine glance at the lowest price rates, but our research showed it might actually be a lot cheaper to avoid the mind-blowing low prices and consider a more averagely priced moving company. With this infographic, we state the main reasons (explanation below).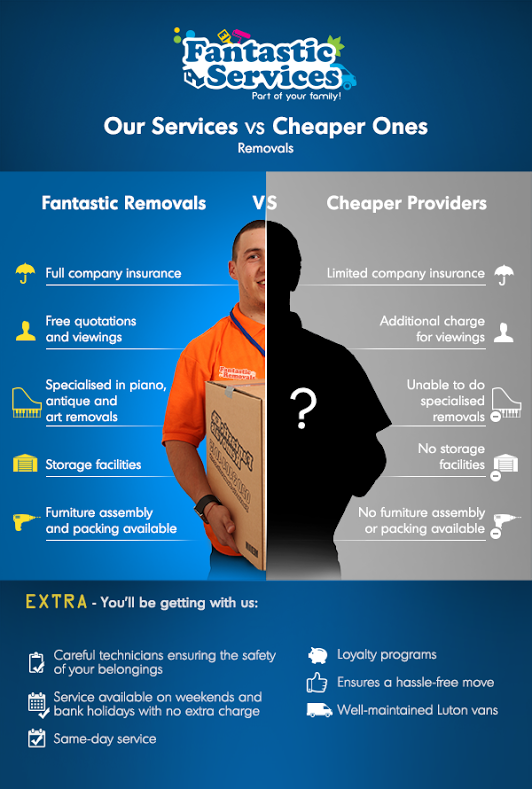 So, what are the main points?
#1. To Insure, or Not to Insure?
A cheaper moving provider offers either limited, or no insurance, which significantly lowers the end price, but heightens the risk of damage, loss, or theft.
An averagely priced moving provider would offer a full (All Risk) insurance, which slightly inflates the end price, but gives a guarantee for each item.
Cheaper isn't always better, because accidents can happen to anyone. Limited insurance is basically the minimal standard, which covers only damages directly done by mistakes, or neglect of the staff, while All Risk insurance is full coverage of damage by breakage, vehicle accidents, whether trouble, lost items, theft, etc.
#2. Trained Technicians, or Just Two Strong Arms?
A cheaper moving provider wouldn't spend resources on training the staff in advance or teaching them to handle odd items.
An averagely priced moving provider trains the movers in advance, before letting them deal with actual customers.
Cheaper isn't always better, because not preparing the moving technicians in advance can start a chain of other problems. If it's fine for anyone with strong arms to handle the work, add the limited insurance, and damages are a lot more common.
Not to mention this is also a way for shady unregistered companies to emerge, including ones harbouring illegal immigrants. They can be recognised by the lack of stamped uniforms, not speaking the language and overall rude attitude. But, of course, anyone should be able to avoid those before actually meeting them in person.
#3. Specialized Moving, or Just Transportation?
A cheaper moving provider wouldn't offer many additional services, such as piano removals, antique and fine art moving, storage, furniture assembly, etc.
An averagely priced moving provider would offer those services and more, at the best possible rates, and would know how to combine them to make the moving experience as smooth as it can be.
Cheaper isn't always better, because unless a client is ready to do everything other than transportation by themselves, additional services are very much needed for moving house. Also, averagely priced moving providers offer discounts, when combining services and can be flexible with time and custom proposals.
So, what did we learn?
Knowing the big picture, it becomes obvious that cheap solutions very often turn out a lot more expensive, once you add the costs of possible damage or lost items. Here, at Fantastic Removals, we work hard to take the stress away and for that, we are non-stop investing to improve the quality of our services while keeping the prices as affordable as possible.