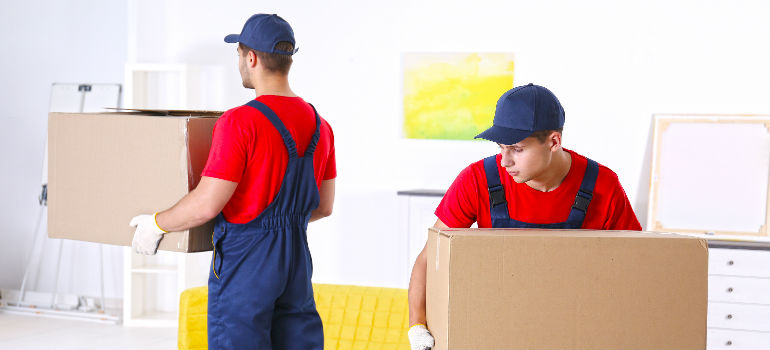 Even though many people say 'it won't happen to me,' moving scams are a thing. That is why you need to know how to avoid them and what are the major signs that a company is planning to trick you.
Recently we read about a family from Wolverhampton becoming a victim of a moving scam – all their possessions were literally stolen. All they were left with is a TV which they transported on their own. That's why you need to know how to not get scammed by movers, which are the main bad practices, and the major signs that should ring a bell for a possible unethical company.
How to Avoid Getting Scammed by Fake Movers
In order to prevent losing your possessions or money to unprofessional companies, you need to follow few simple tips.
Get a written quote. Most reputable companies on the market will provide you with a written estimate including both the price and the service. However, if they try to explain that a quote through the phone is 'just enough,' be extra careful! This could be a sign that they might charge you extra without warning you.
Read reviews in trusted websites. Internet has made it much easier to book all kinds of services. The Web also gives you the option to see how other customers have reviewed specific companies.
Research for previous scams. In order to see whether there are scam reports from a specific company, you need to spend just one or two minutes on Google. Simply type the company's name with 'scam' at the end of your search query. This will show you if there are any complaints regarding the particular removals company that you've chosen.
Ask specific questions. If you want to have peace on your mind, make sure to leave no question unasked. This includes questions related to the relocation process, the pricing, the vehicle, and everything else. In addition, keep in mind that scammers are not good with specifics. So, if you notice that your moving-related questions are giving them a hard time, then they probably aren't the professionals you should hire.
Look for a satisfaction guarantee. There are many websites that show you quotes of nearby removals companies. However, you should pay extra attention to such websites, because, in the most common case, they give no guarantees whatsoever. Instead, search for the website of a specific company in order to see their real prices and vehicles.
Don't pay any money without a document. If any problems occur, you should have your claims backed by a signed document. Throughout the years, we've heard of many scams, including companies asking their clients to sign blank papers. Needless to say, don't do that! Instead, always make sure that the company gave you a signed document that explains the service, the price and has the firm details on it.
The Мost Common Types of Moving Scams
The only way to protect yourself from unethical movers is to know how they work. These are few of the generally known unprofessional practices.
Load and go. It works quite simple. The movers come, load your possessions, and never deliver them where you requested – classic theft. It sounds too simple, but the trick lies in preparation. In order to do that without any consequences or traces, the thieves give fake documents, quotes only through the phone, promote their 'professional services' on places like Craigslist or Facebook. Even though it's not any guarantee whatsoever, the existence of an official company's website is a trust signal that you should keep in mind.
'Van is too small.' This scam has two varieties. The first one is that the van is too small for all your belongings and you need to pay extra. Don't fall for that. In order to avoid it, all you need to have is an official quote on paper. The other case is if the movers tell you that they need to leave some of your possessions first and then come back for the others, because 'there are more things than they expected, and the van is too small.' In the most common case, this means that they will charge you extra. However, if you noticed that they loaded all expensive and precious stuff first, they might not come back at all.
'Hostage.' Sadly, this scam is fairly common. What it involves is stealing your possessions and asking for money in order to give some of them back to you. 'Why not just sell them' – you might ask. One of the reasons is that they might blackmail you for things that have sentimental value. Needless to say, pawnbrokers won't pay them anything for family pictures or the first books of your children.
Some 'extra charge.' As you can probably guess, this is the most common type of moving scams. One of the ways is to tell you a couple of days before the move that they have a lot of work and can't handle your move if you don't pay them extra. This leaves you with two options – to hire another company or to pay the extra fee. If you go for the first option, the other company will give you a higher quote, because of the fact that you book them on short notice. This means that you will either pay the additional charge to the scammers or hire another company that will demand a very high price for the job. Another unethical way to squeeze more money from you is if the team starts complaining and requests something extra. Usually, people are so nervous with the move that they'll pay more in order to get everything done quickly. You can avoid all this very easy – request an official quote on paper.
Book Fantastic Removals for a Quick Relocation
Enter your postcode to view our rates and availability in your area.
Important Questions to ask your Removal Company
In any stage of the moving process, it's always imperative that you ask as many questions as you can in order to find out all the essential information needed to help your move. This set of questions should give a good indication of what to ask your removal company to avoid any misunderstandings.
Do you offer insurance?
How long will my removal take?
Is there a limit on the amount of stuff you can take?
Are there any extra costs and what are they?
Do I have to sort out parking?
Are your members of staff trained and professional?
What payment method should I use?
Do you have a checklist to keep a record of everything?
Signs of a Possible Moving Scam
Do you have suspicions that a moving company is trying to cheat you? Here are few of the clues you should keep in mind.
Low price. Everyone knows that quality is proportional to the price. If you get a low quote on the phone, this should ring a bell in your head. Refer to the tips on how to avoid getting scammed in the beginning of this blog post.
Phone quote only. You should request an official estimate on paper and check the company online. If they refuse to give you a signed quote or you notice their negative reviews on the Internet, it's better to choose another company.
No official website. There are many companies that promote their services on places like Craigslist or Facebook groups. There is a high possibility that those aren't real companies. Instead, they often turn out to be a team of two or three unqualified movers. Needless to say, it is too risky to trust such 'experts.' The easiest way on how to not get scammed on Craigslist is to hire a reputable moving company with an official web page instead of falling for a suspiciously low price.
What to Do If You're a Victim of a Moving Scam
Of course, the first thing you should do is contact the police. Nowadays, the authorities have modern technologies that largely help in various crimes. Therefore, the chances of finding your possessions aren't slim to none for sure.
In addition, there are many websites where you can report unethical companies of any kind. There are even websites like Moving Scam where you can notify others specifically about cheating removals companies. Most companies also have an online presence in various websites that encourage leaving a testimony.
When it comes to your belongings, don't count on amateurs. Instead, spend a few hours to properly check the market and the companies you got quotes from. Better safe than sorry!
Image source: Africa Studio / shutterstock.com