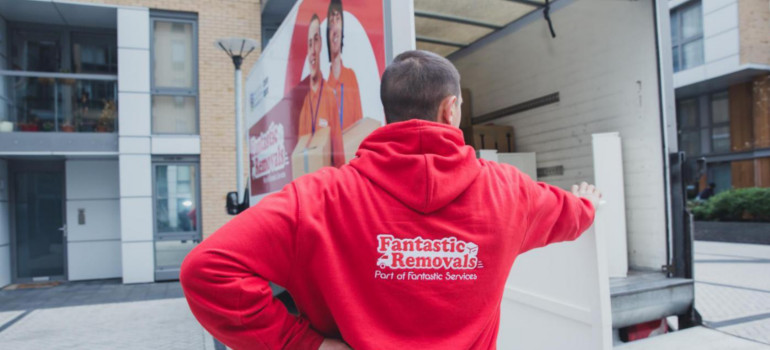 Image license:CC BY-SA 4.0 / Image Owner: Fantastic Removals
Here is one common problem for middle-class households – there is too many stuff you don't know where to put or what to do with. Maybe your property is not big enough, or maybe you have no idea why you liked it in the first place on the day you bought it.
Either way, it's taking up space and doesn't serve any purpose. But at the same, you're not sure if you won't need it in the future, so can't bring yourself to part with it forever. The solution to this problem is professional storage.
What Does the Storage Service Entail?
The storage service, in general, gives the customer (you) temporary rent over a safe and secure storehouse, which can be used for anything you need to keep away from your home, but still in your possession. It's that simple and easy to purchase.
Check also:

How to Get Your Security Deposit Back
Who Needs Storage?
Home Owners
Storage is mostly needed by the house owner, who move to a new property. Usually, the main reason is to lighten the weight of their belongings when moving, which can also bring down the price when using a professional moving company. Or simply to be burdened by fewer items, moving house is never a walk in the park.
Business Owners
Another large group of people who can benefit from this service is business owners for storing archives, machine equipment for later use, and of course, this can also be an additional service for an office move.
Students
This is also an ideal service for college and university students, who leave their rented places and go back home for the summer. Since no one wants to take all their belongings on their back, a safe and secure storage space is the best option.
Check also:
Keep Your Belongings Safe and Secure with Fantastic Storage Service
The Fantastic Removals team has helped thousands upon thousands of customers to move to a new place. While meeting with all these people, we noticed how many had doubts about bringing a certain piece of furniture to their new home. Sometimes, it was a bulky collection that might not find a place in their new property.
This is why we put our customer's concerns first and are now introducing a storage service as an addition to the main moving house service.
Fantastic Removals London for a Quick Relocation
Enter your postcode to view our rates and availability in your area.
FAQ About Fantastic Storage Service
Are you insured?
Yes, fully.
Are the storehouses you offer safe?
Yes. Your items will be placed in secure wooden containers and stored in a CCTV monitored storehouse.
How will you do the job?
After you require our storage service, we will arrive at your house to collect the items you need to be stored. Then, we will deliver them in the storehouse, where we will proceed to pack the items into a wooden container. The sub-contractor will forklift the wooden container to a safe area. On the day of return, our moving team will collect your belongings and deliver them to your designated address.
How can you guarantee no one will access my stuff?
When your box is sealed, there will be a special seal put there to ensure no one had access to it. Also, the storehouse is always monitored.
What is the minimum time period to use the storage service?
Seven days.
What if I use the storage for less than seven days?
You will get a refund for unused storage.
What if I need access to the container?
You can access your belongings for limited hours of the day, and the access is always monitored. However, you will be charged an additional fee for having to re-seal the container again.
Are there any items you won't accept for storage?
We won't accept hazardous materials, plants, food and some other additional items.
What if I decide I don't want my items returned?
If you wish for us to dispose of your items, we can do so by offering you our waste removals service.
Do you provide the packing materials?
Yes, we can provide you with anything you need to pack, we can also do the packing for you for an additional charge.
What if I want to cancel my booking?
If you wish to cancel, you should let us know 48 hours before the appointment. Otherwise, you will be charged with a cancellation fee.
Do you offer same day service?
Yes, but only if you make a booking before midday.
More and more people who live in big cities are in need of storage, because of the constant moving and the dynamic way of life. With The Fantastic Removals' new Storage service you can now keep your belongings safe and secure.