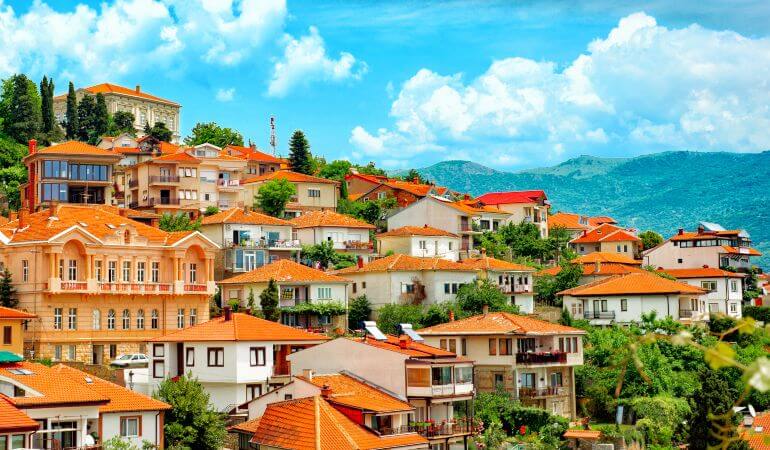 Capital City: Skopje
Population: 2.077 million
Official language: Macedonian, Albanian
Commonly spoken languages: Macedonian, Albanian, Serbian, Turkish
Currency: Macedonian denar (MKD/den)
Exchange rate to pound: £1.00 = 71.89 den (03.09.2021)
The Republic of North Macedonia is a small landlocked country, sharing borders with Serbia, Bulgaria, Greece, Albania, and Kosovo. It is famous for its stunning lakes dotted around the country, beautiful mountainous landscapes and numerous heritage sites. Although the country has been spared from war conflicts like its neighbouring Balkan countries, North Macedonia has experienced some political instability. Even so, it has been ranked the 4th 'best reformatory state' with the recent introduction of economic and education reforms.
Where to live in North Macedonia
Who wouldn't want to settle down in a charming small country, with enchanting lakes, diverse cultural heritage and a low cost of living? That's right, North Macedonia is just that. Moreover, living there you are already at the ideal location if you wish to travel around Europe. The majority of British expats are located in the capital city Skopje as the city offers diverse work opportunities and a vibrant atmosphere.
Another town worth mentioning is Ohrid, a UNESCO site, known as the "Jerusalem of the Balkans" because in the past it used to have 365 churches – one for each day of the year. And if you had thought that as a landlocked country, North Macedonia won't have beaches, you would be wrong. Lake Ohrid is not only among Europe's deepest and oldest lakes but also packed with shores perfect for sunbathing and relaxation.
Other beautiful towns you can settle in are Bitola, Tetovo and Prilep. But for the influencers and workaholics that can't go without their mobile phones and laptops, it would be good to know that the Internet connection is excellent almost everywhere, even on the intercity roads.
How to become a resident of North Macedonia
Before entering the country make sure to check the current Covid-19 regulations as they change constantly. You do not need a visa to enter North Macedonia and stay there for 90-days within a 180-days period. However, within 24 hours of your arrival, you are supposed to register your place of residence at the local police office. To simplify the procedure, the Ministry of Internal Affairs of North Macedonia has made it available to apply online at their website and visit a police station only to collect your registration card for foreigners. Make sure to keep that card always with you – it is your proof of entry. If you are staying in a hotel, the registration will be done automatically.
However, for longer stays, you will need to submit an application in person for a residence permit. One can be issued to you by the Ministry of Internal Affairs and the good news is that it is known for its short processing time (around 3 weeks). A Macedonian residency can be acquired on the grounds of:
Work/business
Education
Marriage/family unification
Medical treatment
Humanitarian reasons
You can apply for a permanent residence after 3 years of uninterrupted stay in North Macedonia and to qualify for Macedonian citizenship you must have lived in the country for at least 8 years.
The documents you need to submit for a residence permit are:
Valid passport (validity for at least 3 months)
Police certificate
Health insurance
Documents proving the reason for stay secured accommodation and financial stability
Proof of fees paid (£60, £30 for children aged 6-12)
Working in North Macedonia
North Macedonia can be a very attractive destination for many expats as the cost of living there is extremely low compared to many of the European countries. Having said that, the average wage is also low in comparison. Most expats are working for NGOs and English language schools, so if you haven't found a job yet, it is worth checking similar job offers. The country also provides a suitable environment for setting up a business, offering one of the lowest business taxes on the old continent.
In order to be eligible to work in North Macedonia, you are required to obtain a work permit. Such a document can be issued by the Employment Service Agency of North Macedonia and you will already be supposed to have a temporary residence permit.
Transportation in North Macedonia
Generally, the road conditions are good with few exceptions in the rural areas. Some drivers tend to ignore pedestrian crossing and red lights so be careful when crossing a street. The public bus service has improved significantly and it is the most reliable mode of transportation. Buses are also the best long-distance option. As the country is mostly mountainous, railways are limited, but when possible, they are economical and comfortable for travelling. Taxis are also reliable and affordable.
From November to February visibility difficulties can occur at the Skopje airport, which is prone to fog during the cold months. You will need to keep that in mind when planning your winter trips as delayed and cancelled flights are not uncommon.
Driving your own car in North Macedonia
You have decided to drive your own car in North Macedonia? That is a great choice as it will allow you a lot of flexibility. Still, be careful as the road conditions can vary around the country. You can use your UK driving licence or International Driving Permit (IDP), type 1968. If you don't have an IDP, you can get one over the counter at a UK Post Office. You will also need to bring with you your vehicle registration and ownership documents, as well as locally valid insurance. Driving styles and customs can differ from those you are used to in the UK. The limit for alcohol in the bloodstream is lower than in the UK (0.5%).
Education in North Macedonia
UK nationals moving to North Macedonia with their family and children will be glad to know that the education in North Macedonia is on a quite good level. It consists of pre-school, primary and secondary education that is obligatory and free, and higher education. As the country has two official languages and recognises some of the minorities' languages, classes are not only taught in Macedonian and Albanian but also in Turkish and Serbian. For foreigners, there are private schools that hold bilingual classes. Most expats, however, tend to enrol their children in the few international schools located in the capital Skopje. Moreover, the majority of schools are Internet-connected and well-equipped.
Being a student in North Macedonia
Acquiring a higher education degree in North Macedonia can prove to be a unique opportunity for students to enjoy a different way of life. Recent reforms in Macedonian higher education have made it in accordance with international standards. Students can choose from colleges and academies (2-years courses) and universities (4-6-years courses). A Master degree is obtained after 2 years followed by research and writing of a thesis that needs to be approved by a mentor and defended in public. PhD is also available. Classes are taught in the local languages, however, there are degrees taught in English for international students.
For students, who will need to work, part-time education is also possible. The majority of international students attend the European University of Macedonia, which is a private institution and the tuition fees there can be in the higher range. However, student life in North Macedonia is relatively affordable. Most students will need £300-450 to cover their living costs.
Healthcare in North Macedonia
In recent years, the healthcare system of North Macedonia has significantly improved. Since the country is not an EU member, your GHIC will be of little to no use to you. However, North Macedonia and the UK have an agreement according to which British long-term residents and registered expats are entitled to free primary medical treatment. This is possible due to a state-sponsored insurance scheme, covering unlimited visits to doctors and access to primary services. Even so, it is advisable to have adequate medical insurance for treatment that is not covered by the state. Private healthcare is also a possibility.
Takeaways
Do you have an image in your mind of North Macedonia as a postcard destination? It's true that the country can offer an exquisite number of breathtaking landscapes but that is not all. Though some political tension still remains, North Macedonia has undergone many changes and improvements. With a cost of living that is below the average, good quality education and a well-organised health system, the idea of relocating to North Macedonia can be easily seen as a reasonable one.