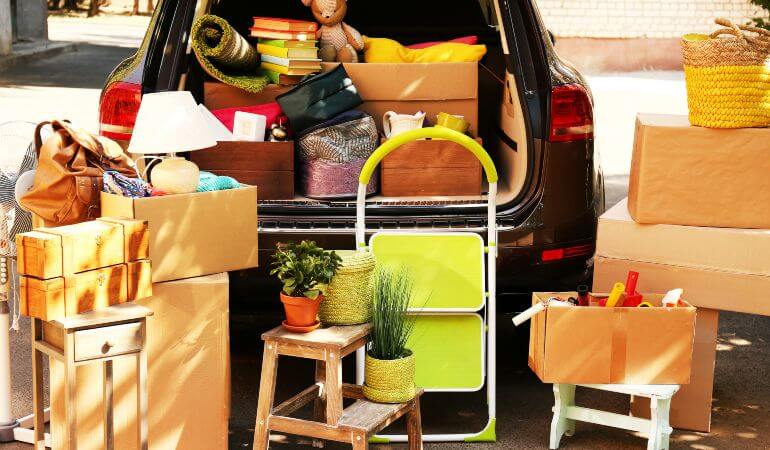 There are two types of people when it comes to moving to a new home. Some are excited that change is coming and can barely wait to start packing. The others are reluctant to move and would postpone even getting the boxes for the move until the very last minute. And let's face it – the first type of creature is rarer than a unicorn!
Regardless of how excited you are that you will move to a new home and how much time you have, there is always that small voice at the back of your mind telling you there is not enough time. The simple fact is – there will be a lot of organising, packing and unpacking.
Given enough time, you can figure it all on your own! But if you must prepare for a last-minute move and you do not want to leave things to chance, then this guide is for you!
So, if you are someone who:
Is selling or leaving a rented property and need to move out
Postponed everything until the last minute due to lack of free time or enough notice
Has been waiting for your new home to be vacated until now
Or if you have any other reasons to undertake a last-minute relocation, then keep reading our 10 tips for a successful moving on short notice!
Make a last-minute moving plan!
Even when moving with plenty of time on your hands can be a very stressful experience. But moving on short notice usually puts us in panic mode all the way. Still, it does not necessarily need to mean bad news! If you are the type of person to procrastinate everything until the very end, it doesn't matter how much notice you've had.
So, now that the move date is near and time is precious, sit down and plan! First, start by assessing your situation:
Take a tour around your home and go through your stuff to see what you have to move and what can stay
Consider purging unwanted items before the move and plan extra time for that. Donate or give away whatever you can and only then throw away what remains
Consider what you can do yourself, what your friends and family can help with and think about whether you will need extra professional help
Make sure to terminate contracts with your utility service providers
Pay all your bills, as well
Book a removal company
Last-minute removal companies may be hard to come by, but with the right planning and a good search, nothing is impossible! As soon as you know more details about your move, especially the date – start looking for a company to accommodate your needs. Try to schedule a company a week before your move and don't shy away from involving them in your relocation process. A professional removal company can take much of the stress out of the move away with their experience and knowledge.
Fantastic Removals is always happy to arrange for a team of removal professionals to assist you, who will come in a van, large enough to fit all your belongings. Whether it is with a month's notice or ask for last-minute moving help – the removalists will handle expertly your relocation requirements.
Arrange for the needed packing supplies
A vital part of every moving process is acquiring the packing supplies you will need to prepare and secure everything for the move. With enough time before your relocation, you can start collecting boxes from deliveries, from friends and from shopping centres. So, if time is pressing, it is best to see what you already have and can use, as well as get your hands on any free moving boxes from small local stores or even from your post office!
The main packing supplies you will need are:
Appropriate type and size of boxes – wardrobe boxes come very handy when moving your clothes!
Packing tape – remember to secure your boxes from all sides!
Labels and a sharpie marker – it is important to label your stuff properly to make your life easier when unpacking and to let the removalists know if they need to handle anything breakable with extra care
Bubble wrap and packing peanuts – to protect fragile items during the move
Blankets or other soft fabric to wrap and protect larger items
It would also be useful to make a list of roughly how many boxes you will need per room and get a few extra, just in case. Most professional moving companies always carry some boxes with them, in case you need a few additional ones on the day of your removals appointment.
Start packing in due time
When the moving day comes, it is extremely important to actually have your possessions and furniture prepared and packed. Try to leave as little as humanly possible for the last minute and get everything sorted before the removal team arrives. You can try out a few packing tips and tricks to complete the task smoothly and without too much stress. Also, to make your life (and move) easier, you can hire a professional packing team. They can arrive on the day before or a few hours before the move and help you with everything. Then, you can simply supervise the process and work through your moving to-do list.
If you are moving to another city or country, it may be best to pack a suitcase with essential items and some clothes, as it may be a few days before the van arrives.
Pack more effectively room by room
If you decide to do it all by yourself, a useful tip is to start packing room by room. If you can't do it in one go, just pack stuff from each room in a few days. Even though you may be following a precise packing plan, remember to label each box by room! This will make things easier for you, when unpacking, as, say, boxes labelled with 'Kitchen' can be unloaded and moved directly to the kitchen in your new home. Choose whatever strategy works for you and stick to it! If you are not consistent, you will end up making the unpacking process unnecessarily difficult.
Reel in your friends and family
If you have chosen to hire a professional removals company, friends and family can still be of much help in the last-minute moving process. It can be by helping look after your children or pets, taking your dog out for their walks or even housing your plants until you get settled. This is an invaluable resource you have at your disposal and you should use it!
A house move can also get quite emotional for some people, while they pack away their old life and are forced to face memorabilia, and say goodbye to places and things. So, a friend or a family member having your back can help keep you grounded and focused on the task at hand!
Don't forget your utilities
Set yourself up for success and start with the end result in mind! Envision walking into your new house or flat, buzzing about unpacking, and making it feel like a home. You turn on the light switch… and nothing happens. Because you forgot about your utilities!
While planning your packing and removal service, remember to also notify your service providers and arrange for them to connect your new property to all utility supplies you need. Electricity, water, internet and waste disposal are the main ones that you must remember to sort out.
If you have plants
If you are moving a few blocks down the road, then your plants will most probably make it. But if you cannot or do not want to take them with you, offer them to your neighbours, friends and family in the days leading up to your move.
If you are moving with your plants, you should carefully wrap their pots, so they are safely and easily transported. Any larger plants that cannot be boxed or wrapped, you can consult with your moving company on the best way to move them.
Get rid of things you don't need
Moving to a new property is the perfect opportunity to reevaluate your belongings and do a proper decluttering of your old home. This will make the packing stage of your relocation much easier, too. If you have not used a particular item for the past few months or years and do not see yourself using it in your new home at all, why pack it and move it?
Prepare a few different boxes or piles with:
things you can gift to friends and family
items you can donate
items you can sell (even if you do not have the time to arrange for their sale before the move, you should still do that)
items to recycle and throw away
Last steps
Now that you have your last-minute to-do list prepared and have gone through all the steps, you are almost ready. But there are a few more things you should do before you move out that are simple, but important.
Give your notice – Check when you can legally terminate your lease and notify your roommates or landlord. If you are the owner and are selling your property – advise your agency or the new owners of your move-out date
Clean the property – A professionally cleaned property is often mandatory for tenants but also a good idea for homeowners. Arrange for a cleaning service after you have moved all the boxes and personal belongings from the property. You can also organise a deep clean for the new property if needed, too
Leave the keys – Remember to give all sets of keys to your landlord, roommates or your agency
Switch off utilities – If the property will be vacant for a long or an indefinite period of time, it is best to switch off the electricity and water supply
No notice is too short when you have good organization skills. And even if you do not have them, this article will help you plan and execute your last-minute move quickly and hassle-free. And if you need further advice or help with anything, we are happy to help.