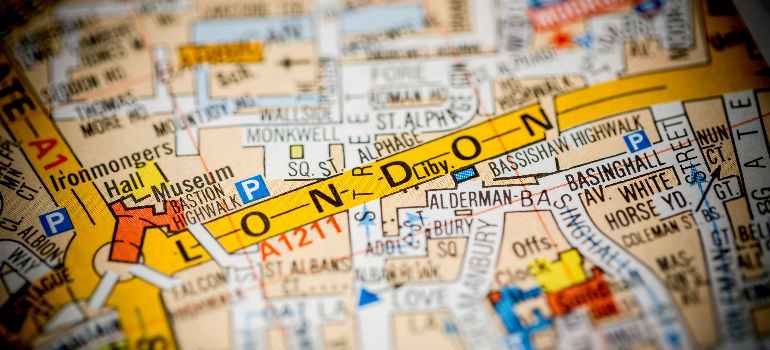 If you are serious on emigrating from the US, consider London. We are just one big pond away from you, we speak (almost) the same language and share the same cultural values, and we have proven we can make really bad decisions regarding the future of our country. You will feel at home.
This guide is intending to help Americans moving to London, find their way around the huge capital of Great Britain and live the life of every other Londoner. Here's how to make your relocation great again:
How to Move to London from the US
Get a Visa. Before you enter another country you need to make your intentions clear – is it work, travel, study, or seeking refuge because you have a slight Spanish accent? You can find out what visa you need by going on the official UK Government website. Typically individuals from countries outside the EU such as Americans, Canadians, Australians and New Zealanders can cross the border as tourists, but they cannot work legally. If you try to work in the UK without a visa you are breaking the law. You'll get deported and might not be able to visit the UK again for another 10 years.
Find Accommodation. London flats aren't very spacious and that's something Americans need to get used to. If you are privileged enough to afford to buy your own place, look over websites such as zoopla.co.uk and rightmove.co.uk. If you're looking to rent or share a flat: spareroom.co.uk and moveflat.comare a good place to start. London is famous for five-star prices on half a star box for rent, so if you're not a millionaire, be prepared for an economic meltdown.
Get educated on taxes. If you're staying for an extended period of time, or are moving to London for good, it's wise to compare the council tax in the different boroughs. This might also influence in which part of London you'd like to move your new permanent address.
Organise your transport. You can bring your own vehicle from the USA, using any private shipping company. You also have the option to buy a vehicle once in London. In both cases, you'll have to pay a Vehicle tax and you will need to get properly introduced to the deals with parking. Almost all of London works with pay and display machines, and fees differ for each borough. You have the option to apply for a parking permit as well. If you decide not to use your own vehicle, you can always get an Oyster Card for public transport.
Don't forget the different voltage. Unlike the USA, the voltage sockets in the UK are 240V and were not made for the type of plugs US technology has. It will be a good idea to get a few adapters. This should be enough getting all your devices to work properly, but just in case, check the label to make sure each one of them is compatible 120-240V power.
Become familiar with the specifications of each area. Some will turn out to be more convenient for living than others, depending on your needs and preferences. Check our complete guide on the best places to live in London. You'll find some precious information in it.
Book Fantastic Removals for a Quick Relocation
Enter your postcode to view our rates and availability in your area.
Moving to London from the US: Get an Oyster Card
An Oyster Card is a life saver for people without personal vehicles in London. With a Visitor Oyster Card you can easily travel and pay for single journeys with bus, tube, tram, DLR, River and London Overground. You can buy one even before you arrive in London and it will be active the moment you set foot in the capital.
Paying for public transport with a Visitor Oyster Card will save you a lot of money, as fares are a lot cheaper. It's very easy to use in each transport, all you have to do is touch the card to the designated screen and you can keep on your journey. It is made for long-term use and can be charged with money at any time.
It costs only £3 and is pre-loaded at the moment of purchase. Children under 11 ride everything free, as long as they're accompanied by a paying adult.
How to Set Up a Bank Account
When moving to London from the US, the first thing most people want to be okay is their finances. So, one of the first things people do when moving is set up a secure bank account. Two things you'll definitely need for this job are:
A passport.
Documentation proving your address.
So, hopefully, you've already settled in a tiny flat like everyone else. These two documents are mandatory but some banks may require additional information.
Sometimes, landlords might not want to give you a property, unless you show them proof you have a bank account and you might get into a loop of disadvantages here. So, in order to not get into this, you might have to come back to the bank a second time to give your new address.
Check also:
How to Move to London with a Pet
You can bring a dog, a cat, and a ferret from the USA without having to go through quarantine. But you'll have to make sure they cover all Pet Travel Scheme regulations:
Your pet must be vaccinated against rabies 21 days before travelling.
Your pet must have a microchip.
Your pet must have a pet passport.
You have to fill a declaration that you will not sell or transfer the ownership of your pet.
Dogs must have had a tapeworm treatment no less than 24 hours and no more than 120 hours before entry.
So these are the most common tips for Americans moving to London. Hopefully, this was helpful. London is one of the most expensive cities in the world, so for tips on money management visit MoneySavingExpert and get first-hand examples and more than just general talk.
Image source: sevenMaps7 / shutterstock.com