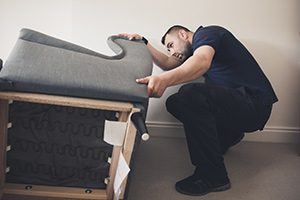 In order to provide you with a non-binding quote, we must know what type of furniture you would need to be assembled. Furthermore, this will help us inform the technicians about any specific tools and supplies they might need to bring to complete more complex furniture fitting tasks (ex: secure a large wardrobe to the wall or install an entire kitchen). The flat pack assembly service is charged per hour and includes the labour and expertise of one or two furniture fitters, depending on the job extend. Our minimum charge is two hours (one assembler).
Schedule your flat pack assembly service for a day and time that fits in with your lifestyle and household timetable. You can do this by calling us or by using any of the online options, provided on this website. If you agree to our prices and consider the quote affordable, a specialist will tell you how to move forward with the service. In addition, you may wish to combine the furniture assembly service with our furniture collection and delivery solutions and avoid the long waiting delivery times usually offered by most furniture retailers. With us, you will be able to use and appreciate your new furniture as early as the next day.
Depending on your request, a single technician or a team of two will arrive at your property. All technicians are experienced, skilled, fully insured and fully equipped with all tools and spare parts as required for the specifics of the job. They will put together your pieces of furniture, following the furniture assembly instructions, and will install your furniture in the designated rooms. Your safety is of utmost importance to us, so large items (wardrobes, bookcases, filing cabinets) will be fitted and secured in place to walls with the appropriate brackets. The same applies to any other wall-mounted items and fixtures.
Upon completion of the job, we recommend that you inspect the results and ensure that you are comfortable with how your furnishings have been fitted. Check whether they function properly (cupboard doors and drawers open and close correctly, items are steady and fasteners are tight).