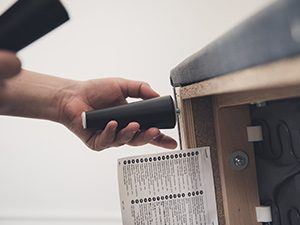 The expert fitters have the tools and experience to install various types of modular kitchens, from fitting worktops, wall-mounted cupboards and free-standing kitchen units to piecing together flat pack dining tables and chairs, coffee tables, bookcases, cabinets and shelves. They can also do an Ikea assembly service of various other odd pieces around the house, upon request. They will put together without any problem fitting such as shoe/clothes racks, bathroom vanity units or house plant stands.
A wardrobe assembly or putting together pieces of furniture such as beds, bedside tables, chest of drawers and storage units will be done perfectly and securely with your safety in mind. The Fantastic pros will also fit any brand and type of children's furniture, following closely the unique design's instructions. From bunk beds, built-in beds with storage and other multi-purpose furniture to desks and chairs, the specialists will make your kids playroom a dream come true. Do not worry if you need furniture assembly for Ikea flat packs, the professionals at Fantastic Removals assemble such furniture on a daily basis.
Sprucing up your outdoor space with a new set of garden furniture? Then, let the local furniture assemblers get your pieces ready for immediate use and enjoyment at the first sign of clear skies. We can put together garden tables, chairs and benches, garden sheds, children's playhouses and trampolines, as well as plant holding structures, such as complex trellises. We can even help you assemble the IKEA's newest outdoor addition - the unique spherical, vertical flat pack garden, designed to save you space if your city house comes with a small courtyard.
Again, any type of office furnishings that come flat packed will pose no problem to the Fantastic flat pack assembly experts. Filing cabinets, computer desks and chairs, storage units, workstations, conference and office reception furniture, you name it, will be efficiently pieced together and fitted in the room and position you require. The technicians will follow your express instructions and complete the task to your utmost satisfaction.