Opt in for a professional commercial removals in London! It's a smart business move!
Let the professionals help you with your move. We can provide assistance to your employees, too!
Suitable for all kinds of businesses
Fully-insured and safe transportation
Special deals available to corporate clients
Business storage units upon request
Guaranteed confidentiality

You are 4 steps away from a seamless commercial move
1.
Schedule a preliminary survey prior to booking
2.
Book your business removals session upon receiving our quote
3.
Let the skilled office movers the task
4.
Now it's back to business at your new location
How to arrange your commercial move
We prefer to send an experienced surveyor to assess the size of any commercial moving job. The survey is absolutely free of charge if you are located within the M25 zone. The operative will discuss with you the logistics of your commercial relocation and explain all the whats and hows that the commercial removals process may involve.

Soon after, you will receive a free quote with no obligation to commit either over the phone or via email. To confirm your interest in our removals company and book a service for a day of your convenience, contact our customer care team 24/7.

You will need to arrange a valid parking spot prior to moving day. Office moving and other commercial moves often require the use of more than one van, so it's best if you contact your Council to help you with the parking. Upon arrival, the technicians will pack your movable property, from office furniture to IT equipment (if you've combined the service with our packing solutions) and will load and secure everything properly into the vans.

Note that only a few business clients choose to do the packing themselves. Keep in mind that your items will be insured during the move only if our movers do the packing.

Whether you are moving offices across boroughs in London or your business is relocating to a different city in the UK, Fantastic Removals is always at your service. Your goods, equipment and furniture will be transported with care to the delivery destination so that your stuff arrives intact.

The experienced movers will take the most direct route to the new address by using their modern GPS systems. Also, you will be eligible for some nice discounts if you book multiple removals services (ex: several of your employees are relocating, too). We will do our best to personalise our moving solutions to save you time, money and hassle.

At the delivery location, the Fantastic pros will park near the property, assuming that you've provided them with a valid parking spot. They will unload and place each item and box on your new premises. The diligent technicians will follow closely your instructions and position every piece of furniture or equipment where you want them to.

Upon request, they can help you unpack, as well as assemble items that have been dismantled prior to loading. Should you need any further assistance with your commercial relocation, you can contact our office and we'll be happy to help.
What makes our commercial removals so convenient
With the Fantastic Club, you enjoy preferential member rates for some of our most popular and demanded services. You also immediately receive £300 in credits in your Fantastic Account. You can apply 30 credits to 10 different services to get £30 OFF the price total of each one.
Get a Fantastic Club membership
Fantastic Services now offers you a way to save up to 15% on over 25 services for an entire year. To take advantage of this discount and of member-only booking slots, simply add the annual membership fee the next time you are booking removals or another service.
What makes our office removals so convenient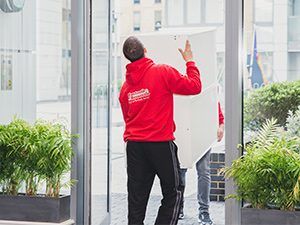 Your office relocation can be completed outside business hours to ensure that it's done with minimum disruption of your daily operations. This means that you can request a weekend, a public holiday or an overnight office furniture removal service with us so that your IT equipment and office furniture are transported, unloaded and ready for use in time for the next working day. Skilled and trained office movers will do the job, ensuring a smooth office relocation in London. We know that sometimes business relocation requires more time, that's why you can rely on our business storage and document storage service
where you can keep your belongings safe for as long as you need.
Bonus tip: Inform employees of the office move
Make sure to inform the whole staff, including the distant workers, of the move at least 1 or 2 months before the move. They need time to prepare for this step as well as to take care of their personal desks. Check out our blog post on office move communication.
Fantastic Removals also provides internal moves in Greater London, within the perimeter of M25. Whether you require a partial move between different departments, an entire call centre unit shifted to another floor or you are simply expanding and need to furnish a new office, we can help. The removals pros will move the furniture, IT and office presentation equipment carefully to the designated space and position them following your specific instructions. Make the first steps by going through our professional moving checklist.
Bonus tip: Plan the re-design
Make an inside survey on what the staff doesn't like in the current office and want to be changed at the new one. Use the information to craft the interior design plan for the new office environment before it gets too late.
Not all commercial relocations can be planned with a tight and clear schedule in mind. So, customers who need to vacate their premises and wait until their new office becomes available can take advantage of our short-term storage or long-term storage services. The business storage facilities provide security for your items, equipment and goods through 24/7 CCTV surveillance and monitoring. We also offer refunds if circumstances change and you need to collect your belongings earlier than preempted. The minimum storage space rental period is one week.
Bonus tip: Send change of address notifications
Notify customers and business clients of your move. Send email notifications at least 1 month in advance before changing your address. This way you will avoid business clients and customers coming to your old address, you will also receive mail from them at the right place. Check out our change of address checklist blog post.
We relocate businesses from various industry sectors, including warehouses, libraries, food service facilities and retail spaces. Our commercial moving company also specialises in fine art and antique removals solutions. Valuable items and artefacts will be packed, handled, transported and unloaded with extra care and under full insurance. So, whether you run an art dealers business, own a gallery or manage a museum, we can help you should you need to relocate.
Bonus tip: Prepare the IT hardware
Leave this work for the last day at the office to avoid disruption of the work environment. When the workday is over, shut down all hardware and carefully label all wiring and other components for easier unpacking afterwards.
We'll start with a survey of the property to figure out the "size" of your move. Then we will provide with the adequate moving power, as many vehicles and movers necessary. And keep in mind that we can handle the packing as well, providing you with sturdy packing materials.
Also, you will find that the movers are quite handy, bringing their own tools in order to dissemble some of the larger furniture items to ease their move. And we can even arrange an End of Tenancy cleaning for the place you are about to vacate. Of course, we will take care of the move to the next address. But in case you have not arranged the new location of your business, then we can also provide you with a storage service.
Frequently asked questions
Q: Can you move very heavy items?

A: Yes. We will send reliable movers who can lift heavy furniture and equipment that weigh up to 80 kg. Anything heavier will require dismantling which means the job will take longer to complete. Mind that this might affect your moving costs.

Q: What are the things that you don't move?

A: We do not move any building and hazardous materials, as well as pets. Also, when it comes to commercial moves, we do not move company servers.

Q: Do you relocate offices to London from other locations?

A: Yes. Presently, we serve residential and commercial clients, located in Manchester and Liverpool, who wish to be relocated anywhere in the UK, including London.

Q: Can I purchase any packing material from you?

A: Yes. We can supply you with quality boxes, insulation material and labels prior to moving day.
Q: What is the insurance for commercial moves?

A: Currently, the standards "goods in transit" insurances applies and it is up to £25,000. However, higher insurance can be arranged if you specify in advance.

Q: I only need to move several pieces of equipment to one of our branches. Can you do this?

A: Yes. We can provide you with our commercial removals assistance, regardless of the size of the job or the volume of your load.

Q: How far in advance prior to moving day do I need to schedule a survey?

A: We are flexible and you can order your survey appointment pretty close to moving day if your relocation is within the UK. Just check our availability and book online or over the phone.

Q: Do you provide storage options for a day or two?

A: No. The storage rental period, we offer, cannot be less than 7 days.
More removals services offered from Fantastic Removals