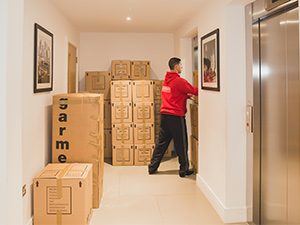 As if you haven't got enough on your plate when you prepare to relocate your entire three-bedroom house together with the overwhelmed kids… So, why not trust our packing expertise and leave the wrapping of each and every toy, book, plate or light bulb to us? We know what we are doing because we've done it a hundred times. We can even help you with creating a moving checklist. Just ask!
We offer all-inclusive international removals services, which factor in all aspects of your relocation. We will deliver all the required removals boxes and packaging supplies, as well as pack and label your belongings prior to loading. We do this to avoid implications with customs and prevent the risk of your items getting damaged during the long-haul journey.
Moving your office? Or you are shifting equipment to a newly opened branch? Then, let us handle everything for you, while you focus on more important endeavours to grow your business. The last thing you want is to appoint members of staff to pack your goods or office furniture when they should be performing their job responsibilities. It will cost you more in the long run. Note that regular commercial clients enjoy our removals services at preferential rates.
Packing and moving art from A to B requires experience, strong attention to detail and expertise. The same applies to antique artefacts and fragile items.
Our packing services can accommodate various special-care removals needs, whether you require transporting an old wall clock, an expensive oil painting or a precious musical instrument. Your valuables will be packed and labelled professionally and will travel under full insurance.