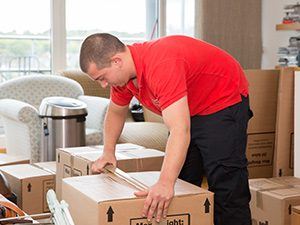 We will supply you with sturdy cardboard boxes for moving, which come in two sizes. The medium (355 x 355 x 355 mm) are ideal for packing books, smaller electronic devices, CDs, toys and other personal belongings. Our large moving boxes (457 x 457 x 457 mm) are suitable for dinnerware, mugs, pots, glassware and small kitchen appliances. Note that the moving out boxes will be delivered flat, so you will need to assemble them if you are doing the packing. Make sure that the overall weight of the moving out boxes does not exceed 20 kg.
The carton garment and clothing carriers (508 x 457 x 1244 mm) are furnished with rails that can hold approximately 30 clothes hangers. The wardrobe cartons are a far better option for packing neatly your apparel than crumbling it in bin bags, for example. After all, the last thing you want is to spend hours of ironing your creased gear on top of all the unpacking and settling-in that you need to do at your new home.
From quality wrapping paper, large-sized bubble-wrap rolls and clear stretch wrap to brown vinyl tape and labels, you will get everything that you need for packing securely items that could be easily chipped or scratched during the loading and transportation process. If you need advice on how to label correctly your packed and boxed belongings, just head to our blog article on labelling moving boxes.
Soft furnishings, such as settees, sofas, armchairs and bed pieces that cannot be dismantled and boxed, should be protected with a plastic cover against stains and physical damage. You may also consider using timber crates for items made from glass, crystal and other artefacts that may be susceptible to scratching, such as your lovely quartz wall clocks, for instance.