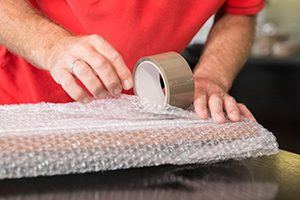 Contact us and get a free, no-obligation quote for your removals boxes delivery in London. We will need as much information as possible to provide you with a precise price quotation.
Details about the size and type of your property will give us a clear picture of the number of boxes you will need, as well as of the quantity of other packaging material that you will find handy. Making a comprehensive inventory of your movable property before you purchase your order is always a good idea, too.
We will get your order ready and deliver it to your doorstep on a day of your choice. We recommend that your moving supplies are at your disposal at least two days before the big day.
This will give you plenty of time to get some extra packaging materials for items you haven't quite accounted for with your initial order. You can always purchase more removals packing materials just in case. We will collect the leftover supplies and you won't be charged for what you have not used.
Our company specialises in packing services, too. The experienced removals technicians are expert packers with years on the job. They will pack every single glass, book or clothing with care and in the right way by applying strong attention to detail when securing your stuff with insulation materials and writing clearly the appropriate labels on each box. Moving blankets will also be delivered when heavy items need the support of a soft surface inside the moving vans for extra protection.
Note that when we do the packing, your belongings will be fully insured during the whole relocation process.
Most customers take advantage of the whole deal and book an all-in-one removals service with us. This way, they save time, money and effort, as well as have the extra peace of mind that their relocation will run smoothly from start to finish.
Both commercial and house moving services, as well as our international removals solutions, are fully guaranteed and insured when we handle everything - from the delivery of packing boxes and supplies, through the packing and loading process to the transportation and unloading of your items at the delivery location.