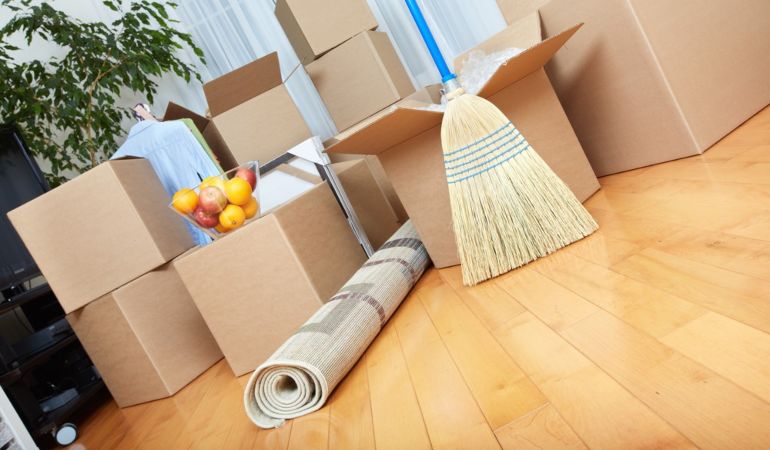 There is a profound moment of relief when the last box is finally unloaded. The house has been unpacked, the house move is over, and your new life in your new house can begin. As soon as you breathe that sigh of relief, a new reality set is a mountain of cardboard boxes with no home.
Not only did it take so long to get boxes for moving, but now you have to think up a way to get rid of cardboard boxes. And, for a headache tracking down all of the boxes for a move can entail, it can be a lot tougher to get rid of boxes for moving.
We've handled our fair share of cardboard boxes in our day, so here are a few simple hacks for lightening your post-move box load.
How to get rid of boxes after moving
After unpacking after moving house, you're left with a lot of boxes. So, just throw them away. That's a pretty easy solution, especially if they won't be of good second use. If the boxes aren't in good condition after the move, your best bet is to throw them away with the rest of the rubbish.
For that, you need to tear them down to small pieces and place in a garbage bag (or two). There is no problem to even throw them in the mixed garbage bins, as cardboard decomposes completely for about two months. So, no serious problems with the environment.
Book Your Movers and Packers with Fantastic Removals
Enter your postcode to view our rates and availability in your area.
How to get rid of boxes for moving through a give-away
If the boxes are in good condition after the move is over, you can always re-purpose them, by giving them to people who might need them.

Give away to friends. The best thing you can do is organise a garage sale so everyone can come and see what you're offering. Your neighbours will be very happy to receive some cardboard boxes. It doesn't even have to be for moving, people will always find a good use for them. Most of the time if for their pets (usually cats).
Give away online. With the era of social media, it's all too easy to send out a message online, and box seekers will find you. You can offer your boxes as freebies on famous UK websites like Gumtree, Freecycle, Freegle and many more.
Give away to colleagues. Another great option is to let people in your office know. If your workplace employs more than 100 people, there will most probably be a colleague that desperately needs your boxes.
Give away to charities. We'd wager our weight in cardboard that people from charity organizations would make very good use of cardboard boxes for moving, especially if you still have heavy-duty ones. If these two options don't get the results you're after, contact your local charity shops and they'll be happy to have them.
How to get rid of moving boxes through selling
Selling anything second hand is very uncertain, and when it's second-hand boxes, it's very probable you won't get a pence out of it. But, even so, here are a few places you can try. There are lots of people who are interested in used cardboard boxes.

Sell back to the shop. If you bought your pack of boxes from a shop, you might check out if they have a return policy for unused boxes. If you bought more boxes than you needed, you can return the unused ones and get some money in return.
Sell on eBay. The easiest option to sell second-hand goods to just about anyone in the world. You need to register and make sure to be obvious to people where you are. If someone from the other side of the globe is interested in your boxes, it would be troublesome.
Sell on eBid. This is a UK version of eBay. The interface is similar and uploading your boxes for the whole country to see is easy.
Sell on CQOUT. This is an auction website that would accept your offer, but maybe boxes won't be something people would get hyped in bidding.
Sell on Preloved. Another auction website especially for the UK.
Sell on Gumtree. Well, Gumtree is not just for freebies. You can use to sell just about anything first and second hand.
Check also:
How to get rid of cardboard boxes through recycling
If selling is not an option, if giving away is not an option, if even throwing the boxes in the trash does not sit right with your moral state of mind, recycling the cardboard boxes is the best option. Here are a few solutions.

Send boxes to recycling factories. If you live close to a factory that recycles paper and cardboard, or you pass by one on your way to work, it won't hurt to take your stack of boxes and deliver them for recycling.
Call a rubbish removal company. If you want to recycle the boxes, but don't live near a recycle factory (or have recycling bins in the vicinity), you can always call a rubbish removals company to pick them up from your home. Of course, it's not worth just calling for a few boxes, so it would be better if you combine with other garbage you'll need to get rid of.
Recycle creatively. If you have a little too many boxes you can handle, and if a lot of them aren't good for anything, you can leave them at home and look up online what you can do with unneeded cardboard.
How to get rid of moving boxes through upcycling
You will find a lot of DIY websites with instructions for making toys and decorations. This turning boxes into baskets post are the perfect example of a creative recycling idea. If you or your children enjoy such activities, give it a go and you'll be surprised how creativity can make rubbish into something pretty to look at.
Stylish storage boxes. Yes, we suggest you use your boxes for exactly what they are, boxes! Normally a nice-looking storage box can cost you quite a bit, but have you considered the option to make your own for free? Why not put your artistic touch in action and some at hand supplies to create the storage boxes you've always wanted. Grab the size of box you like, if needed cut it down to the depth you need. From there the options you have are so many! You can wrap the cardboard box in some pretty fabrics, or even use an old piece of clothing you no longer wear. Use some colourful paints or simply wrap some twine around the body of the box. For handles, if you'd like any, you can cut out some holes where you need them or use twine or old belts to create little loops.
Marquee letters. After you've moved in it's only natural that there's a housewarming party. Why not spice things up with some fancy marquee letter decor. Create the letter shapes and use various colours and fairy lights to make them pop. This is not only good for a one time party but to add some spark to your otherwise blank walls in the living area or children's room.
Drawer organisers. Now is the time to put some order in your drawers. Use various sizes of boxes to fill in the drawers and cut out some additional cardboard pieces to make separations within the cavity. Now when you open your drawers you'll be welcomed by carefully arranged items and it'll be far easier to spot what you're looking for.
Play fort for children. Who doesn't need a big castle! One good thing about a move is that you get those huge boxes for some of your items. Those can become beautiful play forts for the little ones. Let your imagination run wild and create the best ever fortress to exceed even your kids' wildest dreams. This will be their playground for weeks!
At our London removal company, we know our cardboard, and we listen to our customers. We can sell you boxes and packing materials depending on your needs. How you get rid of the boxes after they've done their job is up to you.
Contact Us Before Your Next Big House Move
Enter your postcode to view our rates and availability in your area.