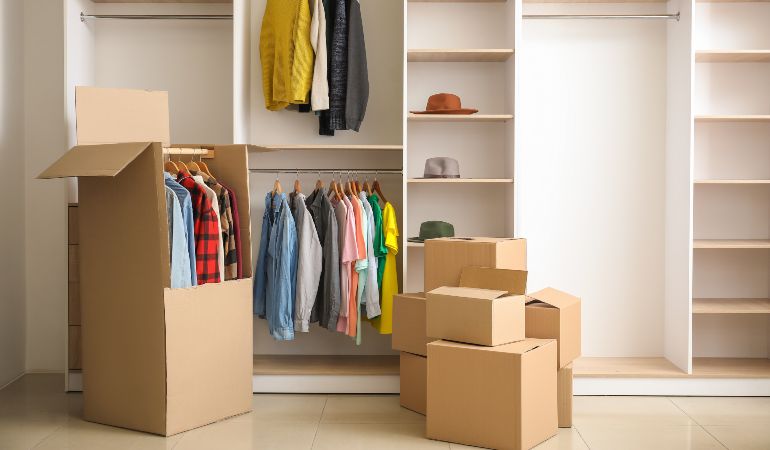 Moving clothes is not an enjoyable task and many people want to make the process as fast and easy as possible. However, besides that, you also want to ensure that your clothes will arrive in your new spot safely, right?
But let's be honest, if you have a lot of clothes, shoes, hats, accessories, then you'll surely need more than just one or two wardrobe moving boxes. You can't simply stuff your garments, especially delicate ones, in a bag and go. No, you need to be more organised and invest in wardrobe packing boxes, as this is the best way to transport your clothes safely.
Most removal companies can provide you with moving boxes and packaging services, but that will cost you. So, if you want to save some money, then you can make your own DIY cardboard wardrobe box for your upcoming move.
Best places to obtain large boxes for free
Grocery stores
All their foodstuffs come in boxes and you can be sure that they will be glad to get rid of them. Your local grocery store should be the first place on your list when checking for free cardboard boxes. Just ask one of the store's staff if you can collect the boxes and when it'll be convenient for them.
Liquor stores
Another place where you can find boxes for free is liquor stores, as most spirit drinks arrive packed in boxes. Most of them can be very small, but you can still find the perfect box for packing your shoes or accessories.
Pubs, bars, and restaurants
Just like the two options above, pubs and bars have their stuff delivered in packaging. You can find free moving boxes if you check the popular ones, as they will have more regular customers and eventually will receive drinks and food more often.
Ask a friend
Do you have a friend or a colleague who moved to a new house recently? Or any friendly neighbour who has just moved to your neighbourhood? Yes? Then, definitely ask them if they've kept their moving boxes. We're sure that they'll be more than happy to give you at least one box for moving that can be of great help.
The Internet
If the above options didn't work for you and you can't find free moving boxes anywhere in local stores and bars, then searching on the internet is what you need to do. Yes, there are a couple of popular websites where people offer moving boxes and completely for free.
Facebook
That well-known social media can be your best friend when in search of free wardrobe boxes. There are various community groups that can be helpful with all sorts of different things and help you connect with people near you, so you can ask them for any spare cardboard boxes.
Gumtree
You may already have an account on this website, as it is one of the most popular buying and selling online communities in the UK. But did you know that there are a lot of freebies, as well? Well, now you know, so better check and you can find a lot of wardrobe boxes and all of them for free.
Freecycle
That big network is full of users extremely committed to waste limiting and recycling. As you know, cardboard boxes are some of the most recycled things. So, don't hesitate to ask the Freecycle's community for free moving boxes.
Freegle
The purpose of the website is to ease your process of getting rid of items you don't want anymore. And as the old saying goes "One man's trash is another man's treasure", you can find moving boxes on Freegle for no money at all.
Making your own custom wardrobe boxes
So far, we've talked about where you can find second-hand wardrobe boxes, but it's also good to know that some old boxes, say, taken from your local grocery store, may not be a good fit for your needs and can actually damage your clothes if not sturdy enough. So, if you're wondering what the solution is – the answer is simple – make your own DIY wardrobe box.
To build your own clothes packing boxes, you're going to need:
A box
A pole made from plastic or metal (that will serve as a hanger)
Strong tape
Scissors
Caster Wheels
Step 1
Depending on your clothes length, measure how far down the holes (to fit a pole through) should be and mark their position with the help of a pen or pencil. Then, cover the whole area with clear tape, which will keep your box from ripping once the clothes are hanged. Take a screwdriver or scissors, whatever you have on hand, and puncture one hole in the two sides of the box. The holes should be big enough to fit your pole.
Step 2
Place the pole through both holes to create a hanger for your clothes. Don't forget that you'll need to match the pole size to the width of your DIY wardrobe box.
Step 3
If the pole is sticking out of the box, you can cut it to the desired length. However, it is a good idea to leave several inches that will serve as handles for you.
Step 4
Secure the hanging bar with rod end caps, but if you don't have any, simply wrap the tape around both sides of the pole where it enters and exits. That will make sure that the pole won't slip during the moving process.
Step 5
The last step is completely optional and up to you. If you want your moving to be completely hassle-free, then we recommend that you put wheels on the bottom of your DIY wardrobe box. That way, you'll be able to roll it around easily.
Comparison between bought and custom wardrobe boxes
Quality
Although after the first use free moving boxes can become less durable, they can still withstand one last move. Just make sure the box is not overloaded. On the other hand, investing in high-quality moving boxes will give you the peace of mind that your clothes are neatly packed and there is no chance of damage.
Value
Making your own DIY wardrobe box is a great way to upcycle and turn the otherwise useless cardboards into something helpful to you.
Cost
Of course, free and second-hand wardrobe boxes come cheaper, but that doesn't mean that the cheap wardrobe box will be less durable than the new one. One way or another, it will all depend on your DIY skills and how much you load it.
Takeaways
Custom wardrobe boxes are cheap to create; you may already have the materials around the house
It's a great way to upcycle and limit waste
Most of the time, owners of grocery stores, pubs and restaurants are wondering how to get rid of their boxes. They'll be glad to help you out.