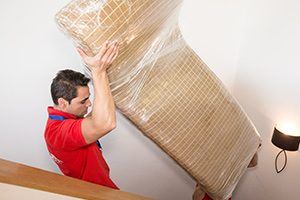 Tell us about your plans and share some details about the flat pack or custom-made furniture you wish to buy. We will calculate the cost for the service, based on the total value of your furniture purchase order. Then, schedule your furniture pick-up and delivery service for as early as the following day. We have various delivery slots available after 12 p.m. for any day of the week, including bank holidays.
A representative from the furniture delivery company will request you to forward your shopping list to us, so we can double-check the stock availability for your selected furniture items. Note that we will need the funds for purchasing the furniture on your behalf promptly upfront.
On the day of your furniture delivery, the movers will visit the chosen retailer in London and hand the order list to the in-store staff. Then, your pieces of furniture will be loaded carefully into the van. The movers will ensure the safety of the furniture during transportation by securing it with a rope and padding materials. For large furniture pick up and delivery orders such as Ikea collection, we send the furniture removers to the store a day before your delivery appointment, so they can make sure that everything goes to plan up until the Ikea home delivery to your address.
The furniture delivery company transport the furniture to your address in the afternoons due to the relatively late opening times of most popular furniture retailers. Your furniture will be unloaded with care and with your new pieces' integrity in mind. You can also take advantage of our additional assistance and have your flat pack furniture assembled, as well as old items disassembled and removed from your property.