Move to Your New Business Property Using Professional Commercial Relocation Services in London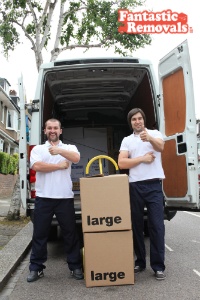 When it comes to moving your business operations to a new office, few things are as important as arranging near-uninterrupted delivery of your offered goods or services.
The London office removals service, provided by Fantastic Removals, makes moving commercial premises in the capital simple. Ensure smooth and seamless business removals with our years of experience and expertise.
Our services are provided by a fully insured and experienced team of professional office movers. They'll move all stock, equipment, and furniture to your new office/work premises safely and securely in the shortest timeframe possible.
Take Advantage of Reliable Office Removals in London
Whether you're a small business or a large corporation, at Fantastic Removals we understand that low running costs are the key to turning any office move into a less stressful one. That's why we deliver our office relocation services at some of the most competitive rates in the local area. We can also provide you with additional ways to save both time and money when you use our services.
For example, we have extra options that you can use to receive professional help with your boxes and packing chore or with furniture assembly and disassembly. When you add either of these options to your office removals service, you'll immediately benefit from the special deals that we offer on multiple service bookings. Discuss your requirements on 020 3746 7798 now to find out more or use the online quote form to request a free quote.
Choose Office Removals Company with a High Cost-Benefit Ratio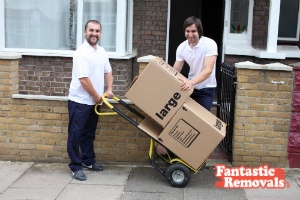 The fantastic teams of commercial movers in London are hand-picked among the most skilled technicians in the local area. We provide both initial and ongoing training for every member of the team.
Each professional is also covered by a comprehensive insurance whenever they're doing any office moving work. You can learn more about the quality of the services we provide by reading our customer reviews or by simply getting in touch with us.
What distinguishes us from the rest of the office removal companies in London?
Our clients are able to take advantage of all of the following benefits of using our commercial removals services:
24/7 client support – we provide customer service over the phone and online at all hours of the day and night;
Efficient booking system – our highly experienced support team use our CRM system to provide flexible and secure bookings;
Free quotes on request – concerned about the cost of your office move? Ask us for a free quote at any time with zero obligation;
A complete service - the experts are there to deliver the whole job, from loading through delivering and unloading your belongings;
Total insurance protection – with Fantastic Removals, you're always fully covered for moves both big and small;
Good value for your money – enjoy reliable office removals services in London at some of the lowest rates in your area!
Schedule Efficient Office Removals in London Now
Contact us now on 020 3746 7798. We understand how hectic office moves can be, that's why our professional support teams are available 24 hours a day, 7 days a week. They're fully informed about every aspect of our services to help you resolve any queries that you might have. Our friendly operators can also provide you with a detailed pricing information in the form of a no-cost, zero-obligation quote.
Alternatively, our online support facilities remain staffed 24/7 as well, so feel free to ask questions or request a quote & callbacks via our web booking form or instant chat facility.