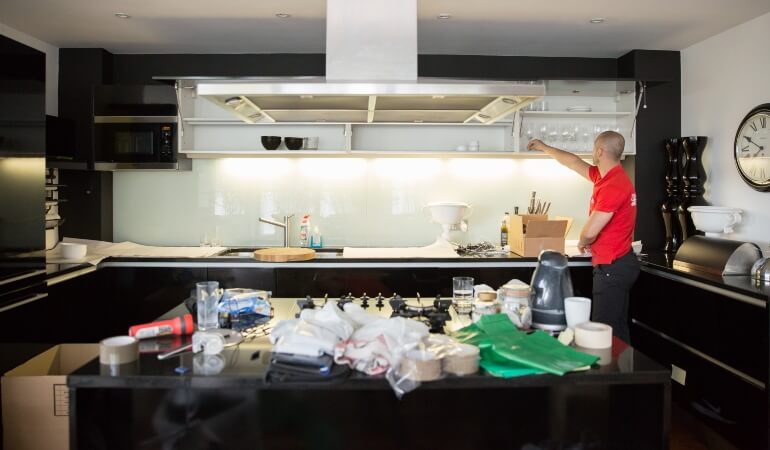 If you're about to be moving house, you're probably well aware that relocating kitchen appliances is a challenging task that requires special attention and considerations to go smoothly. So, if you prefer to move your kitchen all by yourself, instead of hiring professional moving services, we're here to help with some useful tips.
You need to be aware of the entire process, including how to disconnect, pack, and store the appliances correctly. And you'll need to make sure that you don't hurt your back, ruin your floors, or damage your kitchen, as well. So, follow our expert guide on packing and moving kitchen appliances quickly and safely to guarantee a hassle-free moving day.
Arm yourself with enough boxes, bubble wrap, and determination and get started!
How to move bigger appliances
It's a fact that moving to a new home can't go without some heavy lifting. Those large kitchen appliances really need extra care when moving to avoid damaging them or injuring yourself. Having a friend around to help you is always a good idea.
Taking up some time to sort every step out in advance is key to handling oversized appliances with ease. So, check out our helpful directions to decide on your course of action.
How to move an oven
Start with disconnecting your oven from the mains. If your unit is electric, simply turn the "Switch off" button and unplug it from the outlet on the wall. For a gas cooker, shut off the gas supply by switching off the main valve. We recommend reading the manufacturer's manual, so you find out the safest way to turn off your particular oven. If you still feel uncertain about disconnecting the unit by yourself, feel free to contact a professional gas engineer or electrician.
Next is packing. Remove the detachable parts, such as inner shelves, racks and trays from the oven and pack them separately to avoid transportation damage. If you have a gas oven, also remove the rings and trivets, too, and pack those separately. It's a win-win situation – the hobs and oven components are protected and the unit is lighter. Use wrapping materials, such as bubble wrap, moving blankets, or old towels to ensure reliable protection.
When it comes to the oven itself, tape the doors with durable tape and then wrap, using an old blanket again.
So, now your oven is good to go. Being extra careful, load the unit on a dolly to lift and wheel it away to its new location or the moving van. Depending on your specific cooker, the weight can vary, so apply additional care while moving it.
How to move a fridge-freezer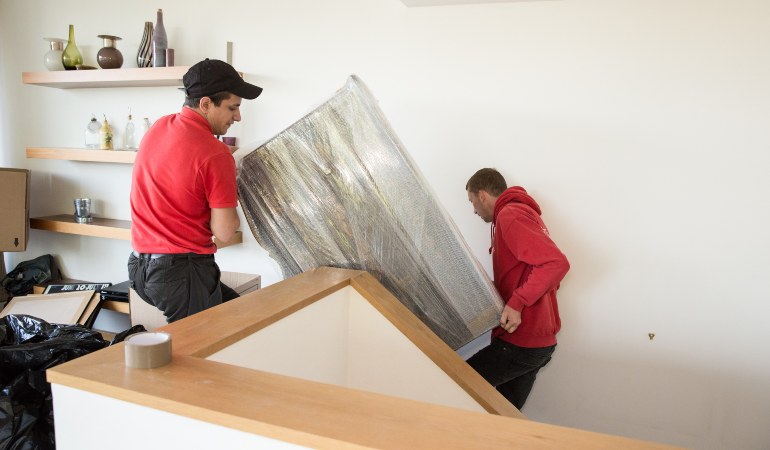 Refrigerators look sturdy and indestructible but the truth is, they are actually delicate and moving one incorrectly can easily cause damage to the appliance. Here is a step-by-step guide on how to move it the right way.
Empty the unit
The first step in preparing the fridge for moving day is to empty it. Remove all food, shelves, ice cube trays, egg trays, drawers, and all other stuff that can clatter around during transportation. Try to use up most of your food supplies in the weeks before the big move to avoid food waste. Why not use the frozen vegetables to prepare, say, delicious casseroles or soups?
Protect the separate parts
Wrap the bigger parts of the fridge, like the shelves and glass trays in towels or bubble wrap to protect them and place them in labeled boxes.
Unplug the fridge
It's time to disconnect the appliance from the socket. Don't forget to detach the ice maker from the water source, too.
Defrost the freezer
If your fridge has a freezer, you should unplug it the night before the moving because defrosting the freezer takes up to 6-8 hours. Try resisting the urge to chip away the ice built up in the freezer to avoid causing any harm. While defrosting, surround the freezer with towels to soak up the water, and remember to check it now and then to make sure that your kitchen isn't flooded by the melting ice.
Clean the refrigerator
Once the ice is completely melted, thoroughly clean the entire unit and then leave the doors slightly open. This prevents any mould from growing while the fridge is out of use.
Secure the refrigerator for transit
Before you do that, make sure to remove all items on the outside of the fridge, including magnets. Then, coil up the fridge cable and tape it to the unit itself. Close all fridge doors, wrap the appliance with big moving blankets and tie a bungee cord or a rope around them for strong protection.
Move the fridge
Make sure to have at least one other person to assist you. With the help of your friend, carefully place the fridge on a dolly. Then, start pushing the dolly towards the removals van, having the other person supporting the fridge at the front.
Transport the unit on its side
When you place the fridge in the moving vehicle, make sure it's on its side where the door hinges are. Never place it on its back to avoid any damage.
How to move a washing machine, tumble dryer, and dishwasher
With moving your washing machine, tumble dryer, or dishwasher it's best to refit them in their original packaging if possible. If you don't keep them, you should think of secure alternatives. Read ahead to learn how to handle each appliance properly.
First, make sure that the units are empty. For the dishwasher, take out all dishes and cutlery, give it a clean wash and remove the shelves and baskets, as well. Wrap them one by one and place them in litters.
Continue with placing an old blanket underneath your unit to avoid scratching your floor or tearing up the carpet. This technique helps you move these heavy appliances and provides access to the space behind them.
Once you reach that space, it's time to unplug from the outlets. After you disconnect the units, attach all loose wires to them with tape. Next, turn the water valves clockwise on both the washing machine and the dishwasher to shut off the water supply.
Be ready to get a bit wet with the following step. Turn all hose screws anticlockwise, pull out the hose and hold it over a bucker until water from the appliances drains out entirely. Be extremely careful not to wet any electrical pieces, so you avoid serious troubles. If you still aren't sure that you can handle detaching the appliances on your own, don't hesitate and require the assistance of a professional plumber.
The next step is to cover the appliances with blankets and lift each of them on the dolly. Then, you can slide them wherever needed. Just make sure to keep the units upright while transporting them on the dolly or in the moving van.
How to move smaller appliances
Now onto the easier part. After dealing with heavy lifting, preparing your smaller kitchen appliances for moving seems like a piece of cake. When it comes to packing the microwave, coffee machine, toaster, blender, mixer, and any other small appliance, there are some versatile tips to stick to and relocate your units with no burden.
Unplug, clean, and leave each small appliance to dry well before packing.
Remove all small detachable parts from the appliances, pack them separately and put them inside the box of the main unit.
Don't scrimp on packing material. Use enough bubble wrap, old towels, packing paper, or even newspapers because small kitchen appliances are quite fragile and need to be well secured.
Always aim for using the original packaging of the appliances because it provides optimum protection. If for some reason you don't have the original boxes, replace them with others that have a similar size.
If there is any space remaining in the boxes, fill it with creased packing paper or newspapers to immobilize the small kitchen appliances and avoid them breaking during the transit.
When arranging the boxes containing your small kitchen appliances in your van, make sure to put the lighter units on top of the heavier ones.
We Can Help You Move House
Enter your postcode to view our rates and availability in your area.
Takeaways
So, if you are determined to cope with the moving challenge on your own, following our helpful tips on how to move kitchen appliances will guarantee you a sleek relocating process. And if you need professional help, you can always resort to the expertise of Fantastic Removals anytime. We can even provide you with moving boxes and packing supplies, as well as pack all your stuff securely to save you time and effort.
With some extra care and focus, your moving day will go just as planned!