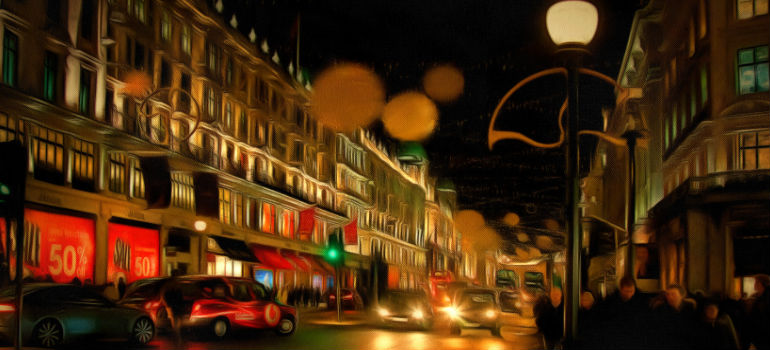 Forgetting things is natural, but forgetting something during a move is a certainty. You'll never get it all the first time and it's okay. You'll have plenty of chances to get it right, but you have to do what you can to limit those loose ends.
We put our heads together and thought of the things all of us have overlooked in past moves. After some spirited listing, we've broken down your change of address checklist down to five categories.
Because let's face it, a checklist is the most nebulous part of the removals process but has the most realistic effect. If you don't update your address with a number of pertinent institutions, you could be in for some serious headaches.
#1. Change of Address Checklist Before Moving House
Let anyone who's sending you mail know about your new location. One of the good things about changing your address is that you can go through the mail you receive and sort the valuable information and the unwanted junk. A lot like you can do with your e-mail. Sort the following things beforehand:
No need to change the address on your passport. In the UK you do not need to change your address on your passport. So, that's one thing less to worry about.
Redirect the Royal Mail. For this, you have to do an official Royal Mail redirection. Good news is in t his day an age, you can do it online.
Inform clubs. Get in touch with all the clubs you're participating and tell them you're moving. Depending on your community, you might need to send an official change of address letter.
Inform school and college. Call your academic administration and give official notice. The clerks will take it from there.
Change your voting address. Whether it's for searching moving tips or changing the voting address – once again, the Internet comes to our rescue. In England, you can change your voting address online at the UK government website –  Register to vote.
You don't have to notify Home Office when changing the address in the UK if you're an EU resident.
Click To Tweet
#2. Medical Change of Address Checklist
It seems redundant to think you'd have to inform your family of a move, but you've got to think bigger picture. Apart from your personal relationships, you'll probably have to take into consideration any health establishments you are affiliated with. You should also carefully calculate your removal costs.
Keep in mind:
Your dentist;
Your physician;
Your optician;
Your

paediatrician

.
In this era of such exceptional communication, one email, a few separate send-to lists, and you've got everyone who matters in the know.
Book Fantastic Removals for a Quick Relocation
Enter your postcode to view our rates and availability in your area.
#3. Business Change of Address Checklist
Inform your HR department. This one is fairly obvious. In order for the accounting department to have all your documents straight, they'll need to have the same address to all your documents and all other government places where your name is present. If not, there might be trouble for you.
Inform HMRC. You'll need to pay special attention to this one, as once you inform HMRC about your new address, they will update your personal record for income tax, national insurance, tax credits and benefits and services including Government Gateway and Pension services. You can do so on the official uk government website.
Inform Banks. It's crucial to inform all places, involved with sending you money. On the official website of any bank is information on how you can inform them about your new address. This will update your financial accounts, debit and credit cards, etc.
The list can be a long one depending on your unique business needs, but it's important to be thorough. Your personal business leaves little room for error.
#4. Change of address Checklist for Utilities
Ah, the dreaded utilities change. The most exhausting update, but the most critical one. After all, no one wants to be without electricity. That's a good enough place to start, with your electricity, and this also includes:
Gas and electricity provider. Don't leave this one for the last moment. Give at least 48 hours of prior notice, so your provider can calculate your last bill. If you mess this up, you might have to pay again, even after you've left the place.
Water provider. Similar to the previous, give at least a day notice, so they can calculate your last bill. This one you can do online as well.
Satellite/Cable/Internet/Mobile provider. A phone call would suffice, though you might need to go personally in order to sign a new contract.
TV licence change of address. One of the most often forgettable tasks. You can change your TV license online for free.
The list is enough to give a person fits, and yes you'll spend some time on hold, but changing your address with these companies is essential.
#5. Change of Address Checklist Regarding Vehicles
If you're moving away with your vehicle then you will need to contact the local authorities. Does the new place have free parking? Do you need a resident parking permit? These are just a few of the questions you'll need to ask.
DVLA;
Insurance;
Breakdown recovery;
Vehicle registration.
It'll be a number of phone calls for all of the above, but this is how to change your address after a move. And for the move itself, you'll just need to give us a ring. At our removal company, we want to do the heavy lifting so you can see to the rest of the details without any worries.
Using our well-organised change of address checklist every home move in UK will be easy as a child game. It's not the best list out there, but the most important stuff are right here. Don't forget to stay calm and organised and the big moving day will be easier.
Image source: maratr / shutterstock.com
Get Your House Move Service With Us
Enter your postcode to view our rates and availability in your area.