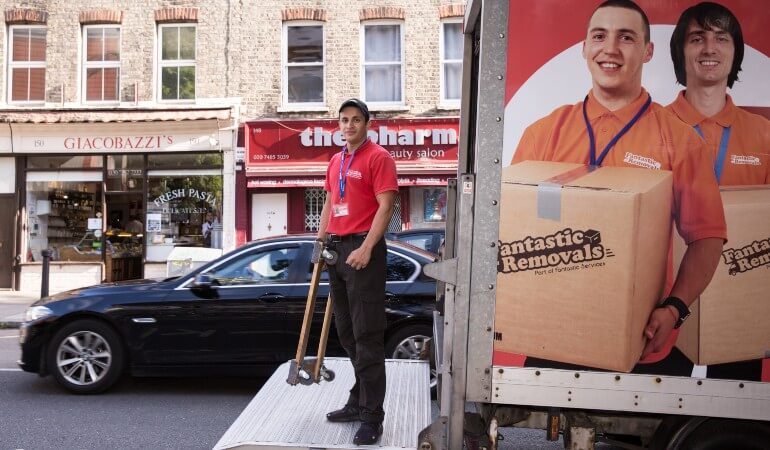 When customers first get in touch with us, most of them are looking to receive an instant answer to the question "how long does it take to move house?". Unfortunately, we are unable to provide them with an estimated duration of the house move service without obtaining all the necessary information first.
There are many factors that influence the time required for the move. Some of them are self-explanatory and people take them into consideration in advance. Others are more complex and people realise they exist after already contacting a moving company.
The moving service itself takes much less time than preparing for a relocation. Even a very large-scale move rarely takes more than 2 days, while selling and buying a property may take up to a year or even more.
How long does it take to move out from a house based on its size?
How long does it take to move from a 1-bedroom flat?
The time required to complete a house move service from a 1-bedroom flat is 3 – 4 hours without booking a packing service.
The average time to move house from 1-bedroom flat, with packing service from the moving experts takes about 4 to 5 hours.
If you have lots of belongings to pack, the whole move out process may last even longer than 5 hours.
An increase of 1-2 hours is possible depending on the distance between the pickup and delivery address.
Decluttering
Thorough cleaning of the vacated property (if you were living on a rent)
How long does it take to move from a 2-bedroom house?
The average time to move house from a 2-bedroom property is 6 – 7 hours, including the loading and transportation of all goods.
If you decide to take advantage of a professional packing service, the average time, required to complete a house move of this scale is 7 – 8 hours.
This includes packing, loading and transportation to the destination address.
How long does it take to move a 3-bedroom house?
The average time that movers spend to complete a thorough house move job from a 3-bedroom house, including furniture disassembly and assembly, is around 8 – 9 hours.
With packing service, the approximate time to complete the moving job takes 10+ hours and usually, a whole workday is necessary.
We advise all customers who are about to make a house move from a property with 3 or more bedrooms to book a service early in the morning so they can get the job done the same day.
For properties with up to 2 bedrooms, you can easily complete the move using a Transit Van. However when it comes to a property with 3 bedrooms or more a Luton van should be used so you can get all household items and personal stuff loaded all at once. Note that the hourly rates for a moving service with a Luton van are usually 25-30% higher.
How long does it take to move a 4-bedroom house?
Contact a professional moving company and share the details of your move. Relocation from a 4-bedroom property is really hard to estimate in terms of time duration and price.
Be prepared that it may take more than 1 day to move house if you're living in a property with 4 or more bedrooms.
Because of the complexities around such type of large-scale relocation, completing the job usually takes 2 days. Traffic on the road and other factors may slow down the house move, ending up with a service that may require up to 3 days to complete.
Things that influence the time it takes to move house
Size of property
Volume of belongings
Condition type and number of packing boxes
The scale of furniture assembly and disassembly required for the move
The travelled distance between the two properties
The packing of fragile or specialised items, loading and transportation
The floor you're living on (when moving from or to an apartment)
Traffic in the city on the day(s) of your house move
Time of the month/week.
Note: Busy service schedule at the end of each month may result in delays of the moving team.
Number of men you've hired to do the house move service
Dealing with council taxes when moving house
How long does it take to buy a house and move in?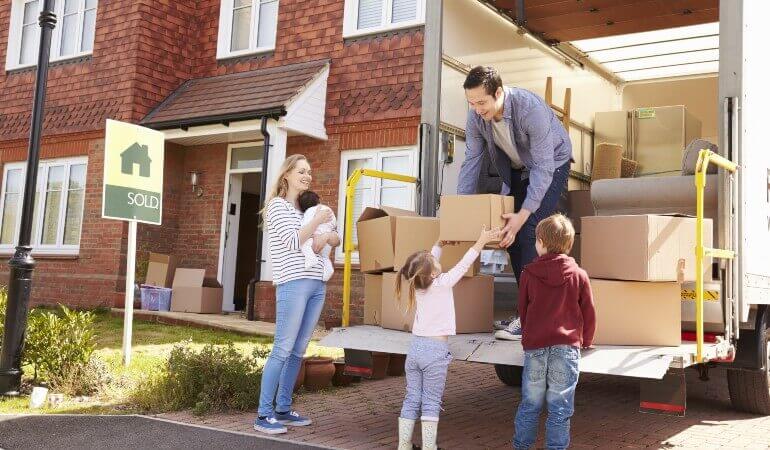 Buying a house is a long and tedious process, especially in the UK's largest city where the supply and demand of properties are super volatile.
Buying a house might take a few weeks or half a year, sometimes even longer than this. Think about the following things, required to complete a house purchase.
Will you be selling the property you're currently living in?
Are you moving into a rented property or you're planning to buy a new one?
Do you have a mortgage approval?
Have you found a suitable offer for buying a property?
How long will the conveyancing process take you
Property inspection is necessary
Ownership registration
Planning, booking and completing a house move service
Unpacking and decorating the new property is time-consuming
How long does it take to find a house
Finding a suitable house to move into takes 12 weeks on average. For people who're living in bigger cities like London, the process might take a bit longer but this is normal, considering how dynamic the real estate market is in such areas.
Delays in the process of finding a new house before moving out may occur for the following reasons:
Preferences for the area of living are too many
Size of property doesn't coincide with buyer's plans
Buyer is planning custom renovations
Buyer/seller is fine with postponing the purchase in search of a better deal
How long does conveyancing take with no chain?
Transferring the ownership of a property from the seller to the buyer takes about 8 weeks but is possible to last even longer than this.
Hiring an experienced solicitor is the key to minimising the time, required to complete the conveyancing process. A skilled professional will be very familiar with all requirements and specifics of the ownership transfer process.
In case you notice any of the things listed below, expect to deal with delays in the conveyancing process:

Delayed mortgage offer and approval
Seller slows down the property survey
Survey report requires from the owner to make urgent repairs of the property
Pre-contract enquiries remain unsettled because the seller does not respond to them on time
Delayed access to documents and information that is requested by your solicitor.
How long does conveyancing take with a chain?
When the property buyer is planning to sell a property first, the conveyancing process will certainly be delayed because there'll be a chain.
The minimum time to complete conveyancing when there is a chain is at least 2 months. The whole process may continue for more than a year if the buyer has difficulties in finding a buyer for his previous property.
How long do house survey & inspection take?
The home buyer's report and a property's survey give some very precious information to each property buyer who's eager to know more about the actual condition of the property from a professional's point of view. A customer is able to precisely calculate any additional costs for repairs and renovations, drawing information from the house inspection report.
A whole house survey and inspection usually takes about 2 – 3 weeks to complete. You can choose between a building survey and a home buyer's report.
Read more about the differences between a homebuyer report and a building survey. We recommend opting in for a building survey as it provides more detailed information on the overall condition of the property.
After all, this is one of the most important purchases you'll make in your life, you shouldn't take a risk and ignore any signs of hidden repair costs.
How long does getting a mortgage approval take?
Finding a suitable mortgage lender and getting your mortgage approved takes approximately 4 weeks. The loan approval process always depends on two sides: the customer and the lender.
There are 2 core steps in completing the process of applying and getting approved for a mortgage:
Agreement in principle (AIP)
The AIP consists of approving the mortgage in advance after the lender takes a closer look at the customer's credit score and other important data from different documents that provide more information about the customer. Most often, when AIP is provided, it's a sure sign that the mortgage application will be fully approved.
If you're working with a professional mortgage lender, the whole job may take only a few hours in the best scenario possible.
Full underwritten application
For this type of application, the lender authorises the mortgage subject to the valuation after manually checking the application. It's also possible to use software for automatic checking. This confirms that the property, chosen by the customer is acceptable according to the terms of the mortgage application.
Generic applications from borrowers who have a decent previous credit history are approved within a day but delays are also possible under certain conditions.
If the mortgage borrower is self-employed or has a high loan-income ratio, they should expect possible delays on their handwritten application approval.
How long does it take to move house after mortgage offer & approval?
Once you get your mortgage approval, you'll need about 6 weeks to complete the rest of the steps in order to finalise the property-purchase process.
Once you have the money, start looking towards the completion of the deal. You'll have to find a good solicitor who'll help you with the conveyancing process. On the day of completion, the mortgage lender will send funds to your solicitor who'll establish content with the solicitor who's representing the seller.
The conveyancing process certainly takes much longer than expected if there's a property chain.
How long does it take to move into a rented house?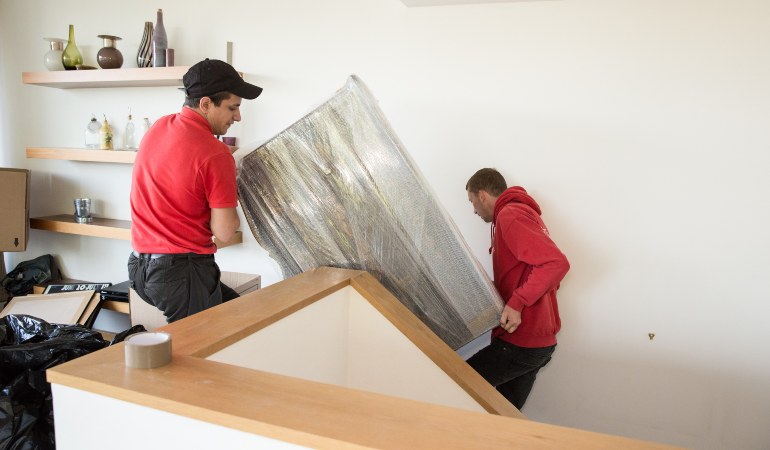 Finding a rented property takes from 30 to 60 days with the help of real estate agents. This means that at least a month is required to find a suitable property for living on rent and move into it.
If you already have a place to move into, the whole move won't take more than a day, especially if you've been living on rent before the move.
Moving from a rented property into another building on rent takes much less time than when you have to deal with selling/buying a new home. These are the most common factors that will influence the time, required to complete a house move into a rented property:

Location
Location is one of the turning points when looking for a property on rent. A flat or a house sells much faster and easier if its location is good. The only negative is that the price of the rent is usually higher than expected. If you're looking for a good location and an affordable price, you'll have to wait longer than expected until you find one.
Price
Removals prices in London are mostly affected by the property's size, location and condition. Stay alert for any flats or houses which rent price seems unusual for their characteristics. It might be a scam or the actual price might be a lot higher once you show that you're interested.
Property condition
Finding a property that suits your style and taste for interior design might postpone your move by weeks. Instead of looking for the "perfect one", talk with landlords about the possibility of making improvements on your own and rent a property that is not fully furnished.
Moving date
Changes in schedule or delays with the moving service often occur at a certain time of the day or during specific days of the month.
At Fantastic Removals, we recommend to our clients that they avoid moving out in the morning and the late afternoon if possible. Traffic is most busy at that time.
Choosing the end of the month for your move out date is not the best decision as well. The majority of our customers move out on the last day of their previous rent. We suggest doing it two or three days in advance. This way you have the option to deal with any possible delays and will avoid the busiest days of the month when others move out too.
Budget
The more you spend on hiring professionals who're looking for a suitable property, the faster you'll find one. The difference between relying on a professional in the field and looking for a rented house on your own might be a few months. If time is of the essence, we suggest you hire a good estate agent, it will certainly reduce the time required to move into a rented house
How long does it take to sell your home?
"How long does it take to sell my home?" is a question we hear very often from people who're planning to move but don't know how far in advance to book their moving service.
On average, it takes from 2 to 3 months to sell your previous property in terms that are mutually beneficial. Considering to refresh and decorate your property can make all the difference!
People often book a move out service with the option of pushing the date of the move forward. The final date for the move date often changes multiple times until the customers sell their old property.
After years of experience in the removals field, we've come to the conclusion on the factors that influence the time you'll need to sell your previous property from a seller's point of view:

Region
Urban vs suburban area is an eternal dilemma for many. Working with any types of customers speaks for itself that the majority of middle-aged people prefer to leave the city and get a property in the suburban area. If you're targeting this age group, you'll sell faster a property in the suburban area and vice versa. Check out what are the cheapest areas to rent in London by region.
Location
It's a huge benefit if there's a subway or a bus station near the property you're selling. A central location is considered to be the most versatile in terms of access to any location in the city. The better your property's location is, the faster you'll sell it.
Size
Average size properties for a family of 3 or 4 are the easiest to sell. 1- bedroom flats are usually rented by students or people who're living alone. Large houses and flats are too expensive and people tend to avoid them as well.
Condition of property
Too much luxury sometimes causes people to worry about causing property damage they won't be able to repair. The best solution is to sell a property with decent furnishing that is not damaged, contemporary and provides anything necessary for proper living.
If the structure and installations are working properly in addition to the good-looking interior, you'll most certainly not face delays in selling the property.
Things that slow down a property's sale from a buyer's point of view:
Delays in sale completion
When a seller accepts the offer of a buyer, this doesn't mean the deal is sealed instantaneously. Dealing with buyer's conditions may take even more than a month if they get slowed down with things such as insurance, loan approval, inspections etc.
Breaking a contract
When the home survey is complete, the buyer may choose to ask for a price reduction if there's a lot of damage to the property. In case the two sides don't come to an agreement, the contract for the deal is usually terminated and the seller should start looking for a new buyer.
If you get to this point as a seller, expect to have a delay of about a month until finding another suitable buyer.
The buyer faces a property chain collapse
Mind that when someone's buying your property, he's probably doing it with the money from selling their previous home. If you have to wait for the buyer to complete a sale first, this creates a property chain and the time for selling your property to the buyer is then influenced by his own sale. In case the buyer's chain collapses, there'll be a huge delay in the whole deal.
It may take several months until you get things done with the same buyer, so finding a new one might be the better option.
Overpricing
The money a seller expects to receive is different from the price the buyer will have to pay because of the real estate agents commission. If the broker decides to overprice a property in an attempt to profit more from the deal, the price for the deal will be much higher than the average around.
FAQ
What is a property chain?
A property chain is generated when a homebuyer and a seller will be able to complete their deal after another property sale is completed first.
If you're selling a property to someone who has to acquire money from another purchase and your offer is already accepted, you will have to wait for them to complete their other deal first so they can fund the purchase. In this case, there's a property chain that will delay the new deal until the previous is complete.
Respectively, a buyer might be in a property chain because the seller is waiting to find a new house before selling his old one, the reason for forming a property chain may come from both sides.
The sooner both sides deal with the property chain, the faster they'll complete the property sale/purchase deal between them.
How long does it take to move house with a chain?
It will depend on the scale of the chain if there're any issues or delays with it. If there's a chain from both sides (seller and buyer) the house move will be delayed by months.
The average time to move house with a chain is approximately up to 4 months when there's a property chain with up to 3 properties.
In case there's a break in the chain and deals fall apart, expect delays in your house move of up to 6 months.
How long does it take to move house with no chain?
If you're looking for a new home to move into and there's no property chain at all, you can have your house move completed in 2 months or even less.
Things such as hiring good solicitors, real estate agents and using the services of a professional removals company will certainly speed up the whole process of relocation.
How long does it take to pack a four-bedroom house?
Approximately 8 – 12 hours is the standard time frame, required to pack a 4-bedroom house under ordinary circumstances.
There are things that may delay or vastly speed up the whole packing process. You just have to take these into consideration in advance and make some preparations for the packing service such as:

Declutter your home
Get a precise estimate of the necessary packing materials
Pack properly or use the packing services of experts who'll take a great care of fragile items
Separate all of your items in groups by type of products, size, the room it belongs to etc.
This will later save lots of time when unpacking at the destination address.
Make sure you discuss insurance of your items when you contact a moving company. Some removals providers provide insurance only if they pack your belongings and take no responsibility for the contents inside moving boxes, packed by you.
How long after closing can I move in?
You will be able to move into the new property about 7 – 10 days after closing the deal for property purchase. This is the standard period of occupancy that is usually negotiated between the buyer and the customer.
If a seller wants to remain longer in their property after closing in, a prolonged period of occupation should be legally requested by the seller and accepted by the buyer.
The occupancy period cannot be changed once it's been pointed out in a contract. The move out process should finish before the date, mentioned in the written agreement between buyer and seller.
Mutually negotiated extended occupancy may last up to 60 days after closing in if both sides agree with these terms.
Do sellers have to clean the house?
Currently, in the United Kingdom, people who're selling a property are not legally obliged to take care of the cleaning before they sell a property.
However, many do so in order to bring their tenement into a much better and saleable condition. You won't be able to take any legal actions against sellers who have decided to cut costs (or effort) from thoroughly cleaning the property before selling it.
Despite this, each seller is under obligation to remove their personal belongings and furniture from the property they've put on sale publicly.
In case you end up in a situation where the seller refuses to remove their items from the property, you will have to arrange and pay for the service. The seller will, therefore, be obliged to cover the costs. If they refuse to do so, the buyer is in their right to take legal action against the seller.
If you want from the seller not to remove certain things, you should have this included in your contract, otherwise, he won't have any obligation to leave it inside for when you move in.
How much does it cost to clean a house after moving?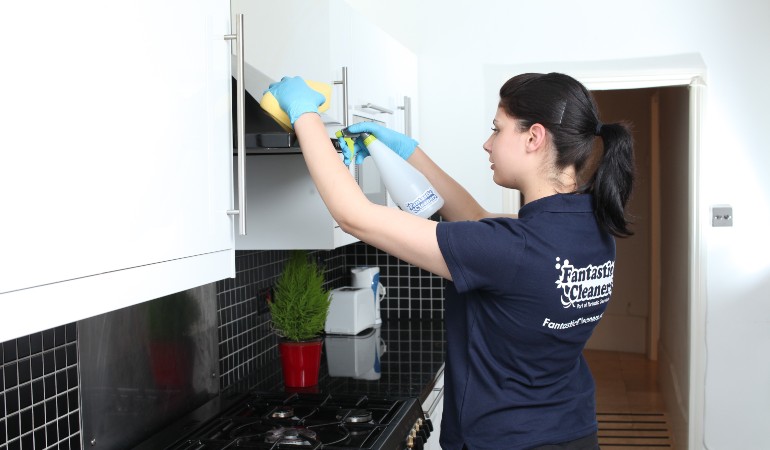 Move out cleaning prices start from about £90 for studio flats and reach a price of about £250 for houses with 3 bedrooms.
In case a property is bigger and a customer decides to book additional services such as carpet or window cleaning, the price for the whole service package may go up to £500 or even more.
Can you move into a house before closing?
In case of mutual agreement – yes, it's possible for a buyer to move into a property before closing the deal with the seller after they've exchanged contract.
However, it's a very risky move from a seller's point of view to let the buyer enter the property before closing the deal. Most solicitors would advise their client (the buyer) not to take this action.
Mind that if you give keys to a buyer before closing the deal, it's a good idea to make them responsible to leave the keys to the real estate agent at the end of the day. Granting unlimited access may cause additional complications before the deal is fully complete.
How long does it take to move into an empty house?
Depends if the property will be rented or you will be buying a new home. A huge factor is the size of the house move as well. If moving into a rented property, expect it to happen at least 1 month faster than buying a home. Consider spending a decent amount of time when moving into an empty house on the following things:

Painting
Re-keying
Garage and storage arrangement
Minor repairs
Changing the interior design up to your taste
If you're planning to transfer the furniture from your old into your new property, don't forget to book a furniture assembly as well. Old furniture is really hard to re-assemble on your own if you no don't have the right tools and you haven't kept the assembly instructions.
How long does it take to move into a council house?
The question isn't how long it will take to move into a council house but how long it will take to receive an offer for entering into a house, owned by your local council. This depends on the following factors:
Size and type of the housing you need
Rate of availability
Priority (how urgent it is for you to get access to council housing)
If you're planning to move into a council house you should first apply for a council home. Once a housing offer is offered to you, there's a short period of time in which you have to reply if you accept or refuse the offer. In case of refusing it, you remain in a waiting list and will have to wait until a new offer.