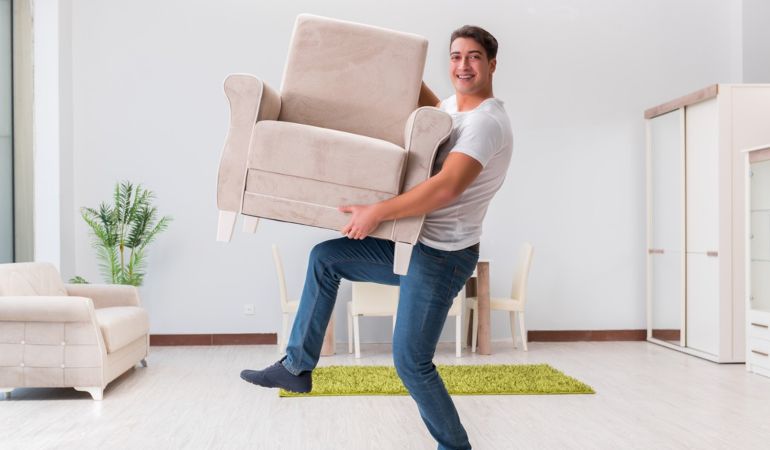 Unpacking after moving is a pain. After paying the movers, you think the hard part is over, only to be turn around and face a mountain of unpacking to do. Most adults have several moves under their belt, and some have more than others.
Aside from knowing the last things to pack, there is no higher level of moving excellence than knowing what to unpack first. Now, here are all the things you must know how to unpack quickly after moving house.
Important!
Just a heads up, if you moved with your pet, make sure to place it in a room with a bowl of food, water and a few toys, while you unpack. Otherwise, you might be looking for it late at night, because it ran away from the terrifying commotion. Ideally, it's best to have your pet looked after by someone else, until you're done unpacking.
How to unpack after moving house
Since you'll be tired after moving to the new place, you will most probably take at least ten minutes of rest to catch your breath. How long to unpack after moving, is up to you. Hopefully, you did a good pre-tenancy cleaning, because if you haven't…

Start with cleaning up every room. Unfortunately, it's always about cleaning, otherwise, results won't be good. Hopefully, you prepared a box of cleaning detergents beforehand so you don't have to walk around wondering where they are packed.
Open box of essentials first. In a previous article, we mentioned how important the box of essential is. Open it now and find all your essential items, such as toilet paper, toothbrush, snacks, a change of clothes, and anything you can't get by without.
Open "bathroom" labelled boxes. Find the box, labelled "bathroom" and unpack. This is the easiest room since all the furniture is installed beforehand. Place all your hygiene products, toilet paper, bathroom cleaning detergents, shower curtain and just about anything you're going to have there.
Arrange the furniture. It would have been a lot better to tell the home movers where to place each piece upon arriving since it's usually part of the service. It would have been a real help unpacking after a move. But if you haven't made a plan for that beforehand and the furniture is just put wherever, now is the time to arrange it.
Arrange the closets. We proceed with closets since once you arrange all your clothes, you close the doors and move on to the next thing without creating a mess that can make walking difficult.
Arrange the cabinets. Just like with clothes, anything that is going to stay in just one place should be out there. Books, old clocks, electronics, and everything else should get out of the way like this.
Put up the wall decorations. Wall pictures, posters, curtains won't pose any difficulty, so, get them out of your way.
Roll the carpets. Carpets come in last since they would only get in the way if we placed them in the beginning.
Book Fantastic Removals for a Quick Relocation
Enter your postcode to view our rates and availability in your area.
How to unpack the kitchen
The kitchen isn't any different than every other room, but since it's the most sacred place in a house, it deserves special attention.

Start with a cleanup. Always begin with a deep clean. This also helps you become acquainted with the cabinet interiors, drawer capacity, shelf space, and the many idiosyncrasies of in between. Cleaning up will also decrease the time, required to complete the house move process, especially if you clean at your previous address before the movers' arrival.
Put appliances on designated places. There isn't much to think about this. There is only one place for the stove, only one pace for the washing machine, or the dish-washing machine. It's important to place the large appliances first, or it might be a lot harder to bring them in once everything else is in the way.
Place boxes labeled "kitchen" in the kitchen. In order to not get mixed up in all the chaos, place everything kitchen related in the kitchen. From there on, it's all about organising.
Open the kitchen boxes. Finally, we can open the boxes and start looking for a place for everything.
Arrange cupboards. After the clean, you already have a mental map on where everything should be. So, start with cups and cutlery. Place them wherever you need to have those. It's your kitchen and you know which items are best to be in your reach.
Arrange around the stove. Since the stove is your main working area, it makes sense for pots and cooking cutlery to be close by.
Put all detergents in one place. Detergents are toxic, so no need to scatter them around. Designate a special place just for them. It's also better to be hard to get, especially if you have small children or pets.
Consider some hooks. If you're running out of space, hooks are a good idea to find a place for everything. You can hang your collection of spoons, teacups, and even a spice rack. And if you're really clever, kitchenware on hooks can be a delightful splash of home decor. It's important not to overdo it, but a few well-placed hooks can free up plenty of kitchen space.
And, there you have it. Some helpful moving house unpacking tips for every home. Hopefully, you're finally done and about to start a new page at the new place.
Check also:

How to Pack Fragile Items for Moving

What to do with Moving Boxes after Unpacking