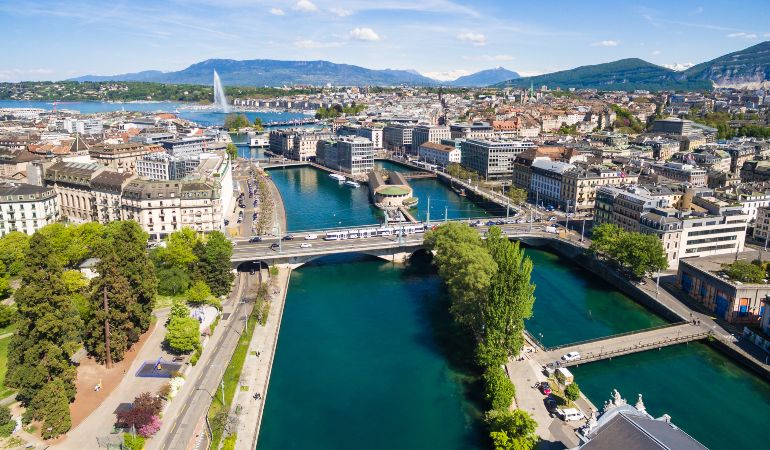 The land of chocolate, cheese and watches, Switzerland is a small country in western Europe with a small population of around 8.67 million. Interestingly enough, since it is so progressive and economically advanced, it attracts a highly skilled foreign population with 25% of the population being foreign. Although living in Switzerland is considered expensive in comparison to other global economies (Zurich is considered the world's third most expensive city), its citizens get value for money as they get access to medical, nutritional and basic knowledge services at home. With low unemployment rates and being home to two of the most livable cities in the world (Zurich and Geneva), Switzerland has the third-highest salary and job security out of all OECD countries. It is also considered the country with some of the lowest crime rates out of all industrialised countries. Putting the economy aside and moving on to nature, there are many wonders to behold. The country is home to 208 mountains and has some of the highest peaks in Europe. It also has 7,000 lakes with Lake Geneva being the largest in the country. The largest lake that's completely within Switzerland's borders is Lake Neuchatel with a surface area of 218.3 sq/km.
Best cities to live in Switzerland
You'll be spoilt for choice in terms of where to live in Switzerland as the country offers a range of diversity and beauty within its borders. Here are some of the top cities to live in when you move to Switzerland.
Zurich
The largest city in Switzerland, and also one of the most expensive in the world, Zurich was voted second in Mercer's 2017 Quality of Living Rankings. The canton is steeped in history and culture and it has amazing architecture, which attracts expats and tourists alike. It offers a range of bars and restaurants as well as excellent transport links to surrounding areas. It is also popular for its excellent variety of shopping although they come with rather high price tags for designer brands and unique boutique items. In particular, Bahnhofstrasse is a mile-long high-end shopping street that offers the best of the best. In addition to the city, the canton also has a number of towns and villages, many of which provide larger housing options at more affordable rates than central Zurich. Zurich is also very culturally diverse, being home to 50 museums and over 100 art galleries. You can also enjoy the gorgeous summers by making the most of Lake Zurich where you can rent a canoe, take a sunset cruise or simply go for a swim. The shores of the lake offer amazing views, biking trails and great dining options.
Geneva
The French-speaking city of Geneva is Switzerland's second largest city. It is considered one of the best cities in Europe in terms of living standards and it is home to a foreign expat population which hovers around the 40% mark, making it truly multicultural and diverse. Ideal for food lovers, the city offers a number of high quality restaurants. Its close proximity to the Alps is ideal for sports lovers who love to ski. Known for being the headquarters of the United Nations, you can also visit the European Organisation for Nuclear Research (CERN), the Geneva observatory, Patek Philippe Museum, the International Red Cross and Red Crescent Museum and the International Museum of the Reformation. In the Old Town, you can enjoy cobblestone streets lined with gorgeous boutiques, the St. Pierre Cathedral as well as many charming cafes. Geneva is also famous for its lake – Lake Geneva – which is one of the largest freshwater lakes in Europe.
Zug
The German-speaking city of Zug is home to around 30,000 people with a growing expat population due to the fact that it is an economic hub, which attracts companies due to it being considered a tax haven. But economics aside, Zug is the highest-rated city in Switzerland and it also offers the world's best quality of life. Residents are very satisfied with local transportation, the quality of the environment as well as their personal safety. With a deep heritage, in the Old Town you'll find many historic buildings, which include the 52-metre Zytturm. In addition to attractive architecture, you can also enjoy a wide range of bars and restaurants. In the summer, you can take advantage of the close proximity to Lake Zug while if you prefer hikes, you can enjoy excursions to the Zugerberg mountain.
Lausanne
French-speaking Lausanne is Switzerland's fourth largest city and it is surrounded by snow-capped mountains, making it ideal for hikers, swimmers and anyone who'd like to spend time in nature. Also known for its chocolate and cheese, which you can sample at restaurants and cafes, you can also fully immerse yourself in the city's artistic culture as in summer, the city hosts many free outdoor festivals among which is the six-day long Festival La Cite. It is also home to the only Olympic Museum in Europe, Musee de l'Elysee as well as the Collection de l'Art Brut. It's located on the shores of Lake Geneva and offers expats and locals a cosmopolitan buzz owing to its university as well as generally young population. Interestingly, Lausanne is the smallest city in the world to have its own metro system, making getting around simple, fast and efficient.
Basel
Located near the French and German borders, Basel is Switzerland's third-largest city and is considered the country's artsiest cities where you can find over 40 museums such as the Museum of Fine Arts and the Natural History Museum. The city is located on the Rhine river and enjoys over 300 days of sunshine each year. This makes it particularly attractive for those looking to picnic along the sides of the river or go for a dip in it. The city's Basler Fascnacht is the biggest carnival celebration in the country. It lasts for three days and takes place in February. Some of its main attractions include colourful parades, food stalls and masked musicians. The locals are quite happy living there, rating the city highly in terms of personal safety as well as the quality of the local transportation system.
Lucerne
Lucerne is a German-speaking town that attracts locals as well as expats alike due to its proximity to the mountains and ski resorts, rivers and lakes (Lake Lucerne with the world's oldest covered wooden bridge), its Old Town and remnants of old towers and fortified walls that once surrounded the city. It is especially beautiful in winter as winter markets and treats pop up on streets, creating a cosy atmosphere making for a charming experience.
Bern
Although little known as such, Bern is Switzerland's capital and it offers visitors and expats a wide range of offerings. From swimming in the Aare river to walking around the medieval buildings in the Old Town to enjoying the many fountains (some of which are over five centuries old), these are dotted around the town. You can also visit the Gothic Cathedral of St. Vincent, which offers amazing views of the city and the Bernese Oberland mountains in the distance. The city is also home to an Einstein Museum. Other places to visit include the city's historic clock tower, which dates back to the 13th century. Instead of shopping malls, locals shop in historical-style arcades. You can also enjoy charming Christmas and outdoor markets. Hikes are possible just outside the city in the hills of the Gantrisch mountains as well as in riverside paths, which cross valleys and bridges.
Planning an international move? Fantastic Removals can help!
Contact Us
Other honourable mentions
If big city life is not really your thing, there are other wonderful places in Switzerland to live in. Here are some of them.
Winterthur
Switzerland's sixth largest city and home to over 100,000 residents, it is located just 20 km from Zurich and offers a small-town vibe with its Old Town with cobblestone streets that zigzag around ancient buildings. The city is home to many museums and is ideal for art enthusiasts.
La Chaux-de-Fonds
Considered the heart of the watch-making industry in Switzerland, this city sits at an altitude of 1,000 metres and is the country's highest city. It is surrounded by valleys, open countryside and the Doubs river which is located on the French-Swiss border, ideal for hikes. A total of 23 buildings in the city have been declared Swiss heritage sites.
Chur
Chur is considered Switzerland's oldest city with a history that dates back over 5,000 years. In the Old Town centre you can enjoy Saint Martin's Church, the clock tower and the Cathedral of Saint Mary of the Assumption. The city is also home to some museums and you can enjoy weekend markets in the main square. You can also enjoy hiking and biking trails as well as enjoy the nearby mountains.
Montreux
located on the banks of Lake Leman with a backdrop as the Swiss Alps, Montreux offers a variety of outdoor activities. The lake is a wonderful site for swimming, canoeing and sailing. The city's main attraction is the 13th-century Chillon Castle as well as a variety of museums.
Fribourg
Best known as a university town, it's a medieval city with many historical attractions. While in the Old Town, you can see the Cathedral of St. Nicholas, Hauterive Abbey and the Baroque Loreto Chapel. There are other great museums to visit, too, and on the cultural side, you can enjoy many festivals throughout the year.
Lugano
Located on the northern shores of Lake Lugano, it is considered the capital of Italian-speaking Switzerland. Being only an hour's drive away from the border with Italy, it features awe-striking architecture as well as a vibrant café culture.
Sion & Valais
The French-speaking town of Sion is the capital of the Valais canton, which is located near the Italian border. It is famous for its natural beauty, being surrounded by snowy peaks and overlooked by two hilltop castles. It also features many modern facilities and the railway station connects you to Zurich, Bern and elsewhere in Switzerland.
Cities and places you should avoid
Despite being home to some of the world's best cities to live in, it's not always a bed of roses and Switzerland, too, has some areas that are best avoided. According to the locals, in Zurich these areas are Oerlikon and Schwamendingen, Hardbrucke, Tiefenbrunnen and Meilen, as well as Seefeld. Other places considered as not the most attractive places to visit or live in include Jungfrau Park.
Takeaways
Switzerland is an attractive destination due to its stable economy and quality of life there. The country offers a wide range of beautiful cities to start a life in, and those cities on their end offer amazing job opportunities. There is of course more than the well-developed economy and standards of the country. Switzerland is home to natural wonders among which some of the highest peaks in Europe and a number of beautiful lakes. If this sounds like the place you want to settle let us know! We would gladly help you plan your international move!