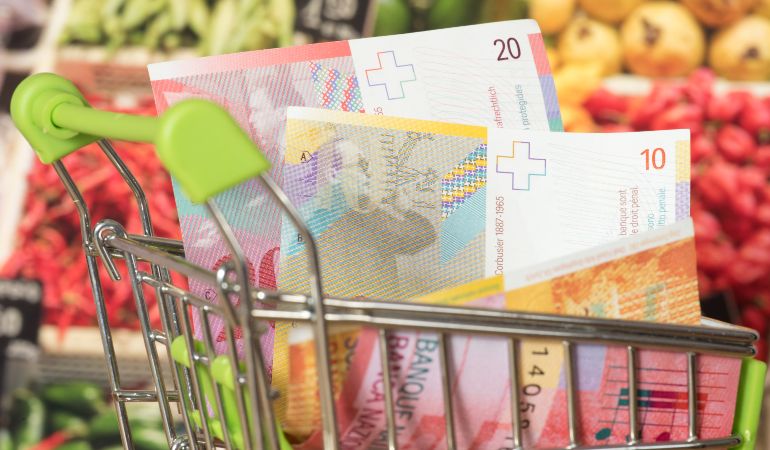 A central European country with a population of 8.5 million, Switzerland has one of the world's best functioning free market economies. The country has a high cost of living, which is compensated by the high wages earned by its workers. In 2019, the OECD reported that the average annual salary in Switzerland was 60,847 CHF. If you're in the accommodation and food service industry, the average monthly salary you can expect to earn is 4.413 CHF. Other job sectors include administrative and support service (5,238 CHF), arts, entertainment and recreation (6,655 CHF), construction (6,200 CHF), financial and insurance activities (9,402 CHF), human health and social work (6,178 CHF), information and communication (8,705 CHF), manufacturing (6,436) and professional, scientific and technical (7,843 CHF).
Opening a bank account in Switzerland
As an expat, opening a bank account in Switzerland will not be a difficult process, as Swiss banks are quite welcoming towards foreign residents. Accounts can be opened for different currencies, and you are not limited to Swiss francs only. One requirement for opening a bank account in Switzerland is the minimum age requirement of being at least 18 years old. You may also be required to put down an initial deposit and maintain a minimum amount in place. Although different banks will have different requirements, some of the most common documentation you will be required to provide includes proof of identity such as a national ID card or passport, proof of address and proof of employment or legitimacy of funds.
Accommodation cost in Switzerland
Renting costs in Switzerland are quite high compared to other European countries. For example, you'll be expected to pay around 2,000 CHF per month for a one-bedroom apartment, while this cost is about 3,600 CHF for a three-bedroom apartment in Zurich. The costs for Geneva are also quite high at 1,950 CHF per month for a one-bedroom apartment and 3,500 CHF for a three-bedroom apartment. Basel's prices are a bit lower at 1,300 for a one-bedroom apartment and 2,500 for a three-bedroom apartment.
When it comes to purchasing property in Switzerland, you'll be expected to pay an average asking price per square metre for a city centre apartment of 12,938 CHF in Zurich, 13,426 CHF in Geneva and 13,967 CHF in Lausanne. The property prices can be the final factor to tip the scales when it comes to choosing the city you will live in.
Cost of utility bills in Switzerland
Usually, utilities in Switzerland are provided by private companies and in some cases, water and electricity are included in the monthly rental payment. You should check your lease to confirm this. For those who are paying directly, an 85 square metre apartment consumes around 200 CHF in monthly bills. Your internet cost per month will be around 60 CHF in addition to the required TV and radio licensing fee which is approximately 150 CHF per quarter and applies to car radios, too. Garbage collection, on the other hand, is not too expensive and costs around 1 CHF for a 17-litre bag. Recycling is important and there are large fines for not doing so.
Transportation expenses in Switzerland
Using public transportation is a popular choice for many in Switzerland and there is an extensive and reliable public transportation network. Train is an excellent way to travel between cities and these are usually on time and quite efficient. A one-way, second class ticket between Zurich and Bern costs 51 CHF. The same ticket between Zurich and Geneva will cost 88 CHF.
For inter- and intra-city travel, you can purchase either single tickets or monthly passes. Meanwhile, an annual country-wide, unlimited trip travel pass that is operational across trains, trams, buses and ships will cost you about 3,860 CHF.
Since Switzerland is divided into cantons, each canton has different costs for city-wide public transportation. Your general single use bus ticket will cost you around 3 CHF, while a monthly bus/transport pass will set you back in the region of 70 CHF. In Zurich, single trip tickets in local zones start at 2.70 CHF and can go as high as 17.20 CHF for all zones.
The use of taxis is quite rare due to the vast public transport system and the fact that taxis are expensive in comparison. For example, you can expect to pay a base fare of around 6 CHF and an extra 4 CHF per kilometre.
The cost of one litre of gasoline is around 1.51 CHF.
Cost of necessities in Switzerland
The cost of necessities also needs to be factored into your monthly expenses when it comes to determining the cost of living in Switzerland. Below is a breakdown of some of the costs you will be expected to pay for common fridge items.
Food costs in Switzerland
| Type of Product | Unit | Price in CHF |
| --- | --- | --- |
| Eggs | 12 | 7.00 CHF |
| Milk | 1 Litre | 1.60 CHF |
| Chicken | 500g | 13.00 CHF |
| Apples | 500g | 2.00 CHF |
| Beer | Standard bottle | 2.00 CHF |
| Wine | Standard bottle | 14.00 CHF |
If you're interested in eating out, the costs will vary across the country and will, of course, depend on the type of restaurant that you frequent. In 2020, there were 122 Michelin Starred restaurants in Switzerland and these will cost significantly more than eating at a more affordable, local restaurant with the expected cost for the latter being in the region of 25 CHF. Meanwhile, dining out at a nice, mid-range restaurant could cost over 100 CHF for two people.
Attire and personal care in Switzerland
Regarding attire and personal care, you will pay around 95.17 EUR for a pair of Levis 501 or similar type of jeans. Meanwhile, a summer dress in a chain store such as Zara or H&M will cost approximately 45.82 EUR. A pair of mid-range Nike running shoes will set you back around 103.92 EUR and a pair of men's leather business shoes can cost around 141.97 EUR.
Takeaways
Considering moving to Switzerland to make it your new home? Here are a few main things to keep in mind:
Switzerland is a developed country with higher than average monthly salaries although the cost of living is significantly more expensive than the rest of Europe.
To open a bank account, you need to be at least 18 years old and provide some form of minimum deposit. You'll also need to provide proof of identity such as a national ID card or passport, proof of address and proof of employment or legitimacy of funds.
Zurich and Geneva are some of the most expensive cities for renting an apartment.
Recycling is big in Switzerland and you may be fined for not recycling your garbage.
There's a very effective public transportation system in place and most people avoid the generally expensive taxis.
Food prices will vary depending on where you purchase them while going out to a restaurant can set you back in the region of between 20 EUR and 100 EUR, depending on the restaurant you frequent.
The cost of shoes is comparatively expensive and will depend on the brand you choose to buy.