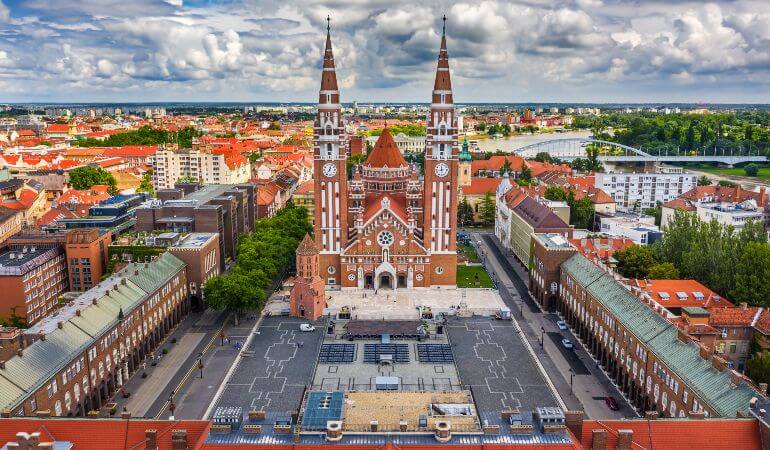 With a total population of around 9.7 million, Hungary is a landlocked, Central European country that's bordered on the north by Slovakia, north-east by Ukraine, southeast by Romania, Serbia and Croatia, south-west by Slovenia and west by Austria. As one of the oldest countries in Europe, it was founded in 896 A.D. before France, Germany or England.
It is the birthplace of famous escape artist Harry Houdini as well as the origin of the Rubik cube. In addition, you'll find the world's largest geothermal cave system in Hungary. It is located underground under the capital city of Budapest. Meanwhile, Budapest has one of the highest numbers of thermal springs in the world, with around 70 million litres of water coming up to the surface into Budapest's thermal springs.
Another interesting fact is that Budapest is home to the oldest metro line in continental Europe. And despite being landlocked, Hungary is home to the second largest lake in Europe – Lake Balaton, also known as the "Hungarian sea" covering an area of 601 square kilometres. If these are all things that spark your interest, you may consider moving to Hungary for good!
Best cities to live in Hungary
Budapest
The capital Budapest offers visitors and expats stunning and diversified architecture, wonderful cuisine, easy and convenient transportation, and is the country's economic hub. It is a vibrant city that offers everything one can expect from a modern capital. In addition, it is the most populous city in the country with leading world-ranked universities and is known for its affordable cost of living.
It is split by the Danube River into two parts, with some charming bridges connecting the city together. Going for a walk along one of these bridges can lead to a memorable experience. In addition to this, the Hungarian Parliament is the highest structure in the country and it is considered a historical building. It was created using around 40 kg of gold.
Debrecen
Debrecen is the second-largest city in Hungary and is considered a distinguished cultural centre in the country and this might be due to the fact that it is considered "The Calvinist Rome" with the Great Church being a symbol of the city. It is also home to the University of Debrecen and Debrecen Reformed Theological University, which are considered among the top in the country, and the fact that it's a university town gives it a youthful vibe.
The city's economy is mainly financed by agriculture, health and educational initiatives. It offers old religious sites and is home to some classical museums.
Szeged
Also known as the city of sunshine, it is the third-largest city in the country. It is also home to the University of Szeged, which is rated as one of the top in the country. With its youthful atmosphere, charming streets with lively cafes, it also offers a vibrant nightlife and a multitude of bars and restaurants.
Gyor
Located in north-west Hungary, Gyor is one of the main regional centres as it's the sixth-largest city in Hungary. It is considered to be a bustling metropolis with fast innovation and development. Much of the city's economy centres around the automobile sector making Gyor a national hub for rail and road traffic. This city also offers an excellent business environment with a number of multinational companies established there.
Eger
If you're interested in historic castles and extravagant buildings, then Eger is the city in the northern part of the country you need to see. It also offers wonderful thermal baths and is a city famous for its high-quality wines. It draws in many tourists each year and is popular for its restaurants and bars.
Pecs
Situated in Hungary's south-west, Pecs has a long and glorious history. The city is famous for its numerous archaeological sites, drawing in hordes of tourists each year. What's more, is the University of Pecs, the oldest in Hungary, is among the first universities in Europe. The city is connected to the rest of the country through convenient and easy transportation routes, which is also an important element of doing business there.
Keszthely
Keszthely is located near the banks of Lake Balaton. It is a small city with about 21,000 residents. Despite its small population, however, it draws in crowds due to being surrounded by rolling hills, beaches, forests and the lake. The city also offers magnificent historical buildings and exquisite townhouses. Some of the most notable attractions there are the Festetics palace and the Balaton Museum.
Planning an international move? Fantastic Removals can help!
Contact Us
Other honourable mentions
Sopron
Sopron is a pleasant city located near the Austrian border just off Lake Neusiedi. The city is located in a well-known wine-producing region.
Heviz
This city is located on Lake Heviz about two hours south-west of Budapest. Lake Heviz is the second largest thermal lake in the country while Heviz Spa dates back to the late 18th century. With a small population of around 5,000, you can enjoy lots of stores, restaurants, a movie theatre, churches and more.
Cities and places you should avoid
While most places in Hungary are considered safe, you should avoid crowded places as these are prone to attracting thieves, and you should also avoid going to deserted places at night. According to some sources, there are some undesirable streets in Budapest, and these should be avoided. They are: Diószeghy Sámuel Street, 8th district, Szabadkai Road, 9th district, Nyugati Square underpass, Kamaraerdei Road, 22nd district and Dunakeszi Road.
Takeaways
One of the oldest European countries, Hungary is home to some amazing geothermal springs.
Some of the best cities to live in include Budapest, Debrecen, Szeged, Gyor, Eger, Pecs and Keszthely.
If you're looking for smaller places that still offer a unique experience, then Sporon and Heviz should be your main choice.
Budapest, although a great city, does have some undesirable streets and you should be wary of pickpockets as well as avoiding deserted places at night.
If you have already decided to move to Hungary and picked up a city, your next step is to organize the international move. As this could be tricky, you might need help from a professional removal company to take care of everything and help you relocate.