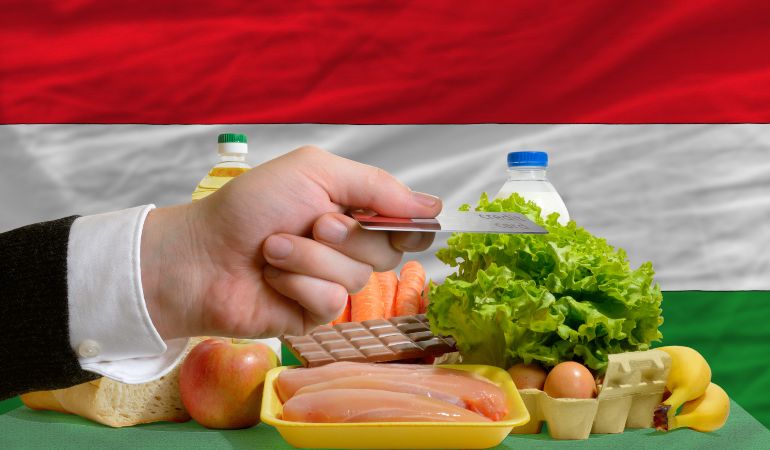 Home to just over 9.7 million people, Hungary is a landlocked central European country that borders Romania, Ukraine, Slovakia, Austria, Slovenia, Croatia and Serbia. The capital Budapest is bisected by the Danube river and it contains many architectural wonders including castles as well as spas and baths from both Turkish and Roman influences. Whether you're going to Hungary to study there for a semester or you're making a permanent move with your family, knowing about the cost of living there will help you budget better. So, this post is for you if you are:
Planning on visiting Hungary
Going to study there, or
Planning on permanently relocating
Opening a bank account in Hungary
Having a bank account is an integral part of your comfort and convenience in a foreign country. Whether you get remittances from another country in this account or your salary is transferred there, a bank account is crucial. As an expat, the answer to the question of "can you set up a bank account in Hungary" is yes. You just need to be prepared with the right paperwork. Some of the documents that will be required when opening a bank account include a valid residence permit or work visa, an address card or proof of address such as an apartment or lease contract and a valid passport. Some banks will require only some of these documents, while others will require all of them. The most popular banks in Hungary are OTP Bank, K&H Bank, Erste bank and CIB Bank, while the average monthly net salary after tax is around 727 EUR. Some of the most prominent professions and their associated salaries are: software engineer (16,549 EUR), content marketing (11,020 EUR), chef (29,369 EUR), physician (26,830 EUR), web developer (15,189 EUR), copywriter (10,366 EUR), waiter (6,951 EUR) and architect (13,771 EUR).
Accommodation costs in Hungary
To rent a place in Hungary is relatively affordable when compared to other countries, especially those in western Europe. The cost of an apartment usually ranges between 280 and 400 EUR per month. Meanwhile, renting a room will cost around 180 to 280 EUR per month. For a dormitory room, this will set you back around 110 EUR per month.
Of course, the cost of your accommodation will depend on your location, dwelling size and the condition of the property itself, much like anywhere else in the world.
Luckily, you won't always need a rental agent and when you do use one, it's typically the owner who settles their costs.
Other costs involved in your monthly rent will include utilities, which will cost you in the region of 85 EUR per month. They include heating, cooling, water, electricity and garbage removal. Internet speed of 8 Mbps for one month is about 12.25 EUR. Other costs include:
| Type of Product | Average Prices |
| --- | --- |
| 40" flat screen TV | 345 EUR |
| Microwave (high-quality) | 73 EUR |
| Laundry detergent (3 litres) | 7.70 EUR |
| Hourly rate for cleaning help | 9.35 EUR |

For those who are interested in purchasing a property in Hungary, these are the typical costs you'll be expected to pay:
Price per m/sq for an apartment in the city centre: 1,941 EUR
Price per m/sq for an apartment outside the centre: 1,322 EUR
Meanwhile, the average mortgage interest rate annually for a 20-year fixed rate is 4.89%.
Cost of utility bills in Hungary
The average monthly utility bill you'll be expected to pay is in the region of 85 EUR. This price includes gas, electricity, water, heating, cooling and garbage removal.
Transportation expenses
Since the country has a generally well-established public transportation system, you are not likely to need to use your own car while in Hungary, unless you are planning trips to nearby cities or to other European destinations.
Some of the general costs you can expect to pay there include:
| Type of Product | Average Prices |
| --- | --- |
| One-way ticket (local transport) | 0.97 EUR |
| Monthly pass (regular price) | 26 EUR |
| Taxi start (normal tariff) | 1.95 EUR |
| Taxi 1 km (normal tariff) | 0.83 EUR |
| Taxi 1 hr waiting (normal tariff) | 12.50 EUR |
| Gasoline (1 litre) | 1.10 EUR |
| VW Golf | 16,667 EUR |
| Toyota Corolla (1.6 litre) | 17,776 EUR |
Cost of necessities in Hungary
While we've covered most of the main costs you'll encounter while in Hungary, such as transportation and accommodation costs, one of the most frequent categories of costs and one which we cannot live without is the cost of basic necessities. These costs will be covered below.
Food costs in Hungary
Common fridge items and their prices:
| Type of Product | Average Prices |
| --- | --- |
| Milk (1l) | 0.67 EUR |
| Loaf of white bread (500g) | 0.65 EUR |
| White rice (1kg) | 1.05 EUR |
| Regular sized eggs (12) | 1.55 EUR |
| Local cheese (1kg) | 5.49 EUR |
| Chicken fillets (1kg) | 4.11 EUR |
| Beef (1kg) | 7.00 EUR |
| Apples (1kg) | 1.27 EUR |
| Bananas (1kg) | 1.22 EUR |
| Tomatoes (1kg) | 1.49 EUR |
| Potatoes (1kg) | 0.79 EUR |
| Onion (1kg) | 0.79 EUR |
| Lettuce (1 head) | 0.87 EUR |
| Water (1.5l) | 0.32 EUR |
| Bottle of wine (mid-range) | 4.17 EUR |
| Domestic beer (0.5l) | 0.76 EUR |
| Imported beer (0.33l) | 0.97 EUR |
| Cigarettes (20 pack Marlboro) | 4.17 EUR |

Average expenses if you go to eat out:
| Type of Product | Average Prices |
| --- | --- |
| Meal (inexpensive restaurant) | 5.56 EUR |
| Meal for 2 people, mid-range restaurant, three course | 27.78 EUR |
| McMeal at McDonald's | 4.45 EUR |
| Cappuccino | 1.23 EUR |
| Coke/Pepsi | 0.96 EUR |
| Water (0.33l) | 0.77 EUR |
Attire and personal care
| Type of Product | Average Prices |
| --- | --- |
| 1 pair of jeans (Levis 501 or similar) | 52.42 EUR |
| 1 summer dress in a chain store | 24.71 EUR |
| 1 pair of running shoes (Nike) | 62.79 EUR |
| 1 pair leather men's business shoes | 71.17 EUR |
Takeaways
Hungary is one of the mid-range countries in the world in terms of being expensive to live in. In fact, it's a much more affordable country to live in when compared to its western European counterparts. So, if you've decided to make your move to Hungary, keep these costs in mind:
There are several main banks, each with separate requirements for opening an expat bank account
Your average accommodation costs will be in the region of 400 EUR per month
Your utility bills will amount to approximately 85 EUR on a monthly basis
Transportation costs are relatively cheap and you don't need to purchase a car
Food and necessities are relatively affordable compared to other western European countries
You'll be able to eat out a couple of times a month and still be able to afford a reasonable lifestyle
Living expenses in Budapest are typically higher than the surrounding areas