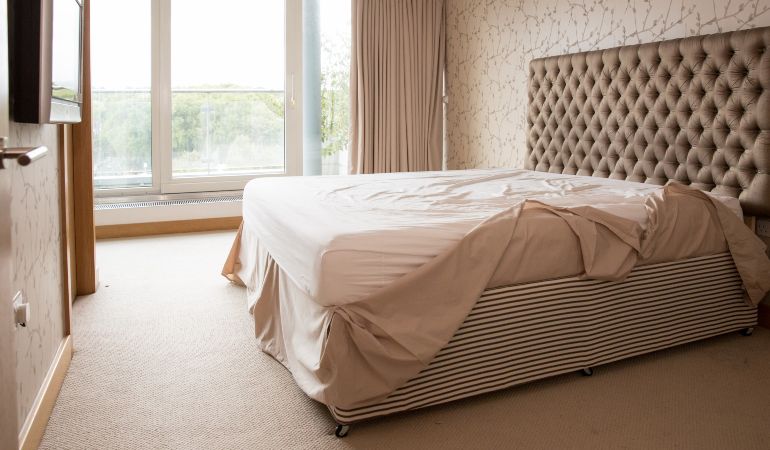 If you're about to move houses soon, you're probably apprehensive about packing and loading some of the larger pieces of furniture if you're doing the job yourself. And beds come to mind as some of the more awkward to move, of course. Not to mention double or king-size bed pieces, right? So, this post will address exactly that – how to move a bed by yourself. You'll learn some useful tips and tricks on how to pack, move and load your mattress and bed, as well as get to know everything about the safety side of the process.
How to move a mattress by yourself
The first step to moving the mattress is to remove the pillows, covers, and linen. These are great to stuff in boxes with fragile items since they provide a soft cushion between them.
To protect your mattress during the move, you will need to cover it, which can be done by putting it in a special size-appropriate mattress bag or by covering it with old sheets and tablecloths and securing them with tape.
If you have a double, queen, or king size mattress, you will probably need assistance from a friend or family member to carry the mattress to the moving van. While it is perfectly fine to carry it sideways for the short distance between your bedroom and the vehicle, remember, if you have a memory foam mattress, putting it sideways or folded inside the van might cause the foam filling to shift. Standard mattresses and box springs are fine to travel on their side during the move. You can secure them with a rope or moving straps.
When moving a mattress, it is advisable to use a van rather than a car, in order to avoid damage to your precious sleeping buddy and dangerous situations on the road.
Book Fantastic Removals for a Quick Relocation
Enter your postcode to view our rates and availability in your area.
Pack your bed properly
To easily move the bed to the van, a good idea is to dismantle it, first. This might sound like a bit of a hassle to you, but with good planning, you can successfully do it yourself.
To save yourself time and trouble, document each step of the process by taking pictures or videos on your phone to serve as a reference when assembling your bed at your new home. Take the bed apart as much as you can by unscrewing the legs, the headboard, the footboard, and any shelves and drawers. Put all the bolts and screws in a ziplock bag and tape it to the largest piece of the bed frame. Even better, keep the hardware components for each part in a separate bag.
Use moving blankets, bubble wrap and old sheets to protect the parts of the bed frame from scratches and notches.
How to move the bed
Before starting to move your bed to the van, create a plan of action and follow through with it, in order to maximise efficiency. It is advisable to have a couple of friends who can give you a helping hand to carry the bed and a watchful eye to spot potential difficulties along your path.
If you are uncertain whether the bed frame will go through the door, you can give yourself a few extra inches of wiggle room by removing the bedroom door temporarily. Make sure to pay extra attention when moving close to corners, through narrow spaces, and down staircases, where you might damage the bed frame or the property itself.
When loading the pieces into the van, think carefully about how to arrange them inside. Stacking items on top of your wooden bed is risky, because wood damages easily. Fitting your items and furniture inside the van feels a bit like removal Tetris.
Safety tips for moving beds
When moving the bed yourself, your best bet is to avoid baggy clothes and long jewellery, since they can get hooked onto furniture or door handles and cause you to trip and create a safety hazard. It is important, of course, to wear comfortable clothing that you won't miss if something happens to it. Protect your feet with trainers or boots that will give you support and traction. Closed-toe shoes will absorb part of the force should you drop something on your feet. For this reason, flip flops should be avoided.
To ensure the safety of everyone, children and pets should be kept at bay during the moving process, in order to avoid unexpected situations or obstacles, such as your dog accidentally tripping you or a child getting hurt. Ideally, kids and pets should be entertained in a different room altogether to protect them from harm.
Lifting sounds easier than it actually is. Believe it or not, there are certain rules to follow when lifting heavy objects. The most important of them being to always bend your knees rather than your back. This will prevent you from hurting your spine and having to spend a week on the couch in pain.
If something feels too heavy or awkward to carry by yourself, ask a friend for help. It's easy to get carried away and try to do everything by yourself, but that is too dangerous, especially when moving a bed. Don't lift more than you should, unless you want to say hi to your doctor.
Ask yourself, if it's worth it. Moving a bed by yourself is both tiring and time-consuming. Like any other DIY project, it sounds easy until you start doing it. Avoid any issues on the day of the move by planning ahead and preparing a list of things if you will need to move your bed and mattress on your own. A good idea is to only DIY this if you are moving nearby or within a short driving distance. You will also need at least 2 or 3 friends to help you out with carrying your larger items, such as the bed frame. Perhaps an easier option would be to sell your bed and buy a new one for your new home, even more so if you are moving out of town. If you, of course, feel particularly attached to your favourite piece of furniture, you can hire someone to move the bed for you.
Book Fantastic Removals for a Quick Relocation
Enter your postcode to view our rates and availability in your area.
Why use professional help to move a bed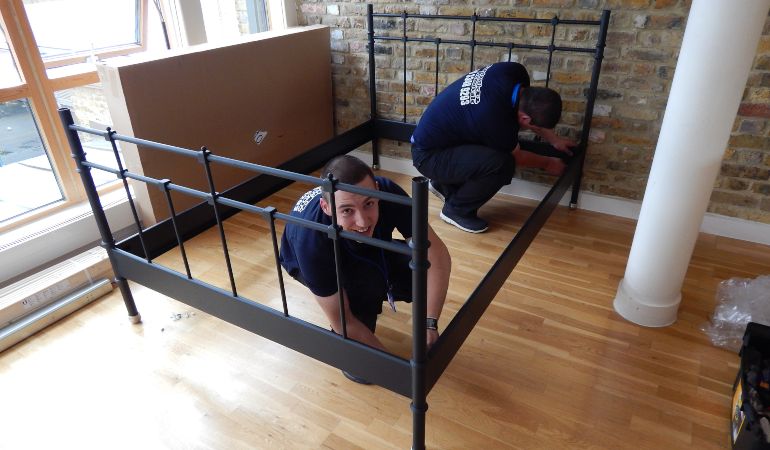 Getting professional house movers to help you move your bed will save you precious time and energy. Why waste a full day coordinating people and helpers and carrying heavy, bulky items, when you can get the experts to help you pack and move your bed and mattress in no time. Moreover, the professional removals specialists can actually assist you with moving other furniture from your home as well!
Request a personalised quote now and enjoy a reliable and insured professional house moving service!