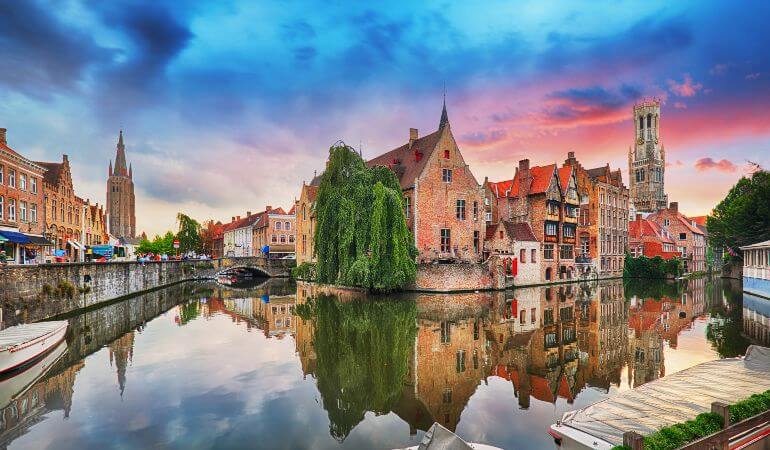 With a population of just over 10 million, Belgium is not only known as the headquarters of the European Commission, the European Parliament and NATO, but also for its rich history, beautiful buildings, works of art and above all: its waffles, chocolate and beer. It is a popular choice of destination for many expats, and although the country is densely populated, it consists of three separate and almost autonomous regions which speak their own languages. These are Flanders in the north (Dutch/Flemish), Wallonia (French) and Brussels (officially recognised as being bilingual). If you're planning on relocating to Belgium and are wondering which city is the best, then this post is perfect for you.
Best cities to live in Belgium
Although the capital Brussels tops the cake for its diversity and opportunities, there are several other cities that are really worth exploring. Let's take a look at some of the most popular destinations.
Brussels
A bustling and diverse place, this capital city has a trendy city centre and quieter suburban areas. To new arrivals, the municipal ordering of the city might be confusing because Brussels is not only the capital of Belgium, but it is also a region; the Brussels-Capital Region has 19 municipalities and only one of these is called the City of Brussels. The latter being home to around 2.5 million people, it is no surprise that this is the largest city in the country. What's more, is that it is very diverse in terms of population as around 70% of the residents are of foreign origin. In addition, the city has the highest GDP per capita and therefore attracts highly skilled individuals and entrepreneurs. Some of the main cultural attractions include the Grote Markt (Grand Place) as well as La Monnaie. Some of the top municipalities in Brussels are:
Etterbeek and Ixelles/Elsene: known for beautiful architecture and cultural amenities
Uccle/Ukkel: perfect for those interested in green living
Anderlecht: for more affordable living
Les Marolles: although mainly blue-collar, it has some lovely sights and offers lovely experiences such as the Place du Jeu de Balle flea market
Schaerbeek: a large commune for cultural and food-related pleasures
Antwerp
Known as one of the country's trendiest cities, Antwerp offers a fully immersive multicultural environment with a wide range of nationalities, including British and American expats. The city offers a wide range of English-speaking clubs and societies as well as several international schools. With its vibrant and eclectic atmosphere, it also offers a port and with the increasing industrial development, it also provides for numerous business establishments. The university facilities have attracted a number of international students, and the city also offers increasing job opportunities. As a result, it offers many restaurants, bars and clubs to cater to the growing population of young adults. The northern part of the city is mainly residential, although single expats typically live closer to the city centre, where the cost of apartments is relatively expensive. Some areas which offer a more bohemian feel include Berchem, Het Eilandje (a dockside neighbourhood known as the "hippest place" in Belgium) and Sint-Andries, the latter of which offers the feel of a village within a city. Other impressive neighbourhoods include Den Dam and Park Spoor Noord with its summer terrace bar, fountains and outdoor barbecues as well as Zurenborg located on the southeast side of Antwerp offering quirky mansions, vibrant squares and a diverse crowd. Mechelen is considered not only a neighbourhood but also a smaller city in the Antwerp province with an increasingly younger population. With its low crime rate and welcome policies, the city is growing into a hub that has thrived on its diversity.
Ghent
A prominent town known for the influx of students, the city of Ghent is also known as the most beautiful city in Belgium. It is a dynamic city with a mix of cosmopolitan and provincial town feel. The city has many canals with many river-side apartments. However, one of the most central places for expats is Muinparkwijk, which is known for its affordable houses. Coupure has gardens with many old homes near a beautiful river. The University of Ghent is paving the way for the city to become a strong research centre, and is retaining an increasing number of young professionals. The quiet canal-side neighbourhood of Visserij in Ghent is known for its "bicycle first" policy. It also has tree-lined quays and old townhouses, making for a pleasant place to live that's not far from the historic city centre.
Genval
A French-speaking commune outside the Brussels region, Genval is a village in what is considered the "Flemish belt". Although on the more expensive side due to its five-star hotel, water sport facilities and Geneva-style waterspout, the village is a mere 20 minutes away from Brussels town centre by train, making it ideal for commutes if you'd like to live in the countryside but still be close to the big city.
Liege
The city centre of Liege is known for its folk festivals and wide range of nightlife. This is the largest town in the French-speaking sector. Liege has a maze of "medieval" streets with unusual shops while the city also offers the university area of Sart-Tilman, Cointe and Embourg. The city centre itself offers a range of apartment buildings, which are a popular choice for expats, who tend to gather around a cluster of streets such as Boulevards Frere-Orban, Piercot, Rue du Mont St-Martin and Rue due Jardin Botanique.
Waterloo
A small town on the outskirts of Brussels, Waterloo's population is around 20% expats. It is a more affordable choice to live in than the capital and offers many attractive features for family living. It offers high street shops and shopping centres as well as affordable housing and international schools. It is considered a small French-speaking municipality that consists of six districts: Faubourg Ouest, Faubourg Est, Chenois, Joli-Bois, Mont-Saint-Jean and the city centre.
Bruges
A UNESCO World Heritage city, Bruges has cobblestone streets, medieval canals and impressive architecture. You can enjoy the Markt as well as find more action in the eastern Burges neighbourhoods, where you can find the Belfry Tower, the town hall as well as a number of museums. You'll also be able to take advantage of the wide variety of restaurants, cafes, chocolate shops and in particular, the horse-drawn carriages. For a quieter life, choose the districts in the outer ring beyond the canal including residential neighbourhoods such as Sint-Jozef, Sint-Pieters, Sint-Andries and Sint-Michiels.
Your international move can be so much easier!
Contact Us
Other honourable mentions
Tervuren
An excellent choice if you're retiring, Tervuren offers peace, tranquility and acres of rolling countryside. Houses tend to be on the bigger scale, although they can be quite expensive.
Rixensart
Rixensart can be found outside the Brussels region and is a French speaking area in the Flemish belt. While appealing and beautiful, living near the lake can be quite expensive. However, it is only a 20-minute train ride away from Brussels, making commuting relatively easy.
Leuven
Leuven has five sub-municipalities (Leuven, Heverlee, Kessel-Lo, Wilsele and Wijgmaal) each of which offers the average expat quite a lot of attractions. It has a population of just under 100,000 and is popular for its KU Leuven university which attracts many young people. As a result, you'll be exposed to many cultural offerings as well as festivals, music concerts, competitions, sporting events and more. Living costs are generally aimed at the student population and are therefore more affordable.
Cities and places you should avoid in Belgium
As with any country in the world, there are some cities and places that you should simply avoid. Whether it's because they're unappealing or unsafe, you need to keep your eyes peeled and avoid them at all costs.
According to a 2018 report, Brussels is home to some such undesirable neighborhoods with the highest crime rates and these include: Quartier Nord, Grand Place, Mantonge, Porte de Hal/Hallepoort and Quartiers Brant/Branatwijk.
Antwerp is also home to some avoidable areas, although fewer than Brussels. Areas which you should avoid are those close to Antwerp Central Station and around the port and docks.
To wrap up, the city in Belgium with the worst reputation is Charleroi which can be found in the French-speaking part of Wallonia. Ranked the worst in the country in terms of its crime and safety index, it was also called the ugliest city in the world.
Takeaways
Regardless of its size, Belgium offers a rich selection of cities you can choose from to start your new life in. Their efficient transport system, well-organised healthcare and reasonable cost of living in the country make Belgium a top destination for British expats. Also, the fact it's quite close to the UK makes planning your international relocation to Belgium a great deal easier.