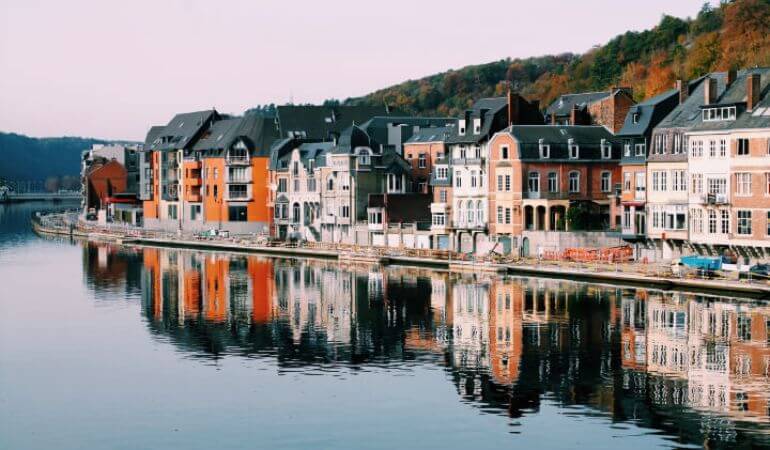 Capital City: Brussels
Population: 11,492,641
Official language: Dutch
Commonly spoken languages: French, German
Currency: Euro (€) (EUR)
Exchange rate to pound sterling: 1,826.48 Euro = £1
Located between Germany, France and the Netherlands, and often regarded as the capital of Europe, Belgium has become quite the popular moving destination amongst UK residents. It's quite close and the weather is relatively the same, so the shock isn't as big. Belgium has a high living standard and reasonable cost of life, interesting culture, many possibilities for career development and it's overall one of the safest places in Europe. Finding accommodation is relatively easy and the mixture of culture and amazing people makes it a really attractive place throughout the whole year.
Where to live in Belgium
Belgium is divided into three different regions: The Brussels – Capital region and the Walloon to the south and the Flemish part to the north. Dutch is spoken in the Brussels part and in the Flemish community, while the Walloon region is inhabited mostly by French speakers. If you know either of the languages, it doesn't really matter where you will go, you will be able to understand and connect with the people with ease. However, if you cannot speak Dutch or French, we recommend that you relocate to the Flemish part of the country as they are better at speaking English.
Even though Belgium is a tiny country, smaller than the UK, you still have plenty of attractive living options. Many people choose Brussels, for obvious reasons, life in the capital may be difficult but still extremely rewarding. However, the city with the biggest number of British and American families is actually Antwerp.
How to become a resident
Entering Belgium is easy. You can do it with your British Citizen passport and for now, you don't need a Visa. However, given the fact that you are reading this article, you probably don't want to stay only for 3 months and then go back. So in order to stay in Belgium as a resident, you will need to do a few things and take care of some documents.
Within 8 days of your arrival, you have to go to the local town hall and prepare the following things:
The original passport and 2 copies of it;
4 passport-sized photos;
Documents that will serve as proof that you have a steady income in Belgium – an employment contract, pension, etc.;
The lease for your house or apartment;
Proof of valid health insurance.
Depending on your situation, you might be asked to bring some extra documents from your employer but for the beginning, this is all you need.
The address you give needs to be verified by the police and this happens with a simple house call. If you are not present when they decide to show up, you will be left with an appointment card for when you have to visit the local police station.
Once the address is verified and the documents are complete, you will receive a statement of registration. With this, you can apply for an electronic, 5-year, residence card that will cost around €20. Remember that every small change in your living or working situation must be updated in the system so if you happen to change addresses, get married or divorced, you have to notify the commune (the local town hall). The same goes if you have children.
When you start applying for the residence card, you will see that there are a couple of options. Depending on your specific situation, you must choose the most relevant one.
E card
EU citizens living in Belgium for less than 5 years (mostly students)
E+ card
EU citizens that will reside in Belgium for more than 5 years
F card
If you have any non-EU family members such as spouses, that will reside in Belgium for less than 5 years
F+ card
For non-EU family member staying for more than 5 years
All of those documents will be valid until the end of the transition period. If you become a resident of the country before that date, you will receive instructions from the Commune on how to obtain a new residency card after Brexit.
For more information, check out the Government's guide on what you need to move to Belgium and all the needed updates regarding the Brexit and Covid-19 situations.
Working in Belgium
Despite its size, Belgium is a very successful country economy wise. The taxes are high, but so are the salaries and there are plenty of opportunities even for people who do not speak Dutch or French. However, knowing one of the official languages will be a huge advantage when you start looking for a job as there is high competition for multi-language ones, mostly because of the many foreigners living in the country.
In the south, coal and steel manufacturing careers are definitely in the forefront, while the North mostly concentrates on the high-tech and service industries. Our advice is to see where your skills will be in better use before you even move into the country so that you can decide where to live based on that.
The best way to go about it is by finding a job before you move into the country. As we mentioned, you will be asked to provide the town hall with proof of your income in the country, meaning you will be a fully contributing member of the society, paying all of your taxes, etc.
However, if you decided to search for a job after arriving in the country, you will most likely need the following documents – a UK police certificate and a Belgian criminal records certificate, along with all the normal documents like ID, health insurance, proof of residence, etc.
Transportation in Belgium
Belgium has one of the better organised public transport systems in Europe that is quite cheap and efficient. One of the things we recommend that you do right away is to get a MOBIB card, issued by the National Railway Company of Belgium. It works for all kinds of public transport, not just trains. It works by uploading the different tickets for the different forms of transportation you need but not the actual tickets. You can get more information about the MOBIB card right here.
Train travel is mostly used to get from city to city since it's a very well organised regional system that is quite quick, not only because of the short distances. It's easily accessible from the Brussels national airport, giving you the opportunity to get to a certain place in no time and without spending a fortune.
There are three bus companies that handle the routes not served by the other means of transportation: TEC, STIB and De Lijn. STIB buses take care of the Brussels metropolitan area, TEC handles the Wallonia territories and De Lijn is responsible for the Flemish part of the country.
Travelling in the cities is also easy, with plenty of eco-friendly options such as the city bikes and electric city scooters. Since the distances, aren't that great and Belgians are quite environmentally conscious, those two means of transport are quite popular and easy to obtain. The city scooters have their own rental system that includes a very useful mobile application that lets you see where the nearest free scooter is. You just have to scan the QR code and you're ready to go!
Driving your own car in Belgium
If you already have a car, you would probably want to use it once you live in Belgium. Documents-wise, you can use your UK driving license but we really recommend that you obtain a European license as soon as you arrive. It just makes contact with the law a lot easier. You can get one by visiting the town hall with your UK license, your ID card, €25 and two passport-sized photographs. You also have to register your car with the VRA in order to drive it on the roads. Driving an unregistered vehicle can get you into a ton of trouble, including a hefty fine.
Regarding the road situations, they are quite diverse – from awful traffic jams around the bigger cities to pleasant, quiet and good looking rural roads. It should go without saying, but we will mention it anyway. No more driving on the left. Yes, sounds horrible, but it's not that hard to get used to. Priority comes from the right, you drive on the right and traffic comes from the right. And even though it does not seem right, it's just how it is.
Make sure to obtain a car, medical, house and contents insurance. One of the dangerous things about Belgium is that it actually has quite a lot of car accidents for a number of reasons. Busy roads that are narrow, hilly and twisting, along with the extremely adverse weather, make up a good mix of risky situations that end up in death even. It's always good to be on the safe side, so don't rely on chance and get all the needed insurance, even if it's from a third party.
Education in Belgium
It's really important to know what the educational system is when you are moving permanently to a different country. Compulsory education in Belgium is from the ages 6 to 18 starting with primary education from 6 to 12 and secondary for ages 12-18. After that, they can have a tertiary education in a university and non-university format. The school year starts in September for the primary and secondary stages of education and in the second week of October for university.
You must register your children and enrol them in a school within 60 days of the move. You will need proof of identity, residence, vaccinations and previous academic records.
Due to the language barrier, many expat parents decide to turn to homeschool for their kids. It is permitted and legal in Belgium to do so but children still need to follow the proper curriculum and pass yearly assessments.
However, if you don't have the time or skills to homeschool your children, there are a number of options for those who do not know any of the native languages of the country. There are special funding programs made for kids who don't speak the main languages. When you decide on a certain school check with them about the options that will help your child integrate and have a successful education in Belgium. There are also fully international schools that offer interesting programmes and summer camps and courses for learning the languages and socializing.
Being a student in Belgium
Belgium is one of the countries that use the bachelor, master and doctorate systems and recognises the three types of institutions that provide those educations. Those are universities, university colleges and art colleges. Doctorate systems are only offered in universities while the university and art colleges can only offer Bachelor and Master's degrees for both international and native students.
Keep in mind that most Bachelor degrees are taught in Dutch or French, however, there are plenty of Masters and educational levels above that will offer students the chance to study entirely in English.
The tuition fees are different depending on the level and course as well as whether the institution is private or public. Still, there are many scholarship programmes that are available for all students, no matter if they are natives or expats.
Healthcare in Belgium
The Belgian healthcare system is one of the pros that many people enjoy when moving there. It's a well-organised machine that does not discriminate against foreigners and is quite easy to follow. It is divided into two sectors – private and state with the state one being funded by mandatory health insurance. This allows all residents, Belgium or not, to access a number of vital services like hospital care, dental care, maternity costs, doctors and prescriptions.
To access all of these rights, you need to register for social security and make sure that you pay all that it's needed in regards to health insurance.
You can register through your employer or by going to the nearest social security office. The documents you will need are a valid ID, residence permit and proof of address. After that is complete, you will receive an eID which is a social security card that you can take to the health insurance company that you chose.
Takeaways
Belgium offers everything British expats are looking for. Furthermore, since it's fairly close to the UK and the weather is similar, many Brits are drawn to the developed country full of opportunities.
For anyone who considers moving house overseas, Belgium can be the ideal choice.