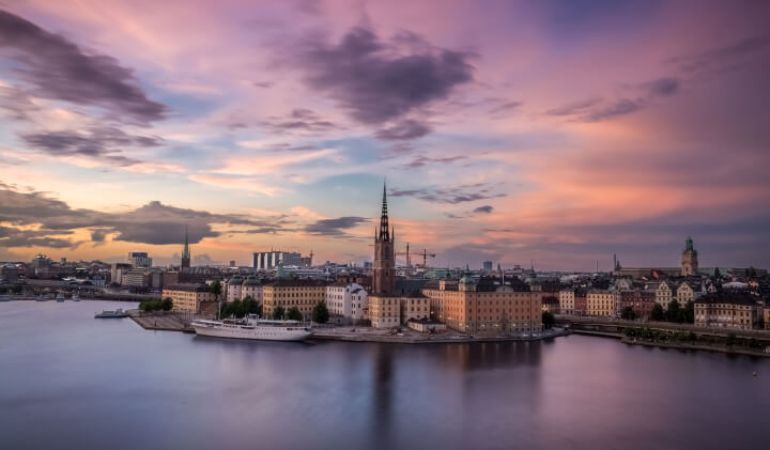 Capital City: Stockholm
Population: 8.9 million
Official language: Swedish
Commonly spoken languages: Swedish, English, German and French
Currency: Swedish Krona (SEK)
Exchange rate to pound sterling: 0.088 (18/08/2020)
Ah, Sweden! Not surprisingly, often featured in rankings of the best countries to live in. Sweden is located in Scandinavia, between Norway and Finland. Its breathtaking scenery, combined with a high-quality lifestyle and an average life expectancy of 80 years, make Sweden a very popular choice. The country is ranked in the top 10 in the World Happiness Report 2020 and, according to the same report, comes 7th in the global comparison of happiness of foreign-born people. This all goes to show that if you are looking to move to Sweden, you have made the right choice.
Where to live in Sweden
In 2019, the number of UK citizens who moved to Sweden reached 2,072. The most preferred Swedish cities, especially by British citizens, are Stockholm and Gothenburg.
The Stockholm metropolitan area has 26 municipalities with a population of more than 2.2 million, making it the most populous city in Sweden and Scandinavia. Stockholm has a long history, dating back to the 13th century, and is one of the most diverse and welcoming cities in the world. Over 27% of its citizens are immigrants of non-Swedish background. The city, as well as the whole of Sweden, is eco-friendly, with novel policies being implemented regularly in order to become more sustainable.
Some other popular choices on your radar would be:
Malmö
Located in southern Sweden and very close to another big European capital, that of Denmark, Copenhagen, Malmö offers low-price rental properties, lovely sights, clean environment and overall a great atmosphere worth considering.
Gothenburg
Located on the west coast of southern Sweden, Gothenburg is the second largest city in the country. It is the perfect place for those looking for some peace and quiet.
Uppsala
A university town, located 44 miles north of Stockholm. The city is home to some of the best educational centres in the world. But don't let that fool you, this is also a place with vibrant nightlife for those of you who'd like to live it up every so often.
How to become a resident
There are no changes in residency rules or registration procedures for UK citizens arriving in Sweden before or on 31st December 2020. If you are resident in Sweden by then, you will be able to stay. You can follow the official UK government's guidance on living in Sweden for the latest updates.
As an EU citizen, you have the right to work, study or live in Sweden without a residence permit. You also have the right to start and operate your own business. You can read more details on the Swedish Migration Agency's website. If you plan to live in Sweden for more than a year, you must register with the Swedish Population Register, following which the Swedish authorities will issue you an ID number.
Working in Sweden
Sweden is one of the most prosperous countries in Europe with a booming economy. According to different studies, the country ranks above the average in environmental quality, civic engagement, education and skills, work-life balance, health status, income and wealth, housing, and personal safety.
Statista reports that between 2009-2019, the annual household disposable income per capita has constantly increased and in 2019 reached 222 000 SEK, or roughly £20 000 making it quite easy to cover the otherwise high cost of living in Sweden.
Sweden has a very competitive job market with outstanding working conditions and culture. Popular graduate jobs include healthcare workers, IT specialists, construction and engineering. According to the 2019 labour shortages list, Sweden is in need of architects, healthcare professionals, lawyers, software developers, and teachers. Somewhat expected, the highest-paid positions in Sweden are c-level executives, project managers, and physicians, which in no way means that the rest of the professionals are underpaid. On the contrary, Sweden has one of the best-paid job markets in the world.
Transportation in Sweden
Swedes use their public transportation options frequently. The country has a reliable network of trains, buses, underground, and trams. There are also options to travel by bus from city to city. Public transport is relatively inexpensive compared to the UK and there are a lot of options for daily, monthly, and other passes which can save you some money. On average, a monthly public transportation pass in Stockholm is nearly 50% cheaper than that in London. The overall cost of owning a vehicle is also lower in Sweden than in the UK.
Being an environmentally oriented country, Sweden offers a variety of options to rent bicycles, electric scooters, or cars. There are quite a few taxi companies as well for those of us who tend to be late or need a late-night ride home.
Driving your own car in Sweden
According to information provided by the UK government, you can drive in Sweden with your UK driving license. If you are a resident of Sweden, you should exchange your UK licence for a Swedish one.
Owning a car does not come cheap. Buying a decent commuters vehicle, such as Volkswagen Golf 1.4 90 KW Trendline or Toyota Corolla Sedan 1.6l 97kW Comfort (or an equivalent new car) in Stockholm will cost you roughly around £20,000, whereas buying the same vehicle in London will cost around £2,000 more. But when you factor in all the expenses – car insurance, annual road tax, annual inspection, gasoline and parking fees, the cost might be hefty. Still, according to data from Statista, cars are the preferred and most commonly used method of transportation in Sweden, followed by public transport and bikes.
Education in Sweden
The Swedish school system is tax-financed and regulated through the Education Act, which mandates ten years of school attendance for all children from the age of six. Preschool and primary school are 70%-90% less expensive in Stockholm than in London.
Being a student in Sweden
The country is home to some of the best universities globally and has a very good higher education system. The best cities to consider for your degree are Stockholm and Uppsala.
Citizens of the EU/EEA or Switzerland are exempt from paying application and tuition fees for higher education studies in Sweden. However, the fact that the UK is leaving the EU might lead to some changes after 31st December 2020. For students outside of the EU/EEA and Switzerland, the tuition fees can vary from 80, 000 to 130, 000 SEK a year depending on the university and course.
The average cost of students' accommodation, food, travel, internet, and going out expenses is about 8,500 SEK, or £745 a month.
Healthcare in Sweden
If you are living in Sweden or are about to move there permanently before 31st December 2020, you'll have life-long healthcare rights as you do now, provided you remain resident. You can learn more about how to get access to healthcare in Sweden here.
The Swedish healthcare system is generally good and mainly government-funded, universal for all citizens (Sweden and foreign-born), and decentralized. Private healthcare also exists. Healthcare for citizens under 18 is completely free, as well as dental care for people up to 23 years of age. There is a high-cost ceiling to most medical fees, so they don't exceed a certain amount. On average, you'd spent an equivalent of £96 a year on all your medical consultations.
You won't need to undergo any formal application process, as everyone is covered under Sweden's healthcare system, whether native-born or expat. If you are an EU citizen, you are covered by your EHIC card.
However, if you are not from the EU and are staying for less than a year, you won't be eligible for healthcare access and should consider private healthcare options instead.
Takeaways
To sum up, there are many pros to moving to Sweden. Being the leader in charts for the best place to live and having the happiest people in the world, who wouldn't want to live there!
So, if you've decided to relocate from the UK and you've chosen Sweden, you can give us a call to help organise the move.