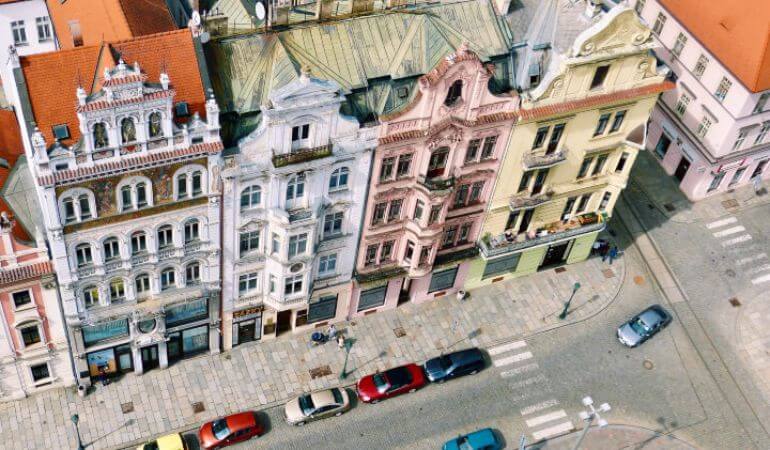 Capital City: Prague
Population: 10.69 million (2020)
Official language: Czech
Commonly spoken languages: German, Polish, Romanian, Russian, Slovak, Ukrainian, Vietnamese
Currency: Czech koruna
Exchange rate to pound sterling: 1: 29.12 (08/08/2020)
Located in the heart of Europe, Czech Republic is surrounded by Austria, Slovakia, Poland, and Germany. With a rich cultural and historical heritage, Prague's cobblestone streets, and the thousands of castles scattered throughout, the country might have called out to you. However, beyond its culture and history, the Czech Republic is also home to a highly educated population, has a high standard of living, a strong economy, and ranks seventh in the world for the safest places to live in. With a huge expatriate community of over half a million, it's no wonder you've chosen the Czech Republic as your next home.
Where to live in the Czech Republic
With a growing population of just under 10.7 million people, there has been an increase in the number of migrants to the Czech Republic over the last few years. Currently, foreigners make up nearly 5% of the total population. To look at it from a different perspective, in 2003, there were just under 250,000 foreign nationals residing in the Czech Republic, while this number more than doubled to 524,000 in 2017, according to data from the Czech statistical office. But where in the country are these foreigners located?
Research indicates that the most popular destinations for work in the Czech Republic are the central, western and northern parts of the country. Quite a few Brits have relocated to the capital city Prague, Brno, Ostrava, Pilzen and various towns in Bohemia and Moravia. Some of the most popular cities for relocation include, but are not limited to:
Karlovy Vary
The most visited spa town in the entire Czech Republic, Karlovy Vary, is a popular destination for both nationals, expats and tourists. The town dates back to 1370.
Kromeriz
A town dating back to 1260, it was significantly damaged in the Thirty Years' War but has subsequently been rebuilt. It is home to a brewery, a UNESCO heritage site (The Palace and Flower Garden) and has a lovely city centre with fine dining and shopping opportunities.
Olomouc
Originally a Roman city, Olomouc is hundreds of years old. It features Soviet architecture, the Holy Trinity Column and an astrological clock.
Telc
Perfectly suited to expats, who are looking for a more laid-back lifestyle, Telc is the ideal place for relocation. Originally built around a Gothic castle, it also features Renaissance-era buildings, which are featured on the UNESCO list of World Heritage Sites.
Cesky Krumlov
For rafting, hiking and other outdoor activities, choose Cesky Krumlov as your destination. Apart from its natural wealth, you can also thoroughly enjoy historical sites, such as a Renaissance palace and a moat.
Pilsen
A highly prosperous city, this is the fourth largest town in the Czech Republic. It is famous for its Pilsner beer, as well as the Skoda factory, which was established there, although production is no longer based in the city. It is also home to a wide range of international companies and in 2015, the town was named the European Capital of Culture.
Ostrava
Previously nicknamed the "steel heart of the republic" for its heavy industry, which included coal and steel production, this city's prosperity floundered after the collapse of the Soviet regime. Nevertheless, it is the country's third largest city.
Brno
The Czech Republic's second largest city and home to the country's Supreme Court, the Brno Exhibition Centre and several important universities, this city is home to around 377,000 inhabitants.
Prague
The capital of the Czech Republic, it may be surprising that the city isn't as packed with tourists as with other European destinations. Take a leisurely ride on a boat along a river, or visit some of the several castles in the city! Hiding lovely pubs and gardens around every corner, Prague has an 1100-year history and is home to around 1.4 million people – 17.4% of whom are foreign nationals.
How to become a resident
Despite the fact that Brexit is moving forward, the current transitional period until 31 December 2020 means that UK nationals are not required to apply for a Visa when travelling to the Czech Republic. The borders between the two countries are open for travel, leisure and work if you plan to stay in the Czech Republic for fewer than 3 months.
However, if your visit to the Czech Republic will be longer than 3 months, you will need a residence permit. If you currently hold a Czech residence permit, you will be able to continue your stay. Your stay in the Czech Republic will need to be registered with the Czech Foreign Office in the official Czech language.
Your long-term residency application must be filed in person. You will also need to submit a completed application form and supporting documents. Your completed application should also be accompanied by a passport, proof of accommodation, a photograph, proof of financial support and health insurance documentation.
In 2021, all registered UK residents will be issued with a biometric residence permit, although the strict requirements for this currently remain unknown.
For citizenship applications, it would be wise to follow the necessary procedures and submit the required documentation. Applicants for the Certificate of Czech citizenship born before 1 January 1993, who don't have a valid proof of their Czech citizenship need to gather the necessary documents and follow the correct procedure as explained on the Embassy's website.
Working in the Czech Republic
The general economic environment in the Czech Republic is positive overall. With one of the highest GDP growth rates in the European Union, one of the lowest unemployment rates as well as rising standards of living and reasonable cost of living in the Czech Republic, it is no surprise that 11% of the working population is made up of UK nationals.
While the export-led automotive industry is one of the highest employers in the country, there are skills shortages in the technical professions, medicine, ICT and teaching.
At present, all EU citizens may live and work in the Czech Republic without the need for a work permit or visa. All other nationals must fully comply with the country's labour laws and regulations and will need to obtain one of the following two documents to ensure their employment is recognised in the Czech Republic. These are the Employee Card and the Blue Card. The Employee Card applies to non-EU citizens who can offer skills and qualifications, which are needed in the country, whereas the Blue Card is an employment card for EU citizens. Each of these cards functions both as a residence and work permit. In addition, the Employee Card is initially valid for a maximum period of two years, but extensions of such work permits can be applied for at the Ministry of Interior. Meanwhile, the Blue Card is valid for the duration of your employment contract plus three months, but not longer than a maximum of two years.
Transportation in the Czech Republic
Buying a brand new car might be considered luxury or represent higher social status in the Czech Republic, so people will generally settle for a second-hand vehicle in good working order. In addition, the extensive, safe, comprehensive and affordable public transport system is very reliable. Transportation to other cities and towns is possible through the wide-ranging rail network and high-quality highways. To travel on a highway, you will need to purchase a vignette to prove that you have paid the necessary toll fees. The roads of smaller towns, on the other hand, may have potholes and are not maintained regularly. Petrol prices are rather high and this could be considered a disadvantage to travelling by car.
In Prague, and in other large cities, the public transportation system is effective and efficient. It is possible to travel by bus, metro, tram or train and taxis. When travelling on public transport, you should purchase your ticket before you travel and validate it on the machine, once on board. If you have not validated your ticket, you could be fined on the spot by the travelling inspector.
Driving your own car in the Czech Republic
Until 31 December 2020, your UK driver's licence will be valid in the Czech Republic. However, if you are a resident of the country, you should exchange your UK driver's licence for a Czech one. This should be done in the Czech language. In order to get your Czech driver's licence, you will need to provide at least two pieces of documentation, which prove that you are a resident of the country. This documentation may include but is not limited to, a permanent residency permit, temporary residence permit, lease agreement, property ownership certificate or your employment contract.
If your intended stay in the Czech Republic is going to be longer than 185 days, your UK-registered vehicle should be registered with the Czech authorities.
The extensive public transportation system makes owning a car unnecessary in most cases, but many Czech citizens nevertheless opt for vehicle ownership. Car prices can vary depending on their model, make, age and where they are purchased from.
Education in the Czech Republic
The current literacy rate in the Czech Republic is 99%, due to the country's extensive and comprehensive school systems. Ranging from preschool, elementary, upper secondary, as well as tertiary education, there are no shortage of educational institutions in the country. Education is compulsory for students aged 6 to 15 years of age. Study at public universities is free, but this is dependent on passing and qualifying through entrance exams. Once an applicant reaches the age of 26, they will no longer be eligible for student status and will not be able to receive student benefits, such as health insurance for the duration of their studies.
Being a student in the Czech Republic
There are 26 public, 2 state and 34 private higher education institutions in the Czech Republic. The education system in the country is well-respected. As a student from the UK to the Czech Republic, you will need to obtain a study visa. However, if you plan on studying in the country for over 90 days, you have the option of applying for a long-term student visa or a long-term residence permit.
Charles University in Prague is one of the best known universities in the country and it offers a wide range of academic fields to choose from. Working, while studying in the Czech Republic, is possible, although you will need to ensure that you provide the authorities with the relevant documentation mentioned above.
Healthcare in the Czech Republic
Healthcare in the Czech Republic is considered to be of high quality and its costs are "well below the European average." According to legislation, medical insurance is compulsory and the majority of expats in the country are eligible to join the state health insurance system. Should you not be eligible for using the state health system, you may be able to get medical cover with the VZP's subsidiary insurance company, Pojistovna VZP, which is an insurance scheme that has been specifically designed for foreigners. You can also apply for and register with a private health insurance provider. Proof that you are medically insured is compulsory if you plan on staying in the country for more than 90 days. As an expat, who might not yet have a residency permit, you may be eligible for one of two contractual health schemes, which are provided and run by the General Health Insurance Company (GHIC).
Health insurance for the unemployed is subsidised by the state. If you are employed, your employer will deduct a portion of your salary for health insurance and will cover the rest. If you are self-employed, on the other hand, you will need to cover your own medical expenses.
Final thoughts
Moving to the Czech Republic is bound to be a new adventure! Wherever you choose to relocate to the country, you'll be surrounded by castles and historical landmarks, which will make your stay even more memorable. Enjoy the safety and peace, and all the other benefits that the Czech Republic offers, as you embark on this journey!