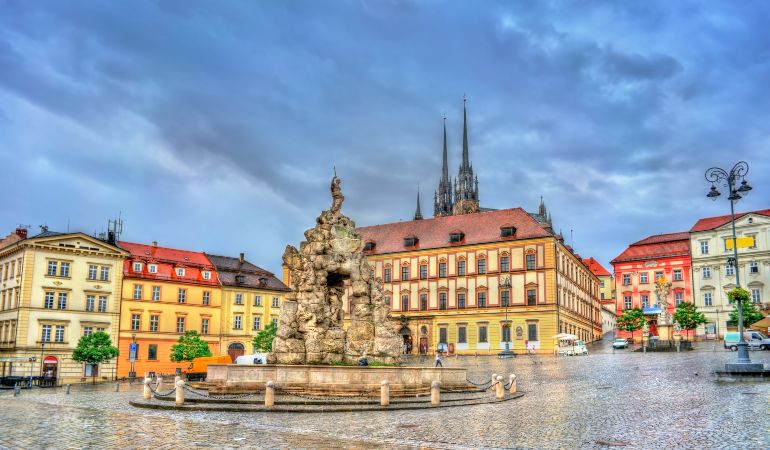 Many people associate the Czech Republic with Eastern Europe even though it's a country that embodies the west more than it does the east. Yes, Czechoslovakia was once part of the former Soviet Union's Eastern Bloc, however, unlike other former members of the Warsaw Pact, it's located in Central Europe. Its capital, Prague, is one of the oldest and most beautiful world cities in Europe. Unlike many other countries, Czechoslovakia didn't experience any devastating bombings during WWII, so almost all of its historic heritage has been kept intact.
So, it should come as no surprise that the Czech Republic is a popular expat destination. It's rich in history and natural sights, but best of all, it has a relatively low cost of living when compared to other Western European countries. Also, since the Czech Republic is located in central Europe, it's a central travel hub. You can travel to almost any destination from there, be it to the UK, Norway, Germany or even Russia and Greece.
But all of that aside, the Czech Republic is also popular amongst expats, due to its many appealing cities.
Here are our top 5 cities to live in the Czech Republic
Říčany
Říčany currently holds the crown for best city to live in in the Czech Republic. It's located in the Central Bohemian Region and has almost a thousand years of history. Říčany is home to many beautiful sights, such as Říčany Castle, Church of Ss. Peter and Paul on Masaryk Square and the Marian column on Masaryk square.
Prague
Prague is the capital of the Czech Republic and is the country's largest city. It's also the cultural, economic and political centre of central Europe, thanks to its rich history and location. Prague boasts a great expat community and is somewhat affordable when it comes to food and rent. Also, since the city's economy is booming at the moment, it's fairly easy to find a job there, even as a foreigner.
Hustopeče
This small city, located in the Břeclav District, is mainly known for its quality fruit and wine growing. However, it's also home to the world's best high jumpers competing in, yup you guessed it, the Moravia High Jump Tour.
Hustopeče is known for its historical value, too. It was actually first mentioned in 1247, almost 800 hundred years ago. There are a few very interesting historical sights you can see in this small picturesque city, with the most popular one being the St. Wenceslaus Church.
Černošice
Černošice is a city located in the Prague-West District and is part of the capitals' metropolitan area. It's a bus ride away from Prague, located just 5 kilometres southwest of it.
Brno
Brno is a city that attracts many young expats between the ages of 26 and 35. It's known by many as the "Silicon Valley of Central Europe", due to being an IT hub, with many specialising and employed in the sector, including expats. With this in mind, it should come as no surprise that 75% of the foreigners working in Brno earn more than the country's average income. Work aside, Brno is a stunning city, with a rich history, amazing restaurants, tasty beers and a culture worth diving into.
Need help with your international relocation to the Czech Republic?
Contact Us
Other honourable mentions
Židlochovice
Židlochovice is a small city in Moravia, around 18 km south of Brno. The whole city is around six square kilometres and boasts a population of around 3075 people. Its main attractions are the chateau and the Church of the Elevation of the Holy Cross. The city is great for hikers, due to the pretty hills surrounding it. And if you walk just around one kilometre east of the city, you will reach Acacia lookout tower, located on Výhon Hill.
Beroun
Beroun is a small and cozy town with modern architecture and a historic city centre. It's located on a picturesque hill, surrounded by protected natural areas, beautiful castles, historic and cultural monuments and much much more. The city's centre, named Husove square, was built in the 13th century and is home to many international and local restaurants, cafes and shops. However, what really makes Beroun stand out from the other Czech cities is its amazing bear garden. This garden is located near the city's observation tower and is home to two bears: Jakub and Matei. They were born in 2000 and are the symbol of this small yet beautiful city.
Brandýs nad Labem-Stará Boleslav
Brandýs nad Labem-Stará Boleslav is an administratively united pair of towns located in the Czech Republic's Central Bohemian Region. Similarly to many other places in the country, these cities too are rich in cultural heritage. From their stunning castles and museums to their lakes and other amazing natural sights, they have a little bit of everything.
Cities and places you should avoid
The Czech Republic is generally quite safe, however, there are certain neighbourhoods that you should avoid within its capital, Prague.
Bartolomějská
This Old Town district is usually swarming with tourists, exploring its charming historic streets, however, it also currently ranks highest on the Czech Republic's crime index. Car thefts, physical attacks and drug deals commonly occur in this area.
Smíchov
Smichov is amongst the grittiest parts of Prague, in part, thanks to its notoriously dilapidated train station. In 2017 alone, there were 2,778 reported crimes in this area, among them being car thefts, public drunkenness and disorderly conduct, as well as production, possession, or distribution of drugs.
Benediktská
Benediktská is a shadowy back alley located behind the Kotva department store that saw 2,798 reported crimes in 2017. This is a lot, considering that this area is just one long alleyway. The most common offence was car theft, followed by physical attacks and drug selling.
Malá Strana
Same as with Bartolomějská, Malá Strana is also a popular tourist destination, located in Prague, which has a dark side. Back in 2017, there were 185 crimes reported here on a monthly basis. The most common amongst these were physical attacks and burglary.
Holešovice
Holešovice is amongst Prague's trendiest areas but not the safest. The most common offences carried out in the area are the manufacture, distribution, and possession of drugs, car theft and physical attacks.
Takeaways
Moving to a new country can be quite stressful, especially when you're doing everything yourself. So, we hope we have at least helped you choose the right city to live in once you move to the Czech Republic.