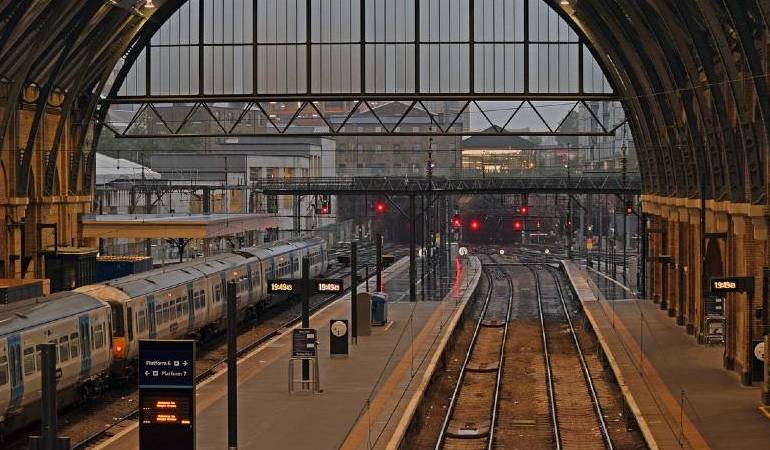 Many people in their twenties feel that London is the most exciting place in the world. However, as time passes the crowds, the noise and the costly style of life start to take a toll on them. They're still tied to their jobs, however, so they continue to live in the city.
If you're looking for some peace and quiet on the weekends and want to escape the big city life, relocating to commuter towns near London is something to think about. For those who seek a place that's close enough to the capital, has easy access to the countryside and slower pace of life, there are a lot of commuter towns just minutes away.
What is a commuter town?
A commuter town is a town the residents of which normally work in a bigger city with more job opportunities. Commuting is the process of travel between one's home and workplace. It's a popular choice for many because it's a convenient way to get to work and be home at a reasonable time. With people travelling further for work, commuting is growing as more families choose this option as an alternative to owning a car.
Commuter towns are part of the metropolitan area of a city. A ring of commuter towns around an urban area is known as a commuter belt. The London commuter belt covers a large part of the South-East region and part of the East of England region.
Best commuter towns for London
Great places to live and beautiful landscapes are just a few of the benefits London's commuter towns can offer. The distance to London is among the leading factors when it comes to choosing where to move to. Here are some of the commuter towns you can take into consideration:
30-minute commute to London
The following London commuter towns are approximately 30 minutes away by train from the capital, affordable for most people and perfect for families who're moving with kids.
St Albans

The short distance to the capital makes St Albans a preferred destination for any commuter. A 20-minute journey to the St Pancras International in London makes it a convenient place to live in. St Albans is one of the most popular London commuter towns due to its good public transport links. The town is situated close to the M1, M25, and M10, and the Gatwick and Luton airports.

A charming town with a rich history, St Albans has many shops, pubs and restaurants to choose from. There're many top-quality schools in St Albans, with an impressive list of public and private institutions. It's also an ideal place for those who love the outdoors. There are plenty of green spaces like Verulamium Park which leads to the River Ver, and the town itself is surrounded by scenic landscapes and beautiful countryside.

Sevenoaks

Less than 30 minutes from London, Sevenoaks is a popular commuter town that's served by a national mainline railway. With an excellent transport infrastructure and easy access to London, it's ideal for people who want to live in the suburbs and commute to the centre of the capital.

Sevenoaks is a lovely town with an old-fashioned high street and a small shopping centre. While there are many great restaurants, shops and attractions in the town, there are also amazing parks nearby.

Sevenoaks is well known among parents for its education field. From grammar and state-run schools to private institutions like Solefield and Walthamstow Hall.

Woking

Woking is part of the London commuter belt, with frequent trains and a journey time of 24 minutes to Waterloo station, making it a wonderful place for commuters. The area is surrounded by some of the most breathtaking countrysides. Woking appeals to many people as it's a great place to start a family, with great parks, schools and more.

Woking is a town in Surrey, England with a population of just over 63,000. Fun facts about Woking is that it's the home of the world-famous McLaren F1 racing team. It's also known as the landing site for H. G. Wells's alien invasion in The War of the Worlds.

Hatfield

Hatfield is a small town located close to London. It has a convenient train service and is well connected by road too. The Hatfield to London train covers 28km in 31 minutes. There are fast trains that cover the same distance in 22 minutes, so there's high-speed transport for commuters. Hatfield is also close to both Luton and Stansted Airport.

For those looking for a quieter, more peaceful place to make a fresh start, Hatfield Park is a great place to relax and have fun. You can always visit the Hatfield House Museum while you are there. For the more active, there are many sports possibilities. With some well-esteemed schools and the University of Hertfordshire, the youth provide the town with a diverse community and a great atmosphere.
1-hour commute to London or less
A bit further, but you can find some of the best commuter towns England has to offer just under an hour from London.
Tunbridge Wells

Tunbridge Wells, Kent is located 50 km southeast of London. It takes about 45 minutes to travel there by train, with regular service to London's Charing Cross Station, making it an excellent commuter place. If you're looking for a car ride, Tunbridge Wells is within driving distance of the M25 and other major roads.

This picturesque historic town is popular with tourists for the Pantiles and many other attractions, bringing tons of visitors to enjoy the delights of the town.

Families are quite attracted to this commuter town, and they're choosing to move there for several reasons. With excellent schools, access to stunning outdoor spaces, beautiful period properties, and vibrant local culture, the life of a homeowner living in Tunbridge Wells is sure to be happy.

Haywards Heath

Haywards Heath is a growing commuter destination, located less than 55 km from the heart of London. With fast trains to the capital, travelling takes an average of 54 minutes. The district is also a close contender for London's most desirable commuter locations – close to the M23 and the M25, only an hour from the capital yet near the sea.

The arrival of the railway in 1841 spurred the rapid growth of Haywards Heath, which has become a thriving community with good schools, a renowned hospital, independent shops and a lively social scene. From concerts to cricket clubs, the town offers something for everyone.

Newbury

Newbury is a market town in the county of Berkshire. The great train service and wonderful way of life attract many commuters. It takes an average of 54 minutes to travel by train from Newbury to London Paddington station, the distance between which is a little over 81km. If you prefer to drive to central London on the M4 it will take you about 90 minutes.

The relatively small town of Newbury has many historic attractions and rich culture. Many shops, pubs and restaurants and the Newbury Market, which is open each Thursday and Saturday between 9 am and 4 pm. The easy commute to the capital, the many job opportunities and the numerous excellent state and private schools in and around Newbury make the town a desired destination.

Farnham

Farnham is a market town in Surrey. The town is located 58 km southwest of London. On average the Farnham to London commute time by train is just under an hour. The time can vary depending on specific dates or travelling on weekends. The railway station is located just south of the A31 on Station Hill. It's a 10-minute walk from the centre of the town, but there's a bus service connecting it to the railway station.

Farnham is the largest town in Surrey. Famous for its historic attractions, beautiful landscapes, and Georgian streets, Farnham is one of the UK's most pleasant and desirable towns. The centre of the town is filled with a multitude of shopping centres, restaurants, and pubs. With many excellent primary and secondary schools in the town, families choose to spend their time in Farnham.
Moving to a commuter town
There are many London commuter towns for you to choose from, far and near. Each and every one of them has a charm of its own. All you need to do is find the ones best suited for you.
Take into consideration the time it will take you to commute to London. Is the commuter town you wish to move to within reasonable distance? Will that bring any big changes in your life and is it actually quicker to get to your job this way? Commuting time is not the only thing to think about. Add the time it takes you to get to the railway station and how much time it'll take you to reach the office.
Comply with your budget and find the most affordable commuter town for you. There are many things to consider such as the price of your new home, the cost of living in the commuter town you are moving to and transport costs. The average house prices in commuter towns are way cheaper than those in the capital. The further you are from London the cheaper the cost of living will be, however, your commuting cost may increase. Do your research on how much your transportation costs will go up, whether by car or train and consider if it fits your overall budget.
Takeaways
If you're looking to move to a slower-paced area, live in a house with more space, and participate in local events, then look into moving to any of the commuter towns around London. Find the one place you feel is best suited for you and your family and take this huge step towards your new life. The moving process itself requires a great deal of preparation, so make sure to be mentally ready for that as well. If you need someone to make sure your home relocation goes smoothly and stress-free, Fantastic Removals has you covered.