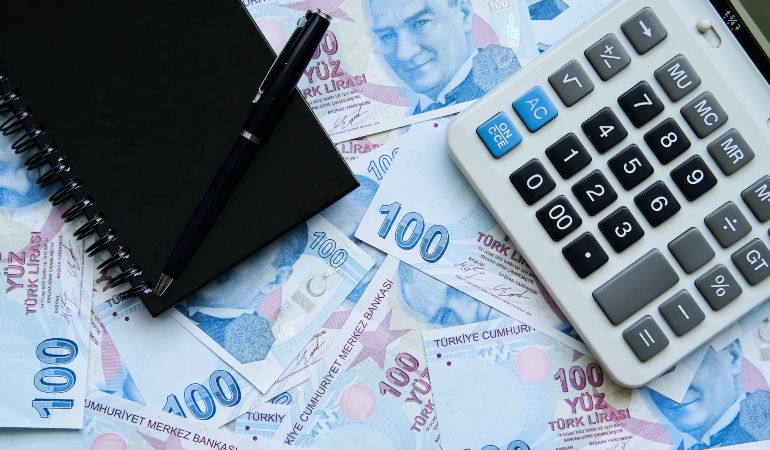 The cost of living in Turkey, as in any other country, plays a big part in whether people choose to move there or not. Turkey is a fairly popular choice, as it's the second cheapest country in the Middle East. Living there is less expensive than in 95% of the countries in the world. The official currency is the Turkish Lira (TRY). Sadly, Turkey also has one of the highest unemployment rates in Western Europe.
So, if you:
Are thinking of relocating to Turkey
Are planning on spending more time in the country
Will be visiting a relative or a friend for a longer time
Then you're in the right place! This article will give you an idea of the cost of living in Turkey vs the UK. You can also check out our guide on how to relocate to Turkey from the UK if you'd like more information on the process.
And, should you need a hand, you can turn to us for professional help with your international house removal!
Bank accounts
Opening a bank account is straightforward even for non-locals. The documents you will need are the following:
A document for identification, such as an ID card, passport or a birth certificate
Turkish Tax Identification Number (you can acquire this without being a resident)
Residency permit (this is typically optional, but may be obligatory for some banks)
For easy and smooth banking, you can choose one of these Turkish banks: Yapı Kredi Bankası-Koçbank, Türikiye İş Bankası (Isbank), Garanti Bankası, or HSBC. They are perfect for expats. If you want to open an account in Turkish Lira, you will need a residency permit. In case you choose a foreign currency, such as Euro or US Dollars, you won't need to bother with this document.
The larger the sum you deposit, the more inclined the banks will be to help you. Keep in mind that foreign currency account holders pay minimal interest to the banks. It may take you up to a few weeks to get your bank card. You have to maintain the bank account you have created for at least a month. Another requirement is paying a 15% withholding tax on all earned interest. Choose an account that lets you keep and send funds. Virtually all banks offer online banking – often the most convenient option for non-residents.
Accommodation cost in Turkey
To estimate the cost of living in Turkey per month, you have to take into account your rent. It is estimated at 14.2% of the total expenses by Numbeo.
The rent on the Mediterranean and Aegean coasts is between 1,500 TL and 2,000 TL for a two-bedroom flat. Living in a plain studio flat on the outskirts of Istanbul costs 1,500 TL. The general rule is – the closer to the city centre, the higher the accommodation prices. Renting a flat in Taksim costs about 4,000 TL a month.
Residents must pay a council tax. It is estimated according to the official price band of the property and the number of people on the title deeds. Another compulsory payment is for earthquake insurance. Both of these will cost you from 400 to 700 TL per year.
In case you receive your salary from another country, chances are that you can rejoice in a lavish lifestyle. Those who get their income from Turkey, on the other hand, normally can't afford a lot of luxury.
Renting a one-bedroom flat in the city centre costs 1,525 TL, and the price falls to 1,018 TL outside the centre. Getting a three-bedroom flat in the city centre will cost you 2,623 TL and 1,704 TL outside of it. You can easily find a place to live using websites, estate agencies, or local retailers. However, be mindful that landowners prefer to give their properties to people they know. A normal practice once you choose a flat is to pay one month's rent as a deposit.
Those who use the services of a real estate agent must pay another month's deposit or 10% of the annual rent as a fee. Bills such as natural gas, electricity and water may also need deposits to be transferred to you. Some residents may be obliged to pay "aidat" – a monthly maintenance fee on the building. Foreigners and locals alike are allowed to purchase properties in Turkey. To do so, you'll want to use the services of a reputable state agent. The buying process is much more simplified now than it used to be. Once you sign the contract, you will receive a TAPU, or the Turkish title deed. This is an all-important document, proving your legal ownership of the property. The average price in a city centre in Turkey is 6,268 TL per square metre. Outside the central area, it falls to 3,602 TL.
Some sellers may want a 10 – 30% deposit, while others may prefer a symbolic amount. There are some taxes you'll need to pay on your property, including:
Tax on property registration, which is 3% since 2018 (split between the buyer and seller)
Stamp duty – 0.15 – 0.75%
Agency fee – 0.3%
Annual property tax – 0.1 – 0.3%, which is double in large cities
Insurance
Flat maintenance fee – 200 TL on average
Council and rubbish tax – yearly, calculated based on the number of people
Cost of utility bills
The utilities are an essential part of the cost of living in Turkey per month. They
take about 7.4% of the total bills per month, according to Numbeo. The expenses for electricity, heating, cooling, water and rubbish for an 85 square feet flat are 492 TL on average. The monthly bills for 1 person living in a 45 m2 (480 square feet) flat amount to 423 TL. A family of 3 living in an 85m2 flat would spend about 1,400 TL on utility bills.
| Type of Product | Price |
| --- | --- |
| Gas | 200-400 TL for a family of 4 (plus 100 to 200 TL for the gas stove) |
| Electricity | 100-150 TL for a family of 4 people |
| Water | 50-80 TL for a family of 4 people |
| Internet | 150.64 TL for 60 Mbps, unlimited data, cable or ADSL |
| Phone bills | 0.80 TL for a 1-minute prepaid local tariff without any discounts or plans |
Transportation expenses
About tone-fifth of the overall cost of living in Turkey is for transportation expenses. Here are the average prices for the different means of transport and fuel.
| Type of Product | Price |
| --- | --- |
| Public transport cost | One-way ticket of local transport 3.50 TL |
| Monthly pass | 200 TL |
| 1L of petrol | 7.11 TL |
| 1L of diesel | 6.48 TL |
| Vehicle tax(Motorlu Taşıtlar Vergisi) | The tax rate is calculated based on the vehicle's age and engine size. |
| Toll tax | An HGS tag or an OGS on-board unit equipment needed |
| Starting rate of taxi drivers | 5.00 TL |
| 1 km Taxi at a normal tariff | 4.00 TL |
| 1 hour Taxi waiting at a normal tariff | 35.00 TL |
The vehicles must be equipped with either an HGS tag or an OGS on-board unit to be able to pay for tolls and go through the toll gates. The HGS is a Fast Passing System, which is a tag in the form of a card or sticker. There is a vehicle tax due for all registered vehicles for commercial and personal use. The age and engine size are the factors that determine this tax's amount.
Cost of necessities
The expenses for food, eating out, clothes and shoes take over 53% of the total cost of living in Turkey. The bulk of these represents mainly food and drinks from supermarkets and local shops.
Food costs in Turkey
If you live in Turkey, you are likely to spend almost half of your income on supermarket food and eating out. The prices of groceries in Turkey are significantly lower than in the surrounding European countries. The major supermarket chains in the country are Migros, Bim and Carrefour. Many people prefer using local farmers' markets for vegetables, fruit and cheese products. These are less pricey and higher in quality than supermarkets'. If you like to visit restaurants frequently, you will naturally have more expenses. This is mainly because Turkey has heavy taxes on alcohol.
| Type of Product | Unit | Price |
| --- | --- | --- |
| Milk | 1 litre | 5.97 TL |
| White rice | 1kg | 12.51 TL |
| Bread | 500g | 2.82 TL |
| Eggs | 12 | 12.79 TL |
| Local cheese | 1kg | 43.21 TL |
| Chicken fillets | 1kg | 21.57 TL |
| Beef round or red meat | 1kg | 69.58 TL |
| Bananas | 1kg | 13.95 TL |
| Apples | 1kg | 5.92 TL |
| Tomatoes | 1kg | 5.55 TL |
| Onions | 1kg | 3.52 TL |
| Potatoes | 1kg | 3.25 TL |
| Lettuce | 1 head | 4.18 TL |
| Water | 1.5-litre bottle | 2.29 TL |
| Mid-range wine | 1 bottle | 50.00 TL |
| Domestic beer | 0.5 litre bottle | 13.59 TL |
| Imported beer | 0.33 litre bottle | 17.76 TL |
| Going to a cheap restaurant | 1 meal | 30.00 TL |
| Going to a mid-range restaurant | Three-course meal for 2 | 120.00 T |
| Cappuccino | 1 cup | 13.31 TL |
| Coke/ Pepsi | 330 litre bottle | 4.66 TL |
| Domestic draught beer | 0.5 litre | 17.00 TL |
Attire and personal care
If you live on a Turkish salary, you might not be able to afford high-quality designer clothes, as they are rather expensive. Apparel prices are high and equal to some more expensive European countries.
| Type of Product | Price |
| --- | --- |
| 1 pair of jeans (Levis 501 or the like) | 260.00 TL |
| 1 summer dress in a chain store (such as Zara, H&M) | 187.46 TL |
| 1 pair of Nike or similar mid-range sneakers | 469.27 TL |
| 1 pair of men's leather elegant shoes | 351.44 TL |
| 50 ml roll-on or deodorant | 21 TL |
| 400 ml hair shampoo | 20 TL |
| 1 tube of toothpaste | 19 TL |
| 1 box of antibiotics (12 doses) | 29 TL |
Takeaways
Moving to live in another country is an exciting and adventurous experience. Being aware of more facts about the country you have chosen is a good way to diminish the negative factors. The cost of living in Turkey depends on the town or city you reside in and Istanbul is the most expensive city there. On the whole, Turkey is cheaper than in 75 countries out of the 79 in the world. Thus, many expats can afford to live there comfortably.