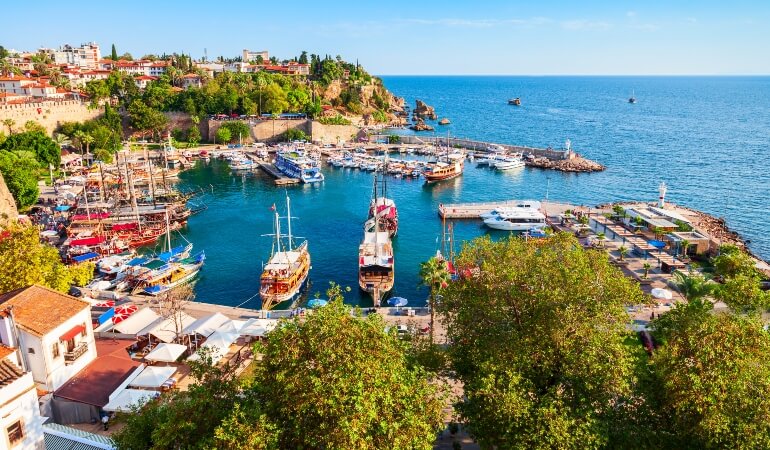 Known for its coffee, tea, baklava, carpets, and being the origin of tulips, Turkey has a relatively large population of around 82 million people. Although it's the largest city in Turkey, Istanbul is not the capital as Ankara holds this spot. Istanbul, on the other hand, is the only city in the world that straddles two continents – Europe and Asia. This bustling city is also home to the Grand Bazaar, which dates back to the 14th century, has over 3,000 stores and consists of a labyrinth of 61 streets. Another interesting fact about Istanbul is that it is home to around 3,000 mosques, while the entire country has over 82,000.
Moving on to nature, the country's Black Sea coastline stretches for 1,175 km and there are over 130 peaks and spectacular mountain ranges, which reach over 3,000 metres, with Europe's longest natural ski slope located in Turkey. Meanwhile, the country is also home to 13 Unesco World Heritage Sites, with a whopping 62 being on the tentative list. These range from a Mesolithic temple, the Ephesus Biblical city and a World War One battlefield in Gallipoli, which make Turkey the sixth-most visited tourist destination in the world. However, if you're looking to not only travel there but move to Turkey, here is where you should look into settling.
Best cities to live in Turkey
Istanbul
With a population of 15.46 million, Istanbul is by far Turkey's largest city. Home to the Grand Bazaar, Blue Mosque, Hagia Sophia and a variety of museums, this bustling city is cosmopolitan and offers young and old wonderful amenities, culturally and historically rich sites, an array of things to do, great cuisine and so much more. It has a thriving contemporary art scene and the café and dining scene includes everything from reworked Ottoman palace dishes and regional specialties to modern Mediterranean and fusion flavours. It is located on the Bosphorus and the Marmara Sea.
Izmir
Located in the midwest, this is Turkey's third largest city. Historically known as Smyma, it has an 8,500-year-old history. Often labelled the nicest city in Turkey, it is close to the Aegean Sea and offers metropolitan vibes with lots of activities in nature to do as well. It is commended for its modern transportation infrastructure, with paths for pedestrians and cyclists alike. With a population of 2.9 million, it is just a day-trip away from the Ephesus and Pergamum. Considered one of Turkey's liveliest metropolitan centres, it has a youthful, commercial buzz where its modern facade is just a cover-up for a rich history. Previously known as Smyrna, it was known for centuries as a Mediterannean cosmopolitan hub that welcomed many different cultures. If there, don't miss out on the Kemeralti Market district, which is located in the city centre where you can find coffee houses, tiny alleyways and stalls in addition to fresh produce and household items.
Antalya
Considered Turkey's second most popular place for tourism and the largest city on the Mediterranean coast, this city offers gorgeous beaches, copious amounts of sunshine, easy travel to places in nature, waterfalls and so much more. It is also home to two of Turkey's best beaches – Lara and Konyaalti. It offers some of the best nightlife and shopping in the south. If you visit the Kaleiçi district in the heart of Antalya, you will find one of Turkey's best-preserved old towns. This is a neighbourhood with mansions from the Ottoman period, which leads to a Roman-era harbour. The breathtaking views there include the mountainous coastline. While there, you might also enjoy the Classical-era ruins of Aspendos, Perge, Side and Termessos, which are just day-trips away. It is located between the Mediterranean Sea and the Taurus Mountains.
Sanliurfa
Once known as the city of Edessa, Sanliurfa is located in Turkey's southeast. There you will find the archaeological site of Göbeklitepe, which contains Neolithic monoliths on the city outskirts, and which received a Unesco World Heritage status in 2019. In the city centre, you'll find the massive and contemporary new Archaeological Museum. Go to the bustling Old Town district's bazaar to explore traditional craft workshops and produce stalls in the midst of narrow alleyways where the courtyards open up to open-air cafés. Meanwhile, at the centre of the city is the leafy Gölbasi Park.
Ankara
The second largest city in Turkey and the country's capital has a population of around 5 million people. It is centrally located and offers visitors much to see, including the Museum of Anatolian Civilizations. Another major attraction is the modern pilgrimage site the Anitkabir, which is a hilltop complex that holds the mausoleum of modern Turkey's founder Atatürk.
Bodrum
It's located on the Aegean Sea and is a popular tourist destination due to its gorgeous waterfront and sophisticated amenities. It is a white-blue district with a clean and safe environment and offers many cultural, historical and entertainment facilities.
Bursa
Originally known as Prusa, Bursa is considered the original capital of the Ottoman Empire and it has a population of around two million. The city's central districts are some of the most focal attractions with the 20-domed Grand Mosque, Yesil Mosque and Tomb, and the mausoleums of the Muradiye Complex and so much more. Also a SIlk Route trading point, at the city's centre you'll find the Covered Market where warehouses showcase the city's heritage as a trading point. This tradition is carried forward at the Koza Han with its varied silk shops. This lovely city is also home to the Iskender kebab, and most restaurants offer this as their headline dish.
Need help with your international relocation to Turkey?
Contact Us
Other honourable mentions
Alanya
thanks to its Mediterannean position, this city offers around 300 days of sunshine a year and outdoor lifestyle offerings. It has wonderful beaches and is a safe and secure place for tourists and locals.
Konya
A central city where you can enjoy the ornately tiled Mevlana Museum or the surviving mosques and monuments from its "grand era as Seljuk capital in the 13th century." Also worth visiting is the settlement mound of Çatalhöyük, where archaeologists unearthed one of the world's largest Neolithic villages. Another worthwhile attraction is the Tropical Butterflies park, which is a shelter for over 6,000 butterflies.
Fethiye
This is a much smaller city with a population of around 100,000 and is considered a must-see destination on the Mediterranean coast. It has a stunning harbour front setting and is a major yachting destination. Use your location at Fethiye to launch out and explore the ruins hidden in the surrounding forests.
Gaziantep
Here you can wander the old town area with its multitude of baklava shops and compact bazaar alleys which feature traditional craftwork stores and historic coffee houses. It's no surprise that it is considered Turkey's baklava capital. However, one of the main attractions in this city is the contemporary Gaziantep Zeugma Mosaic Museum, which holds one of the world's most important collections of Roman period mosaic floor art.
Kalkan
One of the best small towns on the Turkish Riviera, this is a town for luxury, It offers rooftop dining, exclusive beach clubs and stylish architecture.
Eskisehir
This is a vast university centre with many gardens, art galleries and an abundant cafe culture. Enjoy gondola rides on the river, picnicking in parks or enjoying the sights of the Old Town district of Odunpazari, which is home to the Odunpazari Modern Museum – an art gallery with a permanent collection of modern art.
Cities and places you should avoid
The Foreign and Commonwealth Office of the UK warns against all but essential travel to the provinces of Sirnak, Mardin, Sanliurfa, Gaziantep, Kilis, Hatay, Siirt, Tunceli and Hakkari, and against all travel to within six miles of the borders with Syria and Iraq. The city of Diyarbakir is also to be avoided.
Takeaways
Turkey is a very diverse country. The cultural differences, beautiful architecture sites preserved for centuries, rich cuisine and more are sure to capture your heart! When it comes to the expenses of living in this country you will be pleasantly surprised as Turkey is among the cheapest places in the Middle East. We can absolutely understand you if you're already packing up and preparing for your move abroad. Turkey is indeed very popular among tourists and a sought after destination to move to. Hope we gave you a good start to your international relocation!