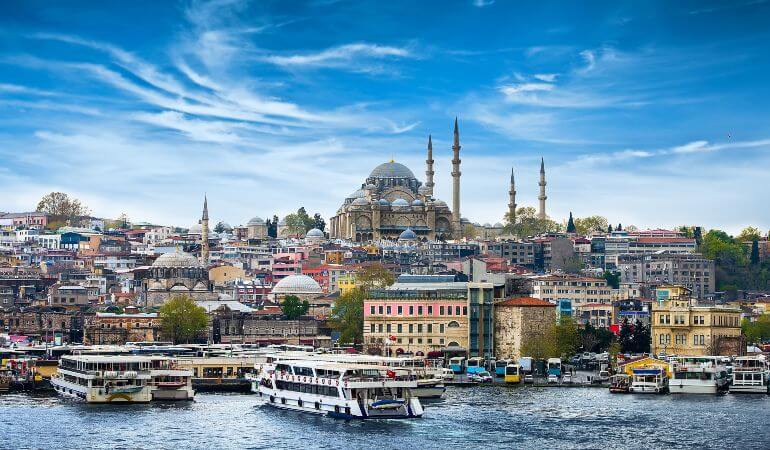 Capital City:
Ankara
Population:
83.15 million (as of 2019)
Official language:
Turkish
Commonly spoken languages:
Turkish (90%), Kurdish (6%), Arabic (1.2%)
Currency:
Turkish Lira (₺)
Exchange rate to pound:
1£ = 9.6₺

If you are considering Turkey to be your new home or have already decided to move to this culturally rich country, then this post is for you. The country where the East meets the West and traditions are tightly intertwined with the modern lives of Turks. The sheer diversity within the country is one of the main reasons why the destination is quite popular among British expatriates.
So, if you want to find out more about Turkey, keep on reading.
Where to live in Turkey
At least 34,000 Brits have chosen Turkey as their second home for various reasons. Depending on your lifestyle and occupation, you might consider choosing between these cities:
Istanbul
The largest city in Turkey is considered to be both the economical and cultural capital of the country. So far, Istanbul has the highest number of expats. The diversity of both academic and language schools makes it one of the best options for students. Whereas, a fast-developing business sector attracts professionals from all around the world.
Ankara
The capital of Turkey. Even though the expats most likely choose Istanbul over Ankara, those living in this city are connected to diplomatic embassies and schools. Moreover, the most respectable universities are located in Ankara.
Izmir
The city is popular among those who wish to work. Known for a Konak district, the city offers a diverse range of professional opportunities. The coastal area can also become the perfect place for those, who wish to have a more relaxed way of living.
How to become a resident
British citizens who are travelling for tourist and business purposes can stay on the territory of the country for up to 90 days with a short-term visa. If you plan to stay for a longer period then, you have to apply for a long-term visa or residence permit, depending on your reasons to stay. Here are the types of visas that British citizens can obtain:
Student/education visa
If you are planning to get a higher education, go on an internship or learn the language, then you have to apply for a long-stay visa or apply for a residence permit
Work permit
If you wish to work in Turkey, you have to make sure that you have eligible reasons to stay, meaning having a work permit. The work permit serves as a substitution for a residence permit
Family residence permit
Given to foreigners who have a Turkish spouse and foreign children of their spouse
In order to request a visa, you have to contact the Turkish Consulate General and make an appointment. You can as well find useful information on GOV.UK.
Working in Turkey
Over the last several years, the Turkish economy has been experiencing consistent growth. Along with the textile industry, the agriculture industry has been a major contributor to the country's economy. Other sectors that are full of job opportunities for foreigners are tourism and electronic sectors, therefore if your qualification allows, you might consider applying for a position in those fields. It is important to know that obtaining a work permit in Turkey is quite hard, however, professionals in the fields of medicine, engineering and IT are in demand. Native speakers also have a chance of finding a job as an English teacher or one in another foreign language.
To apply for a work permit, you have to contact your nearest consulate and make an appointment. In the UK those are located in London and Edinburgh.
According to the law, employees in Turkey are obliged to pay out a part of their earnings as a part of the Social Security System (Sosyal Güvenlik Kurumu, SGK). However, due to the Social Security agreements between the UK and Turkey, UK citizens who are contributing to the National Insurance have a right to abstain from the SGK contribution.
Transportation in Turkey
If you chose Turkey as your new living place, then you can enjoy the comprehensive transportation system in the country. The public transport system is quite developed and affordable. Depending on how quickly you want to travel, you can choose between local buses, minibuses (dolmus) or taxis. Those living in larger cities can use the metro or overground trams. It is important to know that some types of transport, like the metro and buses, use smart ticket systems and cash payments are not possible.
Driving your own car in Turkey
To drive your own car in Turkey you have to have a valid international driving permit. Another option is to get a notarised copy of your foreign driving licence but the notarised copy should be in Turkish. If you have a valid residence permit and want to drive your own car, then you need to know that it is allowed to keep your car in the country for 2 years. However, after that, your car will have to leave the country for at least 186 days.
Education in Turkey
If you want your children to study in a Turkish public school, then you need to know that they are free of charge for both citizens and foreigners. Private schools fees vary from school to school. It is worth mentioning that the majority of foreigners prefer to choose international private schools due to the British, French and German curriculums. Moreover, private schools offer a higher level of foreign language education, due to the schools hiring native speakers as teachers. Most of the international schools are located in Istanbul and Ankara.
Being a student in Turkey
The majority of your people choose to live in Istanbul, Ankara, Izmir, and Bursa, due to the fact that these cities are homes of the biggest universities in the country.
Future students can enrol in a preferred program directly through a higher education institution. The main requirements for the applicants are a completed secondary education and a confirmation from a Turkish Embassy that it is equivalent to that of Turkish secondary education.
Further on they can apply for a student visa. It is important to know that students have to pass an entrance examination (YÖS). The examination is performed in a form of a test and composed of two parts: "Basic Learning Skills Test", which tests the student's abstract reasoning skills and "Turkish language Proficiency Test", which assesses the student's understanding of the Turkish language. Those who do not speak the language can take a preparatory language course. Some universities provide education in English, French, or German.
Healthcare in Turkey
Before you enter the country, you should have travel medical insurance. You should know that European Health Insurance Cards are not valid on the territory of Turkey. It's very important to mention that when you leave the UK for a permanent residency in another country, you will no longer be able to use your National Healthcare Service because it is a residence-based system.
If you reside in the country for more than a year and have a valid residence permit, you have a right to apply for Turkish General Health Insurance Scheme (Genel Sağlık Sigortası or GSS).
Healthcare in Turkey is quite different from the European one. Instead of having a general practitioner, citizens can directly reach out to a needed medical specialist. If you need to find an English speaking practitioner, you can find a list here.
Takeaways
Overall, relocating to Turkey requires a compelling reason
Depending on your lifestyle, you can choose to stay in Istanbul, Izmir or Ankara
Textile, agriculture and tourism industries are the most developed in Turkey
If you want to drive your own car in Turkey, you should be aware that you can keep it into the county only for 2 years
The best universities are located in Istanbul, Ankara, Izmir, and Bursa
If you have a health-related issue you have to reach out to a needed medical specialist instead of a general practitioner