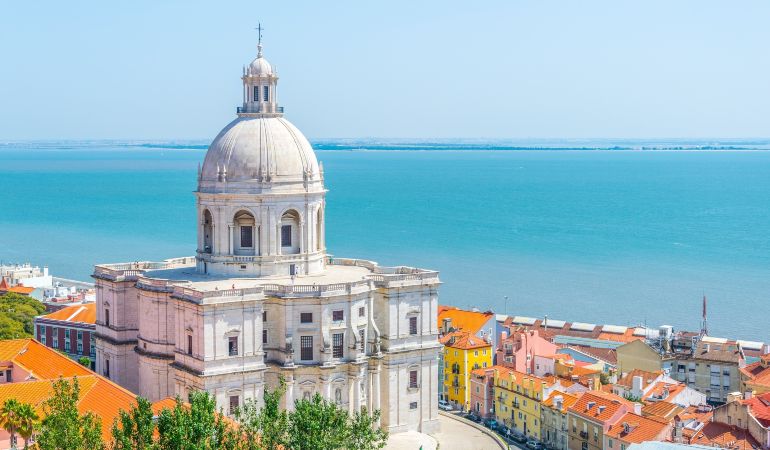 Capital City: Lisbon
Population: 10,295,909 (as of 2019)
Official language: Portuguese
Commonly spoken languages: Portuguese, Mirandese, English
Currency: Euro (€)
Exchange rate to pound: €1 = £0.98
Have you been considering moving from the UK to Portugal? Did you know that close to 50,000 Brits are currently living in Portugal?
Portugal is one of the oldest countries in Europe, and the Portuguese language is spoken by more than 240 million people around the world.
Famous for its wine production, vast pristine beaches and monster waves, this country attracts people from all over the world. Combining innovation and traditions, Portugal will surprise you with some of the best shoes, the oldest bookstore in the world and advanced banking systems. Harry Potter fans will be delighted to learn the unique inspiration Portugal provided to J.K.Rowling while she was living there. The famous Hogwarts staircase resembles much the one in a Porto library that the author admittedly frequented. And if that is not enough to get you going, then the strong coffee with a pastel de nata definitely will!
Remember to choose your city and community wisely and as soon as you do – plan your removal service.
Where to live in Portugal
Algarve
Algarve is Portugal's southernmost region with a population close to half a million people. Known for its golf resorts, Atlantic beaches and cliffs, overlooking sandy coves, this city is also filled with excellent hotels, bars and restaurants. Your free time will be filled with white sand, wine tasting and visits to old castles and fascinating museums. If you are looking for an English community, then Algarve will also offer that to you, as most British expats are in or near the Algarve region.
Lisbon
Lisbon is Portugal's capital with just over half a million residents. Famous for the friendly locals, excellent year-round weather and the fantastic Fado music, Lisbon will captivate your heart. With hilltop city vistas on almost every corner, you will be able to enjoy the ornate architecture and beautiful landscape of the city fully. Watch old customs intertwine with ancient history and innovation and enjoy this ageless city. You will never feel alone in Lisbon, which is famous for its hospitality and will immediately feel part of the Portuguese family.
Coimbra
Coimbra is the country's former capital, turned student-community centre of Portugal. The famous University of Coimbra built in the place of a former palace is known for maintaining the baroque architecture style, being the oldest university in the country. Coimbra is home of Se Velha – one of the most popular Romanesque Roman Catholic churches. Sitting on the banks of river Mondego, Coimbra is only an hour away from the ocean shores and two hours from the capital. The busy nightlife and beautiful architecture will keep you entertained, while the picturesque city views will bring a sense of calm and balance.
Porto
Porto is the second-largest city of Portugal and one of the oldest European cities. It is proclaimed a World Heritage Site. Home of one of the country's most well recognized and successful football clubs – FC Porto, it is also well known for the Port wine. Enjoy Porto's cutting-edge architecture, street art, Atlantic-fresh seafood, craft beer bars, many food markets and endless visits to the many port cellars. The city soulfulness, incredible viewpoints and laid-back vibe are well combined with the spirited nightlife, wine tastings and the never-ending hospitality of the locals.
How to become a Portuguese resident
Currently, you do not need a visa or any other travel documents to enter Portugal. After Brexit and from 2021 additional arrangements will have to be agreed upon between the UK and Portugal and changes may apply. Once you have successfully relocated to Portugal, you can work towards naturalization as a Portuguese citizen if you want. People aged 18 or over can undergo a procedure for acquiring citizenship after five or more years of legal residence in Portugal and sufficient knowledge of the language.
The country allows dual citizenship and citizenship by marriage. You officially will become a resident if you spend 183 days or more over 12 months in the country.
Working in Portugal
Real Estate agents
Online gaming support
Interpreters/ Translators
Accountants
Project managers and others
The average salary is about €900 per month and yearly earnings, depending on the location and the area of expertise, generally vary between €8,000 and €21,000. Portugal is generally considered one of the cheapest countries, so this would easily cover your living costs while there.
Transportation in Portugal
Portugal is extremely easy to get around in as it is almost entirely covered by train and bus routes. Regional trains are often very cheap, high-speed and extremely comfortable. Most train routes are scenic, and the carts are usually not too crowded. Lisbon has an extensive Metro system that covers 56 stations across the city, including the airport. Bus and tram rides are generally around €1,40 – €1,50 and a subway trip is around €1. As most cities are relatively small and compact, you can also rely on Uber or several taxi services or simply walk on foot. Many cities now have and continue developing bike paths for comfortable city cycling.
Driving your car in Portugal
Driving with your UK driving license in Portugal is possible. You will also need your vehicle registration document and a green card or another certificate of insurance. Local authorities often require a form of ID, so it is best also to have your passport. Driving in Portugal is on the right side of the road, and general parking rules apply. Yellow and red lines on curbs mean no parking, and on one-way streets, you can park in the same direction as the traffic, as long as it is not close to a junction, a bus station or a tram stop.
Education in Portugal
Portugal has an optional pre-school and mandatory basic and upper-school education. The education system is ranked the 35th best in the world, according to QS Higher Education System Strength Rankings. Students from the upper school are considered to have above world average reading literacy, mathematics and science knowledge, surpassing students from the US, Austria and France. State-run schools are completely free of charge and private school charges are fully or partially refunded by the State if state-run schools have no capacity.
Being a student in Portugal
Portuguese academic outfit is unique and considered the symbol of any Portuguese student. It originates from the University of Coimbra and consists of a white shirt, black pants or skirt, black straight tie, black vest and a black cloak and is well accepted by students. Portugal currently has about 20 universities and another 60 polytechnic institutes.
Polytechnic institutes are generally more focused on helping students develop a certain career path and employ more practical training. Universities are focused on teaching their students more theoretical courses. Top universities in Portugal are the University of Porto, University of Aveiro, Universidade Nova de Lisboa and the world-famous University of Coimbra. Fees for bachelor's and master's degrees average about €1,000 per year. Almost all universities accept exchange students at no extra fees.
Healthcare in Portugal
In order to fully access state healthcare, you need to register as a resident. If you moved to live in Portugal by the end of 2020 and are a legal resident, your rights to Portuguese healthcare will remain as it is after Brexit. Most of the healthcare costs are covered by the State and patients only pay a minimal user fee, known as "taxas moderadoras". If you haven't registered as a resident, you can also use your UK-issued European Health Insurance Card for temporary stays and before the beginning of 2021, when it may be renegotiated due to Brexit. If you're entitled to a UK-issued S1, you can have access to the same healthcare as a full Portuguese citizen.
To register for healthcare, you will need:
Residence certificate
Passport
Tax identification number
Social security number if you are employed or self-employed
GP appointments are generally about €5, and you will also have to cover the cost of any prescribed medicine. Children under 12, pregnant women and unemployed people may be subject to reduced or no fees for some prescriptions, treatments and services.
Takeaways
In summary, moving to Portugal before the end of 2020 will not require any additional travel documents. Once there, you must register as a resident, get your tax number and register for healthcare. If you plan on staying for more than five years, you can also acquire citizenship, if you have sufficient knowledge of the language and the Portuguese customs. Jobs on average can bring you €8,000-21,000, and you can consider working remotely from Portugal for a UK-based business. Education is free or cheap and universities there are famous for their rich history and innovative systems.