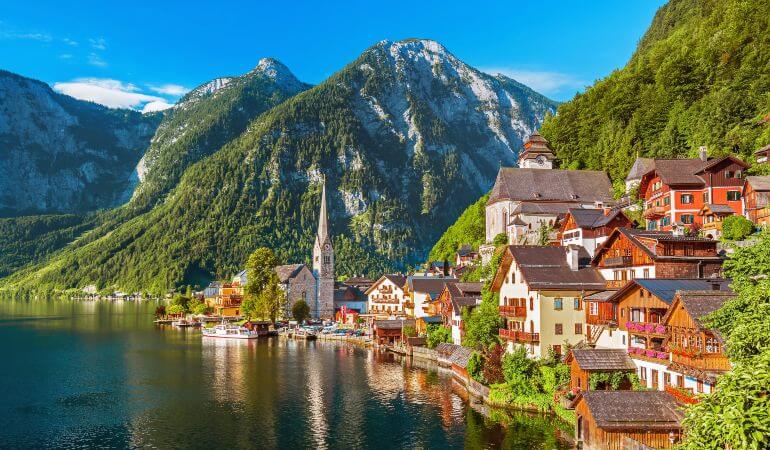 Breathtaking sceneries, rich culture, and delicious cuisine sound fantastic to you? Well, if relocating from the UK is on the cards for you, look no further than Austria, a country that checks all the boxes. Add to that a booming economy, affordable living and vibrant social life, and moving to Austria will suddenly look like the right decision if you've been sitting on the fence for a while!
Capital City: Vienna
Population: 8.859 million
Official language: German
Commonly spoken languages: Hungarian, Slovenian, Burgenland Croatian
Currency: Euro
Exchange rate to pound: 1 Pound sterling equals 1.11 Euro
Where to live in Austria
In 2019, Austria's capital Vienna was ranked number 1 for the 10th year running in the Mercer quality of living city ranking. Although the cost of living there is higher than in other Austrian cities, the capital boasts a rich art and culture scene, amazing cafes, and architectural marvels.
Salzburg is another great Austrian city with a thriving job market and enticingly beautiful architecture. It is also home to the country's current best football team, FC Red Bull Salzburg, so if you are a football fan, you can still enjoy the spirit of the game and some European competition action.
And if you are a fan of warmer climates, Innsbruck is your city of choice. Nestled between two mountain chains, needless to say, the views are otherworldly and the opportunities to engage in various activities – endless.
Residency – what you need to know
With Brexit just around the corner, the question on everyone's mind is how will it affect life and work for expats and people, who are about to relocate to an EU country. So far, the conditions have remained unchanged. According to the British Government's website, if you are or become a resident in Austria before the transition period ends on 31 December 2020, you will be able to stay long-term and eventually, permanently in the country. UK nationals are able to continue moving to Austria unaffected during this time.
Within 3 days of moving into a house or a flat in Austria, you are required to register your residence with the competent registration authority, the Meldebehörde if your intentions are to stay in the country for good. You can do so in person or via post. The registration form is available for download and at registration offices. Furthermore, in order to stay for more than 3 months in Austria, you will need to submit proof of employment, self-employment or that you have adequate means of subsistence to support yourself and your dependents, as well as present sufficient health insurance coverage (more on that, read below). Alternatively, if you are moving to Austria to study at a recognised educational institution, you will need to provide proof of admission and sufficient finances (e.g. bank account, traveller's cheques).
If you are staying for less than 3 months, you only need to report your presence to the authorities.
Working in Austria – your options
Boasting a GDP of 380€ billion in 2019, the Austrian economy is going strong. With highly developed industry sectors, such as food production, international tourism, vehicle manufacturing, engineering, service provision and more, being some of the most important industries in the national economy, you'll find many openings on the job market. Teaching English is always an option for Brits, as well. While job remuneration differs from city to city (or village) the gross average is 42,729 € per annum. As for the work-life balance, you get 5 weeks of paid leave per year (6 if you have 25 years of service) and there are also 13 paid public holidays. Traditionally, Austrians work 40 hours per week.
Currently, British citizens have the right to work in Austria if they are residents. This will stay the same after Brexit as long as you continue to reside in the country. To apply for a job, you might need a:
What about transportation in Austria?
If you are looking to be eco-friendly, then Austria with its top quality public transport network just might be the place for you. There are trains, buses, trams, underground, boats, and even cable cars to choose from.
Rail travel is delightful with its scenic routes and fast service. Travelling by train will get you almost everywhere and where a train doesn't go, the bus network has got your back.
In Vienna, there is an underground system and you can purchase multi-trip or multi-day passes. However, the best and most convenient way to commute to the capital is biking. If you don't own a bike, you can rent one of the many available throughout the city.
Overall, public transport in Austria is reliable and safe.
Driving regulations
There is no better way to experience the stunning beauty of the Austrian landscape than driving. Keep in mind though, that many mountain roads are closed during the winter, due to the heavy snowfall and from November to the middle of April, winter tires are mandatory. Main roads, of course, remain well-maintained all year round.
When using the motorways and 'A' roads, you are required to purchase Toll stickers, called Vignettes, which you can do upon entry at the border crossing and at most petrol stations, post offices, and convenience stores.
You can use your UK driver's licence for up to six months, after that you will need to get an Austrian one. If you are importing a UK-registered vehicle, you may use it with foreign plate numbers for up to a month. You will have to register your car and pay a one-off fuel consumption tax. In Austria, third-party car insurance is mandatory and this needs to be arranged with an insurance company before you can change your plates and car registration. Your insurer will be able to advise you on the procedures and make the necessary arrangements.
You might be able to get your car registration tax refunded if your car is:
brought to Austria by the person, in whose name the vehicle is registered
brought to Austria by the hirer after the commercial hiring within the national territory had finished
brought or supplied by an authorised car trader
It is important to remember to always have your insurance certificate, driver's licence, vehicle registration documents, and the Autobahn-Vignette, when driving. Furthermore, you must have a warning triangle, a reflective vest, a first aid kit, and a headlamp adjuster in your car at all times.
Alternatively, if you are looking to buy a car, a decent commuter's vehicle like a Volkswagen Golf or Toyota Corolla is around 23,000.00 €, which is about 2,000 € less than it would cost in London. However, the costs for insurance, tax, yearly check-ups, and parking add up, so be prepared to spend between 1,000 € and 2,000 € per year. If you live in a city like Vienna, you can skip on driving your own car and use public transport; it's both more cost-effective and eco-friendly.
Austria's education system
Austria's school system is free and public, and all children are required to go to school for at least nine years. Additionally, schools offer vocational-technical and university preparatory tracks that are one to four years long. 90% of the schools are publicly funded, while the rest are private and mainly run by the Roman Catholic Church. The latter have a reputation for a more disciplined and rigorous approach to teaching than the former. Also, there are private international schools, where the lessons are taught in English and the curriculum is similar to the one in the UK. Most of these schools are based in Vienna and the tuition fees are higher, however, the facilities and standard of education are worth the cost.
After graduating from a high school or a vocational school by taking the Matura (matriculation exam), students are free to go to university, although some majors might require additional exams (e.g. Medicine). In almost all cases, universities are state-funded. Currently, EU/EEA students are exempt from university tuition fees if they graduate in the minimum time for their respective degrees. In general, higher education is affordable and accessible to those who desire it.
Austria has a long and proud academic tradition. The University of Vienna was founded nearly 800 years ago, and some of its alumni are Sigmund Freud, Gregor Mendel, and Erwin Schrödinger.
As a student, you are allowed to work up to 20 hours per week to help you cover the costs of living. Depending on the city you are in and the accommodation you rent, living expenses will vary. On average, however, you would need about 1,000 € per month.
Access to healthcare
Like with any well-run country, Austria's healthcare system operates smoothly and effectively. If you are living permanently in the country prior to the 31st of December 2020, you will have life-long healthcare rights, as long as you remain a resident. When you register for healthcare, you should pay contributions to a local social insurance organisation. Usually, your employer will automatically deduct health insurance contributions from your salary and make the payments on your behalf. You can also take out additional private health insurance. Then, you will be able to enjoy flexible visiting hours, private hospital rooms, and the luxury of choosing your doctor.
Once you are insured, you will be issued an e-Card, which you must present when going to the doctor. If you are a pensioner or student insured in the UK, you can still use your European Health Insurance Card (EHIC), even after 31 December 2020, which will be otherwise no longer valid for most Brits.
Final thoughts
If high-paying jobs, excellent quality of life, stunningly beautiful nature and good education is exactly what you are looking for, then moving to Austria should be a no-brainer. Pack your bags and jump in! Somewhere out there a wiener schnitzel is waiting for you!