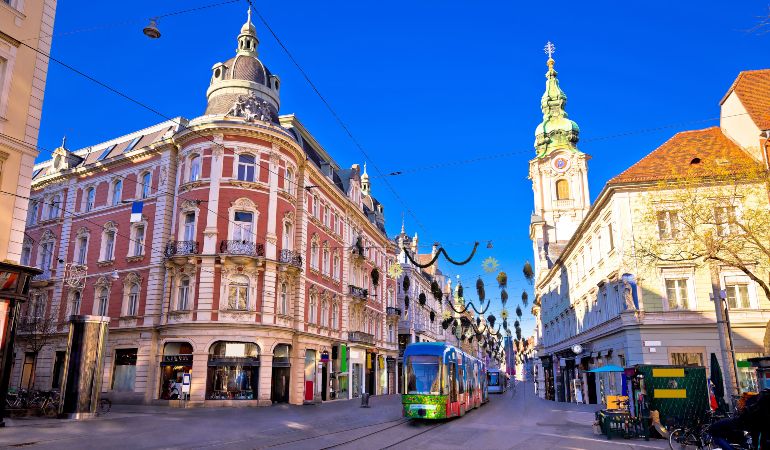 Austria is an enticing destination, not only for tourists to visit but also as a new home. This country boasts a high quality of life, one of the highest in the world. With everything it has to offer, it's no wonder so many people are moving from the UK to Austria every year.
If you are planning to make the move yourself, you're in the right place! Here, we will outline the best places to live in Austria. Read on!
Top places in Austria for British immigrants to move to
Austria has lush and spectacular nature, greenery, rivers and lakes. In the winter, the country displays its icy glaciers and snow-covered mountain summits. So, if you're looking for a new home with stunning scenery, you've made the right choice. If you're more interested in exploring its rich culture, Austria has much to offer in that regard, too. It will mesmerise you with great cuisine, spectacular architecture, a variety of activities, and more.
Luckily, moving to Austria is easy, as the process is expat-friendly. But choosing the right place to call home can be tricky. Don't worry, we're here to make it easier! Here are some of the best cities to live in in Austria.
Vienna
Vienna is a top destination for foreigners around the world. Its cosmopolitan spirit, Baroque glamour and imperial spots make it the preferred choice. The heart of the city is its music and art scene, as there are grand opera houses and many venues. In 2019, the city was declared the most liveable city in the entire world for the 10th time, according to the Mercer ranking. Vienna offers great culture and activities, plus top-class healthcare and public transportation system.
You can find residents of all walks of life in Vienna. It boasts very low levels of crime and an eco-friendly policy. Some of the most attractive places in the city are Schönbrunn Palace and the Künsthistoriches Museum. The list of live events in Vienna is diverse, too. It includes the spectacular Vienna Opera Ball, the Genuss Food and Drink Festival, and the Vienna Jazz Festival.
Expats from the UK and other areas searching for good places to live in Vienna, Austria can check Währing and Döbling. These neighbourhoods are located close to the international schools in the city and are very convenient. Other top places in Vienna are Hipster Neubau, Mariahilf, and Josefstadt.
Salzburg
If you're seeking the cheapest places to live in Austria, Salzburg is your best bet. It is located very close to Germany, so you can visit this country as often as you like, too. Living in Salzburg means being surrounded by splendid Baroque architecture everywhere you look. This is the birthplace of Mozart, as well, so all classical music fans are sure to find it interesting. Salzburg hosts several annual festivals. Some of them are Mozart Week, Winterfest, and the Salzburg Festival.
Salzburg is the perfect place to live in Austria for creative, musical and artistic people. It is declared a UNESCO World Heritage Site and hosts over 4,000 different cultural events each year. The city is also famous for its outdoor sports. It is one of the most ecologically responsible locations. About 70% of the energy consumption in Austria comes from Salzburg's renewable energy use. The city has the most eco-friendly public transport system, as well.
Graz
The second-largest city in Austria is namely Graz. It has over 440,000 residents, many of which are students. Located south of the country, Graz has a warmer climate and is a much calmer and quieter place to live than Vienna. Despite that, Graz is one of the best places to live in Austria. It is perfect for starting your business or company in Europe. The cost of living in Graz is rather affordable and much lower than that in Vienna.
Graz's Old Town is UNESCO-listed. The city hosts several annual events. The La Strada is a festival of magic, music, comedy and circus acts, and there is a Spring Festival. Innere Stadt is a very suitable neighbourhood for single immigrants. If you are looking for places in Graz for families, choose the outskirts. Straßgang, Liebenau or Puntigam offers a calmer atmosphere. These neighbourhoods have enough supermarkets, schools and facilities. Expats will also find Mariatrost and Ries to be attractive destinations.
Innsbruck
Innsbruck is mostly popular as a winter destination, so you may be wondering, is Innsbruck a good place to live? Actually, it is a cosy place to be in Austria all year round. The town has superb architecture and infrastructure as well as stunning landscapes. The Old Town is convenient for pedestrians and usually crowded with tourists. It is the perfect place for immigrants who work in hospitality and tourism.
Nordkette mountain and Schloss Ambras are two destinations in Innsbruck you shouldn't miss. Innsbruck is a smaller town and has a warm spirit. Most of the places there are accessible by walking. You can visit Innsbruck's suburbs and nearby villages, too.
Lienz
Lienz prides itself on its historical legacy dating back to Roman times. It is located near the border with Italy and close to Slovenia in South Austria. In the city, you can have a spectacular view of the Iceland Drau Rivers and the Dolomite mountains. You can find plenty of archaeological sites and places of historical significance. The town has such a warm climate compared to the rest of Austria that is often referred to as the Sun Town.
The summers in Lienz are abundant in tourists, while the winters are rather sleepy. Lienz has a lot of tourist attractions. Popular activities include para-gliding, castle visits and deer park trips. Those of you who like to be among nature can always hop to the mountains whenever you like. Lienz lets you go anywhere out in the countryside. The city also offers many cafes, old buildings to gaze at, and entertainment.
Moving overseas? Rely on Fantastic Removals!
Contact Us
Other honourable mentions
Feldkirch and Kladenfurt may not be international centres. It is true that they don't offer plenty of things to do and may not be your first choice. Yet, there are still enough reasons for you to choose them as your new home destination.
Feldkirch
Feldkirch is a well-kept mediaeval town, which can seem a bit isolated and distant. It is in the west part of the country, near Germany and Lichtenstein. To make sure you don't feel in a far-flung place, choose a location close to Feldkirch's centre. The oldest part of the town is the most populated area. It houses the main train station, plus many bars and restaurants. Some drawbacks of living in Feldkirch are the feel of isolation it leaves and the relatively few things there are to do. Finding other immigrants may take you a while there.
On the positive side, there is plenty of heritage and many historic buildings. The lovely flora and fauna variety are distinct features of the town. In the Feldkirch Wildpark, you will find 142 species of animals. Go to the Erholungswald Ardetzenberg, which will mesmerise you with its greenery. Those who love hiking can go to Three Sisters Mountain Range. The Great Sister is the tallest of them, soaring at 2,053 metres above sea level.
Klagenfurt
Klagenfurt is another town you shouldn't underestimate. It is a bit conservative and can seem too unexciting to some with its small population of around 100,000. Klagenfurt is the capital of Carinthia, the southern Austrian state. In the summer, you can swim in Lake Wörthersee.
The best place for expats is the student area near the local university. There, you will find a more lively area. In comparison to the otherwise high cost of living in the country, here you can take advantage of low-cost accommodation, food and exciting nightlife. The Klagenfurt University area is near the centre of the town, as well. The transportation system in the city is good – it has enough convenient connections and there is an international airport. Besides this, you can enjoy the traditional local food in the neighbourhood.
Cities and areas to avoid
Overall, Austria is a pretty safe place to live in thanks to its strong social system. Yet, pick-pocketing occurs mainly in larger cities and big tourist centres. Here are a few areas that British and other expats should avoid:
Ringstrasse in Vienna – has plenty of hotspots for tourists and is a favourite place for muggers
Karlsplatz in Vienna – a busy square that gets full of drug addicts in the evenings
Getreidegasse in Salzburg – a dangerous spot with many pickpocketers
The Austrian Alps can be dangerous as avalanches happen frequently. Therefore, steer clear of remote mountainous areas. Also, there is a growing but still small anti-immigrant wave in the country. To avoid it, choose bigger cities, which are more populated with foreigners. A good thing to do is keep the emergency phone numbers in Austria at hand, just in case.
Takeaways
Ranked as one of the top destinations in the world, Austria deserves its brilliant reputation. It is a multicultural country with a cosmopolitan vibe. Other positive features are its stunning nature views, mountains and stable infrastructure. Vienna is a favourite place for many immigrants. Check the best places to live in Austria above and choose the one that suits you most. You can plan and carry out your international relocation from the UK to Austria with Fantastic Removals.