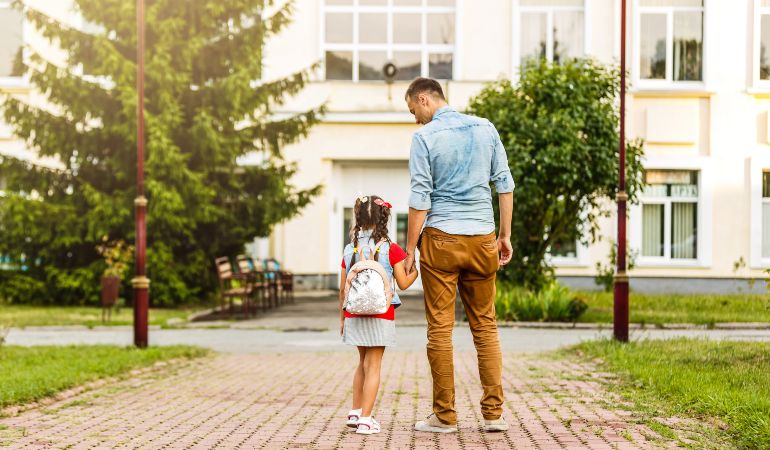 Sometimes it may feel like securing a place in the preferred school for your children is more difficult than winning the postcode lottery. Some families describe the process as a "horrible chicken and egg" situation, so being well-informed and prepared for the outcomes is the best weapon. Some tricks might slightly push your chance towards the winning side – read through to get familiar with how parents use them to secure a spot.
You may have heard about some dubious tactics like renting in a catchment area and other slightly fraudulent doings to beat the school admission process. In this article, we will explain what people try to do, how the system works and why going down the dark path might not be the best idea.
Let's get down to it.
How do school catchment areas work
If the school of your choice is popular and there are more applicants than available places, it might lead to the school having a very narrow defined geographical catchment area. A rule of thumb is to apply for at least two schools (and more) within the catchment area of your home to stand a more realistic chance of admitting your children in any of them.
Depending on the popularity of the school, the distance may vary from a few miles away to within a hundred metres away. It's doubtful that children will get admitted if they live outside of the catchment area – make sure you weigh off the possibilities by the following handy websites: admissionsday.co.uk and 192.com
Tricks that parents use to secure a place at specific schools for their children
"We live with our relatives" version
Chances that your children get admitted to the desired school are low – school councils do their "homework", and if you get busted, you may even get fined. As rare as that may be, it's not worth the risk to be taken to court.
Renting in the catchment area
If you can't afford to buy a property in the catchment area, you might consider renting a property within the allowed distance. Sounds good on paper, but you have to be careful. Some schools may look for proof you've lived there 12 months before the time of application. And if you still own your old property while applying, there is a big risk of getting rejected. It would help if you had a solid reason like extended major building work for this option to pass through. Don't count your chickens too early – even if your child gets in, some angry parents might tip you off and investigate the matter.
Moving into the catchment area
It's a good option if you have the financial opportunity to do it. However, it's still not a guaranteed spot, since many of those areas are full with children and the schools cannot accommodate everyone. Another thing is that you would probably be paying a substantial amount on top of your property value just because of the high interest. The closest to the school you are – the best chances you get, but bear in mind the distance varies from year to year – a.k.a. A nerve-wracking experience.
Church attendance
Your children may stand a higher chance of getting in if you regularly visit the church of the preferred school's faith. Of course, if you or your child is a non-believer, it's not really worth it to make them go through this for years just to get them in a school. We're mentioning this because there are a lot of people that would start making their kids go to church just to appease the school which is not always a good idea. Kids are kids and they might slip up and confess the real reason they are a part of that faith/church.
When should you file your application?
If you have moved houses and your pupils have to change schools during the school year, there is an in-year admission process you should get familiar with. Keep in mind that this can be a very stressful experience and you should be prepared yourself accordingly. The usual deadline for applying is at least six weeks before your child is due to start at the new school but we still recommend that you do your own research for the specific school.
If you have to follow this path, make sure you apply to as many schools as possible to stand a good chance for admission. There are several crucial factors in the decision-making process – the distance from the school, family welfare, and academic record. If your child has been excluded from school for any reason, do not fail to reveal any attendance, disciplinary, or other behaviour. The system can easily collect this information so trying to hide it will certainly slow you down and harm your chances.
In the case of moving back from living abroad, the school may ask you for third party evidence to show that you no longer have any connection with the previous property or it's not possible to live there.
What is a fraudulent application?
Trying to cheat the system and fight for your child to get admitted to the preferred school may be tempting. Still, if that school is oversubscribed, there is a good chance that the responsible authorities will be investigating fraudulent addresses. A fraudulent application is any application including:
Renting a property in the catchment area whilst keeping your previous home
Applying from a relative's address without living there
Renting a property close to the school and then moving out before your child starts school
How schools investigate fraudulent applications
Remember that sometimes it may not even be the school authorities that will seek fraudulent applications, but actually, the parents whose children might have lost their admission because of your fraudulent application. Schools may also do checks on your address at any given time throughout the school year, do a cross-reference check with the electoral roll, and may even stalk your social media presence for good evidence.
Proof of address
You will be asked to provide at least two proofs of address like any of the following:
A TV license
A copy of the tenancy agreement
A tax letter from the council for the current year
A copy of the benefits letter from the past year
A utility bill dating no more than three months before
A copy of the tax credit letter
The legitimate ways
Don't be surprised to find out that the best way to secure a place in the dream school may be … by paying. If you don't have the money (for day junior and secondary school, the amount can reach 15K pounds per year), consider if borrowing will be worth it. If such a decision costs you so much that the whole family gets distressed by a loan weighing on the budget, maybe drop off the idea.
Best practices
Ratings are not everything – pay an actual visit to the school and make an informed decision.
Ratings may have changed throughout the years, and an "Outstanding school" might be "Needs improvement" now.
If you have planned to move to the catchment area – plan it well ahead of time as most schools may require a minimum period of residence before the school year starts.
If your application gets rejected and you are confident of its validity – always appeal as the chance to win may be high enough.
The competition is fierce, which is an excellent reason to put on secondary school applications.
Securing a new school place for your child could be a stressful process, but make sure you keep sanity, and don't sacrifice your family welfare in the name of an outstanding school. A happy family and environment may shape a better future for your kid than any school may do.