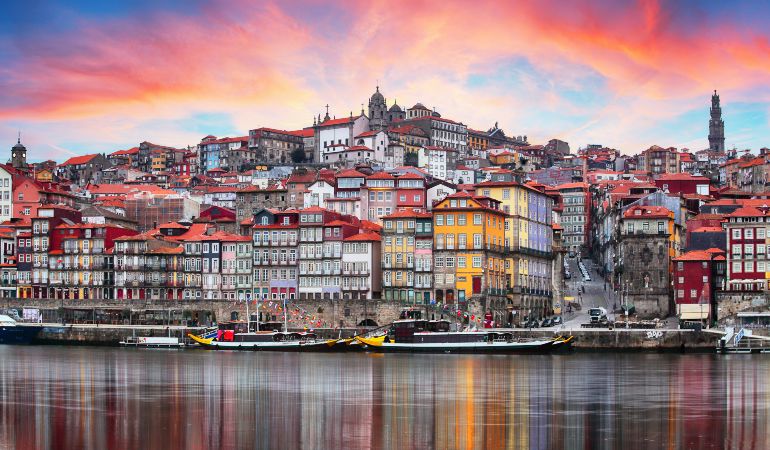 Portugal is a favourite location for British expats. Many of them associate the country mainly with Algarve, but it is much more than that. It has 850 kilometres of large sandy beaches and offers 3,000 hours of sunshine per year.
And that's not even half of the story.
The food is delicious, the wine – affordable, and the people – friendly. So, what more can you desire from a country to live in?
If you've decided to move to Portugal, but don't know where to relocate to, here you will find a selection of the best places to live in Portugal according to expats' recommendations. Of course, if you need help with your global relocation, you can count on us to help.
Plan your move from the UK to Portugal and get ready for a fresh, new sunny life. How much money do you need to live comfortably in Portugal or where is the best place to live in the Algarve? Keep reading to find out!
Best places to live in Portugal for expats
When it comes to choosing the best city to live in in Portugal, you'll have a tough time. Why? Well, because there are just so many great options. You can relocate to the capital – Lisbon, or to a smaller town, if you enjoy the peace and quiet. With that being said, here are the best places to live in Portugal and everything that you need to know about them:
Lisbon
Many British expats decide to make Lisbon their new home and that shouldn't be a surprise to anyone – it is a beautiful coastal city with many beaches and a seafaring tradition. Compared to London, Lisbon is a far more budget-friendly option in terms of living costs. Another positive aspect that makes the city a contender for the best place to live in Portugal is its relaxing atmosphere, even though it's a tourist destination.
The locals are friendly and very welcoming to people from all over the world. In Lisbon you'll find many small businesses, which are run by locals with an Indian, African, and Chinese background, making the town very diverse in terms of culture.
Lisbon is also one of the best places to retire in Portugal, as well as for younger generations to settle in.
Porto
This is Portugal's second largest city, with a population of over 200,000. It is located farther north, on the Atlantic coast. Porto is a vivid metropolis and one of the top cities in Europe. The destination is popular around the world with its Port wine. It has stunning architecture, welcoming people, and excellent cuisine. When it comes to transport, you'll find a lot of convenient and affordable options, mainly the train services.
On another topic – the medical services in the city are excellent. The heart of Porto is medieval with cobbled streets and pastel colour-painted buildings. It has unique cafes and restaurants.
Braga
Braga has a population of approximately 180,000. It is located 3.5 hours from Lisbon in the north and 40 minutes from Porto. This is the oldest city of Portugal and has a beach located 30 minutes in the west. Besides being a sea resort, Braga is attractive for its nature. The Geres mountains are only 15 minutes to the east and 40 minutes to the north is Spain. This means that you can go to Spain whenever you please.
The city is also lively thanks to its university. Braga's rich history dates back to Roman times. British expats are attracted by the low property prices. Braga is considered a religious centre. When it comes to weather conditions, the city is even hotter than the Algarve as it is located inland. The summers have average temperatures of about 24˚ C and the winters – about 12˚ C.
Cascais
Cascais has a population of about 200,000 residents and is a 30-minutes car ride from Lisbon. This means that if you decide to start your new life there, you can frequently travel to Lisbon with a car. It is a paradise with very pleasant, rarely changing weather and pristine beaches. Restaurants along the narrow streets, squares, and pedestrian areas near the ocean aren't hard to find.
The expat community in Cascais is very big. The city is lively and vivid with a buzzing social and cultural life. However, the city is also one of the most expensive in the country. Bars, cafes, and wild nightlife characterise Cascais, so it might not be suitable for British and other immigrants who seek a quieter place.
Coimbra
Coimbra is popular among expats and the former capital of the country. It is a university city in the rural part of Portugal, in the middle of the main road from Porto to Lisbon. Coimbra is well-connected to both these cities and to the coast. The winters there are mild but rainy. The properties in this quiet city can be found at attractive prices and in the nearby areas.
The university in Coimbra is one of the oldest in the country. The city has historical significance and marvellous buildings. Many of them are old houses scattered around the river. Thanks to the large student population, Coimbra is lively. It attracts expats with its active nightlife and fun atmosphere. One of its focal points of the city is the bright and modern waterfront park. There you will find restaurants, bars, and large contemporary trade complexes.
There is a little bit of everything for everyone in Coimbra. If you want to know where is the cheapest place to live in Portugal, Coimbra is a good option. It is more affordable to live in than the UK. The food and wine are delicious and inexpensive at the same time.
Moving to Portugal?
Fantastic Removals can handle the international relocation for you!
Contact Us
Other honourable mentions
Faro and the Algarve are two destinations preferred by many Brits as a new home. They aren't as attractive as the other Portugal cities though. Both offer great facilities and life for less pretentious foreigners.
The Algarve
The Algarve is only 2.50 to 3 hours away from Lisbon, to the south on the Atlantic coast, and is a famous beach region. It is a tourist hub full of British teenagers in the summer. There are plenty of villages in this region, which are vibrant and full of life in the warm months. The same are almost dead in the winter, when there are no cultural events, good public transport, and life may seem rather boring. The capital of the Algarve is Faro. Immigrants mainly prefer Lagos, Portimao, and Tavira.
If you go further north, you can visit Ericeira, Peniche and Foz Do Arelho. The three are quiet fishing villages in the area near Lisbon. Tavira is one of the best places to live in Algarve for expats and not so touristy. It has a convenient transportation system of trains and buses. Lagos is a more tourist-oriented town with an attractive historic centre. The sandy beaches, high-end golf courses and elegant resorts attract British expats. The Algarve is the best place for retired Brits, so the community is mainly of older people.
Faro
Faro is located to the south of the Algarve. It has a tropical climate, with the summer temperatures ranging between 28°C and 30°C. The city has an international airport. British expats can travel to their hometowns without problems. Unfortunately, the expat population of British residents is mainly made of retirees. The city is modern and offers delightful pedestrian streets, covered in mosaics. The lavish leafy public gardens and contemporary anchorage make Faro ideal for tourists.
Faro is a quiet place where you can explore the traces of ancient times in the museum and chapels. You can do that especially in the medieval quarter of the city. There is a university here and a superb club and bar scene. Faro is one of the best rural areas to live in Portugal. Its convenient markets, top-quality sea eateries, and accessible beaches make it a top destination.
Cities and places you should avoid in Portugal
There are very few bad things about living in Portugal. These are certain neighbourhoods and areas expats and residents should avoid. Chelas, Bela Vista, Olaias, and Picheleira are such. In the dangerous zones list also fall Amadora, Loures and Odivelas, which are different cities. So, if you are looking where to live in Portugal with family or by yourself, avoid these for security reasons.
Generally, Lisbon is a safe city to live in, but there are definitely areas, which you will want to avoid. These are Chelas, Bela Vista, and Olaias.
Picheleira is another bad area with problems, such as drugs and crime. Intendente is less troublesome in this aspect but suffers from similar issues. Apart from these areas in Lisbon, Amadora is another city nearby Lisbon with dangerous neighbourhoods. Two such are Cova da Moura and 6 de Maio. We recommend you to steer clear of the city of Odivelas and Loures too.
Takeaways
Portugal has always been a dear spot both for living and vacations for Brits. Its hot and mild climate, sandy clean beaches, and friendly people make it ideal for expats. The cost of living is lower than in the UK, with over 55%. With all of this being said, of course, the best place to live in Portugal is different for everyone and depends on a myriad of factors, so take your time, do your research, and pick the best option for you.