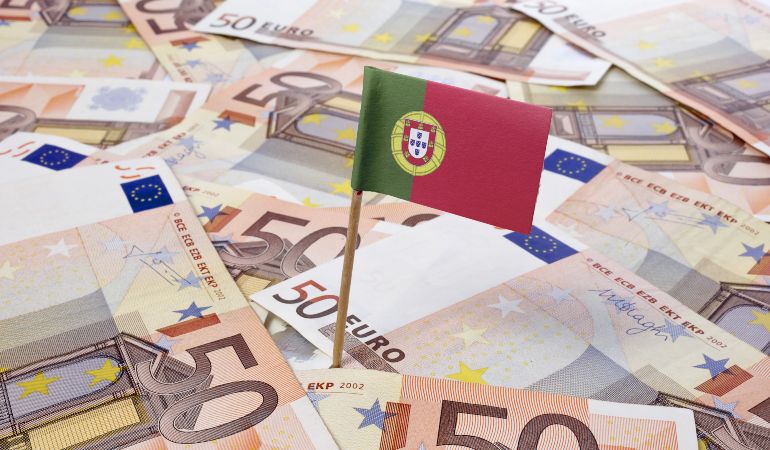 Living in Portugal seems almost too good to be true. With its great weather all year round, Portugal is never too cold and never too hot. Located in Southern Europe, it also neighbours the Atlantic Ocean throughout its entire western and southern border. This means a never-ending beach, so make sure to pack your bathing suit when you go. It is the top producer of cork, carob and olive oil, the third largest exporter of chestnuts and one of the leading exporters of wine.
Portugal is one of the oldest nation states in Europe and settlers have been fighting over it from prehistoric times. Nowadays, there are more than 250 million Portuguese speakers all over the world. Being a developed country, Portugal has high living standards but offers a surprisingly low cost of living. The minimum wage is €635 monthly, and the average salary ranges between €700 and €12 000, depending on the city and the industry.
Typical monthly expenses in Portugal can be around €550 a month without rent for a single person. A family of four can comfortably live on €2750 a month, again, not including rent. Portugal is generally considered one of the cheapest countries to live in (in the Western world), being close to 50% cheaper when compared to the United States.
Bank accounts
A foreigner can easily set up a bank account, it being a bit easier for Europeans. Portugal is famous for its advanced banking systems, so you can even open your account online. Whatever you decide, there are a few documents you will need, like:
A form of ID – for example, a passport
Proof of employment, such as a Pay slip
Proof of residence – for example, a rent agreement
Portuguese NIF number (an individual tax identification number)
When you first move to Portugal, you can still use your account, pay with your bank card and withdraw money. But as this may get expensive, it is best you consider opening a local bank account. If your bank has international branches, you can simply visit one of them and change your residence address. If you've already moved to Portugal you can first open a non-resident account, which you can, later on, upgrade to full resident.
Accommodation cost in Portugal
Although the cost of housing seems to be on a slight rise in recent years, Portugal is still a country with very affordable housing. Living in the big city of Lisbon may cost you a bit more, compared to living in smaller cities, but the difference is not as palpable as it is in other parts of the world.
A one-bedroom apartment in Lisbon can be rented from €650 a month, compared to €400 to €600 in smaller cities. A two-bedroom apartment in Lisbon starts from €850, compared to €600-€750 in other cities. A three- to four-bedroom villa in the capital will cost you €1300 and up, the same in smaller cities would be €650 to €1000.
Most properties are furnished and are ready to move in. In order to rent an apartment, you will need your NIF/TIN number and to also pay a deposit. The deposit is usually just a month's rent and is returned to you when you vacate the property. If you have a Portuguese guarantor you may not need to pay a deposit at all.
If you have decided to buy a property, then that may even help you with your residency. The Portuguese government offers the Golden Visa programme, which grants you a visa if you invest in a property of a certain value. The average price per sq.m. in Lisbon is between €4800 and €5700. For Porto, Algarve and other smaller cities, it is from €2000 to €3600.
Cost of utility bills
Heating and hot water in Portugal are often on gas, as well as most of the cooking appliances. Some apartments have a built-in system for piped gas supply, and some need a bottle replacement every once in a while. All utilities combined for one person usually cost between €70 and €90 a month for a small studio or a one-bedroom apartment. A larger apartment's bills with two people living in it can be €120-€130 a month. Generally, Portugal has the second most expensive gas in Europe and the price of electricity is also on the more expensive side. There is a cheaper night-time tariff for electricity, so dishwashers and washing machines, for example, can be scheduled to run during the hours of 10pm and 7am.
Transportation expenses
All corners of Portugal are relatively easily accessible, thanks to the extensive train system in place. Trains are fast, reliable and affordable and the carts are rarely too crowded. Another good option for travel throughout the country is via bus – slightly more expensive, compared to trains, but even faster and more comfortable. Almost all buses offer a toilet, wi-fi and a coffee or tea as part of your fare. Bigger cities have several taxi services and Uber. Bus and tram rides in cities are €1.40 – €1.50. Lisbon and Porto also have underground Metro, with a single tube ticket coming at about €1 per trip.
If you think about renting or driving your own car, then you will not see too much of a difference between Britain and Portugal when it comes to fuel costs. One litre of diesel is about €1.40, with the average world price coming at €1.12. One litre of gas is €1.60, compared to about €1.45 in the UK. Road taxes start from €60 for a small, non-polluting vehicle. There are different toll taxes, when you use the Autoestradas (the highways), depending on your journey. For example, a trip from Lisbon to Porto on road A1 will cost you €22.55. On average, the cost comes at about €1 per 13 kilometres travelled.
Cost of necessities
Apart from settling in, finding a place to live and opening a bank account, you will obviously also have to eat, drink and clothe yourself. As an ocean country, Portugal offers a variety of fish and seafood at affordable prices. As for clothes and shoes – there are many famous international brand stores available throughout the country, as well as quality Portuguese boutiques.
Food costs in Portugal
Portugal's famous francesinha sandwich costs about €6-8 depending on the city you've chosen to live in and can easily feed two people. The coffee culture in Portugal is strong and very distinctive. There are not that many coffee shops where you can sit for hours and enjoy your long mocha latte, for example. On a pedestal for Portuguese people is the Bica – a short espresso. You can usually buy it from what looks like a pastry shop with a bar. Your Bica will be served at the bar, where locals drink it as a shot and then proceed with their day. A Bica ranges from €0.60 to €1 and if you get a pastel de nata to go (a small, sweet pastry), your total bill will not be more than €2.
Staple daily groceries like fruits, veggies, milk and eggs would cost you about €10. A quick lunch on your break from work would be around €5-€7 and dinner in a good restaurant would be about €12 per person. Have in mind that most grocery stores are closed on Sunday, so plan your shopping days accordingly. On average, you can easily get by on less than €400 a month and that can include buying wine, beer and higher quality foods.
Attire and personal care
In Lisbon and Porto, you can find representatives of your favourite international brands and famous designer clothing. Apart from that, there are also many local boutiques that sell Portuguese-made clothes of high quality textiles for a good price. Leather or cork shoes and bags are staples in Portugal and you are likely to see them in almost every store.
When it comes to personal care products and services, the average price for a bottle of shampoo is €3.50, a soap is €1 and a toothbrush and toothpaste are about €6. And if you need a haircut, it will probably cost you around €16.
Recreational and leisure activity expenses:
Gym membership – €40
Cinema ticket – €12
Film festival screenings – €4.50
Takeaways
Portugal is a preferred relocation destination for people from different social backgrounds and can be a good fit for any type of lifestyle. Accommodation is more affordable than in other western European countries and public transport makes it easy and cheap to travel around. You can be at the beach in under two hours from every point in Portugal and get a coffee and a pastry for under €2. The Mediterranean weather is always amiable and will "make sure" your heating bills are low or even non-existent. Portugal is also a good starting point for travelling anywhere in Europe and even Africa.