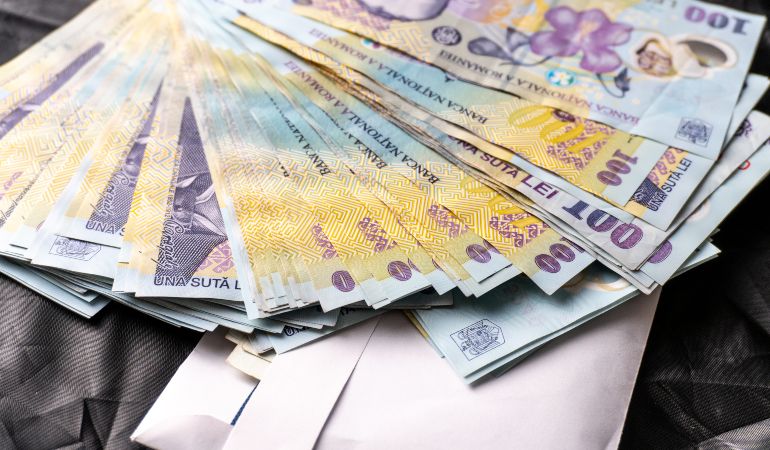 If you are considering making that big change in your life and moving to Romania, well, you're on the right track. That beautiful country has it all – from gorgeous mountains to beautiful plains and seasides worth seeing. Romania tends to be one of the most attractive and cheap countries and a very nice place to live for expats. The minimum wage in Romania is notoriously low and is around 2,300 RON or 380 GBP and since 30% of the Romanians are paid the minimum, food and housing prices are also pretty low. This means that if you work as a successful freelancer for a multinational company, you'll live quite comfortably there, as the average salary for a web developer, for example, can reach up to 89,648 RON (15,600 GBP).
Bank accounts
Banking in Romania is relatively straightforward and easy. To open a bank account, all you need is your passport, residency proof and a previous bank statement. In some cases, you may be required to present a salary slip or employment contract. Keep in mind that you'll face difficulties when it comes to communication, as most Romanians don't speak English. We recommend that you go with a Romanian speaking friend and call the bank before arriving to find out their working hours since most of the banks are understaffed.
Accommodation cost in Romania
The cost of accommodation in Romania can be as expensive as you want it to be. We mean that you can find a comfortable place in the city centre for 280 GBP (1,600 RON), but most of the expats prefer to live in more expensive communities. That's because most of the apartments in Bucharest are very old and need serious repairs. So, when moving to Romania, you have two options – to choose a modern but expensive or cheap but old, Soviet-style apartment.
In Romania, you should budget for your utility bills, too, as there is no tendency for their cost to be included in the rent. When in search of accommodation, it's a good idea to hire a reputable real estate agency since there are so many scammers and dodgy landlords. This will also help you with the negotiations since most of the landlords may not speak English. Keep in mind that, in Romania, a three-(bed)room property refers to the total number of rooms and not to the number of bedrooms, and studios are called "garsoniera".
Also note that tenancy agreements in the country last at least one year, but with negotiation, you can always shorten the term. Also, in order to secure it, expats pay a deposit, which tends to be one or two months rent. After the contract has expired, your landlord will decide whether to give it back to you or spend it on repairs, due to damage caused by you.
However, if you want to buy an apartment in Romania, keep in mind that house prices are on the rise. For instance, in the city centre, the price per sq.m is about 6,793.28 RON (1,186.69 GBP), whereas outside the central parts of the capital city, you'll be looking at paying around 4,877.63 RON (852.05 GBP) for an apartment.
Cost of utility bills
The cost of utilities in Romania varies, depending on the season and the location you're living in, as local heating providers have different prices. For example, if it's a cold season, you should expect to pay around 500 – 600 RON per month for heating. Romania is also known for its fast and cheap internet, actually the fastest download speed in all of Europe.
So, for your monthly electricity, heating, water supply and waste disposal bills, you'll need to put aside about 478.11 RON (84 GBP). And when it comes to staying connected with the world, 1 min of prepaid mobile tariff will cost you 0.25 RON (0.044 GBP), while to have Internet (60 Mbps or more), you would be paying roughly 37.01 RON (6.47 GBP) per month.
Transportation expenses
Public transport in Romania is very cheap, but the quality is not that great. However, the city centres have good connections with all neighbourhoods, but if you live very far from the centre, you'll need to change two or more buses to get to certain places. The expats living in Romania prefer to travel by taxi since it's almost impossible to find information written in English, regarding how to use public transport and where to buy tickets from. There is also Uber in Romania, and their rates are similar to the taxi ones, except that they can get much higher in rush hour.
Trains in Romania are very, very slow and it may take you ages to get to your destination. Maybe, the only routes that are worth travelling by train are Bucharest – Constanta and Bucharest – Brasov. For other locations, we recommend you take a flight or bus. Let's take a look at some transportation prices in Romania:
| Type of Product | Price |
| --- | --- |
| One-way Ticket (Local Transport) | 2.50 RON |
| Monthly Pass (Regular Price) | 75.00 RON |
| Taxi Start (Normal Tariff) | 2.50 RON |
| Taxi 1km (Normal Tariff) | 2.50 RON |
| Taxi 1 hour Waiting (Normal Tariff) | 25.00 RON |
Cost of necessities
Food prices in Romania are influenced by seasonality, and if you want to save money on food, consider sticking to buying fresh local produce. Local and seasonal foods, such as fruits, vegetables, and dairy are affordable, while Western goods can be a lot more expensive. Here are some price examples:
| Type of Product | Unit | Price in RON | Price in GBP |
| --- | --- | --- | --- |
| Eggs | 12 | 9.86 lei | 1.72 £ |
| Bread | 500g | 2.90 lei | 0.51 £ |
| Milk | 1 litre | 4.76 lei | 0.83 £ |
| Beer | 0.5 litre bottle | 3.65 lei | 0.64 £ |
| Chicken | 1kg | 20.91 lei | 3.65 £ |
| Tomatoes | 1kg | 5.76 lei | 1.01 £ |
| Potatoes | 1kg | 2.60 lei | 0.45 £ |
| Apples | 1kg | 4.19 lei | 0.73 £ |
Usually, Romanians eat out no more than four times per month and prefer cooking at home. Food costs are the biggest expense each month, but the overall cost of living in Romania can be as cheap as your living standards. For example, a family of three or four can easily stick to a food budget of 1,700 RON if they cook mainly at home. The average expenses, if you dine out, will look something like this:
| Type of Product | Price |
| --- | --- |
| A meal in an inexpensive Restaurant | 25.00 lei |
| A 3-course meal for 2 People in mid-range restaurant | 120.00 lei |
| A meal at McDonalds | 20.00 lei |
| Cappuccino | 7.40 lei |
| Coke/Pepsi | 3.30 lei |
Attire and personal care
Most of the things are way cheaper in Romania than in Western Europe, unless you're very committed to wearing clothes and shoes by a particular popular brand. So, if you're not after only luxurious branded items, the cost for personal care stuff and clothing won't break the bank.
Below are some examples of what some recreational or sports activities, as well as clothing, can cost you in Romania.
| Type of Product | Price |
| --- | --- |
| Fitness Club – monthly fee for 1 Adult | 137.00 lei |
| Cinema ticket, international release, 1 Seat | 25.00 lei |
| 1 pair of jeans (levis 501 or similar) | 232.00 lei |
| 1 summer dress in a chain store | 142.00 lei |
| 1 pair of nike running shoes | 282.00 lei |
| 1 pair of men leather business shoes | 320.00 lei |
In conclusion
Moving to Romania has its perks and drawbacks, like with any other country. However, the good definitely outweighs the bad. The country boasts amazing natural and historical sites, and expats find it very affordable to live in, due to their higher income. Furthermore, the Romanians are friendly folks, although they may shy away from making the effort to speak to you in English. So, it's not a bad idea if you try to learn some basic Romanian – the locals will be thrilled. And if you need removal assistance to relocate to the land of Dracula, you can always count on Fantastic Removals' international moving services anytime.