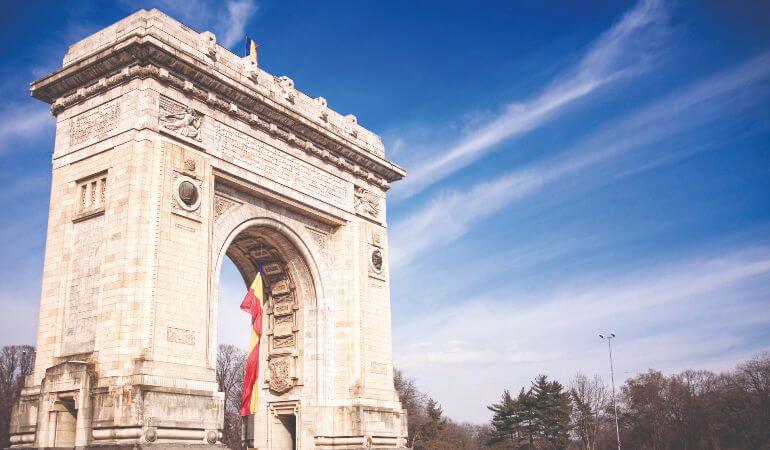 Capital City: Bucharest
Population: 19.41 million
Official language: Romanian
Commonly spoken languages: Hungarian, Romani, Ukrainian, German, Russian, Turkish, Tatar, Serbian, Slovak, Bulgarian, and Croatian.
Currency: Romanian leu
Exchange rate to pound: 1 Romanian Leu equals 0.19 Pound sterling
Romania can be a great country to live in, especially if you're looking for a place where prices are cheap, the people are friendly, and nature is plentiful. And, if you're planning on making it your new home, then this post is for you! Here you'll find all the little details you'll need to know before moving to Romania.
Where to live in Romania
There are many great Romanian cities worth living in, but here we'll be looking at the very best ones for ex-pats.
Brasov
Located near the peaks of the Southern Carpathians and filled with beautiful baroque and renaissance architecture, as well as many historical attractions, Brasov is considered by many Romanians to be the best city to live in.
Oradea
The city is amongst the most important economic, cultural, and social hubs in all of Romania. It's located in the north-western part of the country, between the hills of the Crișana plain and on the banks of the Crișul Repede river. Oradea boasts a high living standard compared to some other Romanian towns and ranks amongst the most livable cities in the country. The city is home to a well-developed industrial centre that hosts some of Romania's biggest companies. Aside from being one of the country's largest economic hubs, Oradea is also rich in culture, being a member of the Réseau Art Nouveau Network.
Cluj Napoca
This city is the fourth most populous city in all of Romania after the capital, Bucharest. Cluj is one of the biggest academic, cultural, business, and industrial centres in Romania. Located here is the largest Romanian university, Babeș-Bolyai University, which has its own botanical garden. There are many renowned cultural institutions located in this city, as well as the largest Romanian-owned commercial bank. Cluj was given the titles European Youth Capital back in 2015 and the European City of Sport in 2018.
How to become a Romanian resident
In order to become a Romanian citizen, you must first register as a Romanian resident. You can get a residency certificate from the General Inspectorate for Immigration (Inspectoratul Roman Pentru Imigrari).
When visiting Romania as a UK citizen, you need neither a visa nor any other travel document.
Working in Romania
There are many sectors in Romania in which ex-pats can find work. These include:
Creative industries
Education
Outsourcing companies
Chefs
Service-cookers
Additionally, there are many multinational companies with offices located in Romania, like IBM, HP, JTI, Oracle, Accenture, Genpact, and more. This makes it relatively easy to find a job without knowing Romanian.
In order to find work, ex-pats can visit organized job fairs or use local job boards online.
Salaries in Romania for foreigners range between 500 Euros and 2,000 euros, depending on the person's experience in the given field.
Transportation in Romania
The public transport infrastructure in Romania is not the most developed one and can be a bit hard to navigate for non-locals. Trains can be quite slow and unreliable; on the other hand, driving on the country's main roads tends to be a bit more challenging. Also, smaller cities are not very foreigner-friendly when it comes to travelling, with train information being only in Romanian.
There are, however, some upsides when using Romania's public transport. Ticket prices are quite cheap, and the scenery you get to see on the way is very picturesque.
For longer distances within the country, it's best to board a flight. Internal flights in Romania are very affordable and save you a ton of time. For example, driving from Bucharest to Cluj will take you about 7 hours by car and only 40 minutes by plane. Depending on when you buy your ticket, it can cost anywhere between €10-€70.
If you want to enjoy a relaxing trip and read a book along the way, taking a train is the way to go. This way you also get to admire the beautiful scenery and landscapes. A downside to using a train in Romania, however, is the fact that the railway infrastructure hasn't been updated in the last four decades. Therefore, trains travel slowly and many train cars are very old.
Driving your own car in Romania
When it comes to driving in Romania as a foreigner, it's generally quite easy. You can use your UK driving license and don't need any additional documents. However, do your research before renting a car and hitting the road. Most roads in Romania have just one lane; thus, there's a lot of traffic, so you will have to drive in a column. Also, you have to be careful with reckless drivers who will try to overtake you on such one-lane roads.
Education in Romania
There are quite a few internationally friendly cities in Romania that have bilingual schools. There are even schools using the British Education System; these are the British School of Bucharest, Cambridge School of Bucharest, and three more.
Other schools in which you can enrol your children are the American International School and the Mark Twain International School, just to name a few.
Being a student in Romania
When it comes to universities, bear in mind that foreigners have to pay higher tuition fees than locals. These tuition fees usually go somewhere between 1200 and 2000 euros.
Popular universities for foreigners in Romania include the following: Alexandru Ioan Cuza University in Iasi, Universitatea de Vest in Timisoara, and the Babes Bolyai University in Cluj.
Healthcare in Romania
Healthcare in Romania is free for everyone working in the country. However, it might not live up to some expat's standards. Public medical facilities in Romania tend to be understaffed, and the equipment they use is outdated.
As with other European countries, public healthcare contributions are automatically deducted from one's paycheck.
For those unsatisfied with the public healthcare option, private healthcare is available. This is the way to go if you're an ex-pat living in Romania. Private medical facilities have qualified staff who in most cases speak English.
Patients who have spent time in a private hospital have to pay for the service in cash and can later claim it back through their private health insurance company.
Takeaways
Hopefully, our post gave you the information and insights you need to make up your mind about moving to Romania.
Romania may be far away from the UK, but we can assist you in organising your move. Relocating from England to another country isn't an easy task so you better have help.