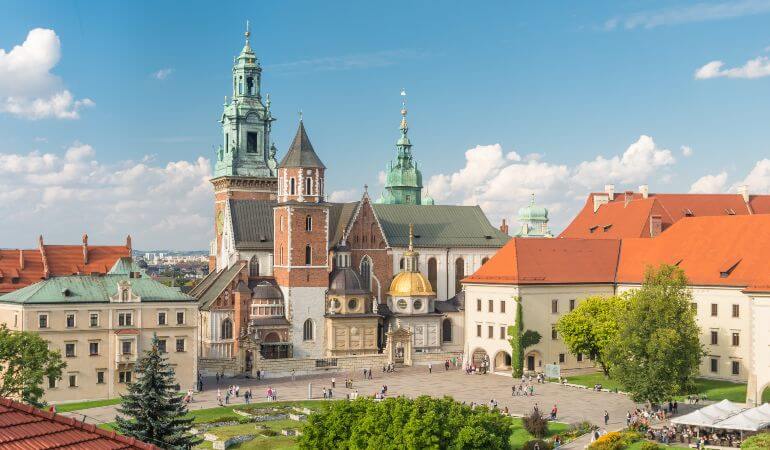 Capital City: Warsaw
Population: 38 million
Official language: Polish
Commonly spoken languages: Over half of the population speak English and about a third speak German
Currency: Polish zloty
Exchange rate to pound: 1 Polish złoty equals 0.19 Pound sterling; 1 Pound sterling equals 5.38 Polish złoty
Are you looking to move to a country that offers a combination of outstanding cuisine, rich culture, and affordable living? Then look no further than Poland, a country with surprisingly many opportunities for foreigners. Read all you need to know about your move to Poland below!
Where to live in Poland
Here are some of the most populous cities in Poland and where most Brits tend to flock to. Since these cities are the economic, educational, and industrial hubs of the country, they offer vast opportunities for English-speaking foreigners to find work.
Warsaw
Warsaw is the capital of Poland and has a population of 1.8 million people. It was almost destroyed during World War II; however, it was soon rebuilt from the ground up. It is situated on the Vistula river, so if a morning run along the river is your thing, or perhaps you like sunbathing on the beach in the summer, Warsaw is the place for you.
Furthermore, the capital boasts a fascinating historical heritage with gothic, baroque, and rococo architecture, as well as plenty of museums, theatres, and galleries. This, combined with the contemporary architecture, makes for a truly multi-faceted experience.
Most British expats live in Warsaw, where many international companies and English Language Schools are based.
Krakow
The former Polish capital is famous for its many sights, including the royal palace, the Jewish quarter, and gothic cathedrals. The city attracts many tourists and international students, making it the most multicultural city in the country. There is also a long list of annual festivals and events for you to enjoy in your free time.
Poznan
Poznan is a business hub and an excellent place for anyone with an entrepreneurial spirit. The city prides itself on having one of the lowest unemployment rates, according to Statista. Also, Poznan has the third-largest student population in Poland and is known for its vibrant nightlife and culture.
Wroclaw
Also known as the Venice of the North, Wroclaw earns its moniker because of the many rivers, islands, and over 200 bridges throughout the city. Much like Poznan, Wroclaw offers a thriving bar and nightlife scene and an action-packed calendar with many events and festivals.
Wroclaw is a top destination for many students and expats, but also for international companies, looking to hire native speakers.
How to become a resident
If you became a resident before the transition period ends on the 31st of December 2020, you will be able to stay in Poland. You can stay up to 3 months without having to register with the local authorities. If you are planning on staying for longer, you will need to register and provide the required documents at your local Voivodeship, which is the Polish equivalent to a province.
Since the 31st of January 2021, UK citizens are able to travel to countries that are part of the Schengen area for up to 90 days in any 180-day period without a visa. Meaning that if you have stayed in a Schengen area country in the past 180 days before entering Poland, the time you spent there will be counted against the 90 days. For stays longer than that, be it for pleasure, business, or study, you will need a visa or a work permit. Furthermore, at the border you may be asked to show your return ticket or that you have enough money for your stay in the country.
Working in Poland
While Poland still has a long way to go, it boasts one of the fastest-growing economies in Europe and the largest among the former Eastern Bloc member countries. In 2020, Poland's economy was 10th in the European Union, based on nominal GDP; however, it is near the bottom of the table when it comes to GDP per capita.
The good news is that the unemployment rate in Poland was only 6,2% for 2020. The average monthly income is around 7500 PLZ before tax, which equals about 1390 GBP. While that might sound discouraging, keep in mind that the cost of living in Poland is much lower than that in most western countries. The highest paid jobs are usually in the Healthcare, IT, Banking, and Business sectors.
Transportation in Poland
Poland has a well-developed train network, which is useful for long-distance travel. The primary provider is the Polish State Railways, but there are also a few private service providers. Traveling by train is usually more affordable than by bus, but the network doesn't service all towns and villages.
Many companies provide bus transport services between big and small cities and villages. Unfortunately, the road infrastructure is underdeveloped in many parts of the country, especially in rural areas.
Within the cities, you can use public transport to get around. Usually, cities have well-developed public bus transit. Some have trolleybuses as well, while Warsaw has a two-lane underground system and city bike renting program.
Driving your own car in Poland
You can use your UK driving license in Poland for up to 6 months. However, for longer periods you will need to exchange it for a Polish one. This does not involve retaking any exams. Should you decide to go back to the UK, you can use your Polish license for short stays, but if you are planning on returning to live there, you would need to exchange it again.
When driving in Poland, you should always have:
driving license
ID
car registration papers
insurance papers
Poland has a number of motorways and expressways, some of which might require paying a toll to use them. The network is continuously being upgraded, so traffic jams due to roadworks might be frequent.
Polish drivers are often reckless on the road. The UK Government recommends that you are always vigilant while traveling by car, as Poland has three times more road accidents per 100 000 people per year than the UK. Furthermore, it is not advisable to drive during night time, due to poor road conditions.
The plus side of driving in Poland is that cars and gasoline are often cheaper than in the UK.
Education in Poland
Most students in Poland attend public schools, which offer an acceptable standard of education. Since the lessons are taught in Polish, many expats send their children to private international schools, where the quality of the curriculum is usually higher, but so are the tuition fees. The annual cost for a private school might be upwards of 10 000 GBP.
Children start school at the age of 6 and need to complete nine years of compulsory education. After that, they can choose what form of upper secondary education to attend – general, technical, or vocational schools.
Being a student in Poland
Similar to other countries, Poland has both public and private universities. They follow the Bologna scheme, so the degrees are internationally recognised. The programs offered might be full-time or part-time, in which case the classes are taught on weekends or in the evenings. Tuition is free for Polish and EU/EEA students.
Since the cost of living in Poland is lower than in many other countries, a university student would usually need about 300 GBP per month, inclusive of accommodation and utilities. Many students, including EU/EEA students, have a part-time job to support their education. Other international students are also allowed to work, but they will need a permit to do so.
Healthcare in Poland
Poland has both public and private healthcare systems. If you are employed, your employer will register you and pay the monthly insurance contributions for you. If you are self-employed, you have to register with the National Health Fund and cover the contributions yourself. Your insurance also covers your spouse and children.
The state is obliged to provide free healthcare to children, pregnant women, disabled people, and the elderly, regardless of whether they pay monthly contributions or not. Being insured means that you have access to the publicly funded healthcare system.
Private healthcare is relatively cheap, compared to other countries, and provides better quality services. Many large companies offer private healthcare packages for their employees.
Takeaways
If you are looking to explore new horizons, experience rich culture and tradition, and seize new opportunities, then Poland just might be the place for you! With its stunning architecture, fantastic cuisine and affordable living, this beautiful Central European country will impress you.