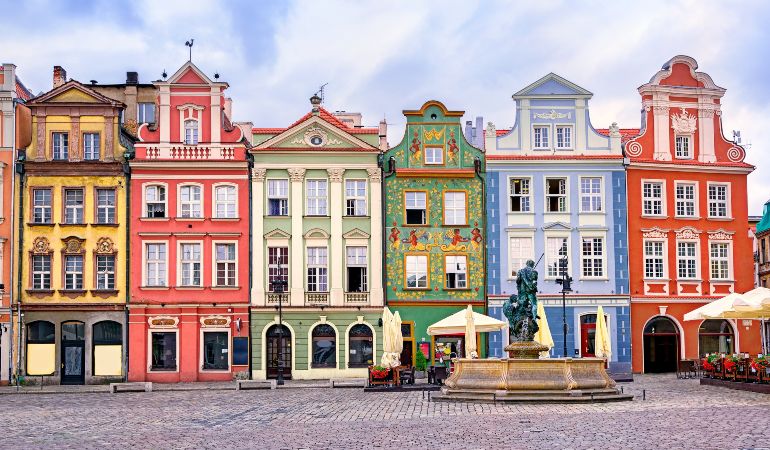 You might be wondering, "Is Poland a good place to live?" While it's not a frequently chosen destination, it has much to offer expats in terms of both lifestyle and opportunity.
Poland has over 1,000 years of tradition and culture, along with its delicious cuisine and stunning nature spots off the beaten track. And, with its job opportunities, low crime rates, and relatively affordable standard of life, it is an attractive destination for both students and working professionals.
Poland boasts great universities and booming nightlife. Career-wise, there are plenty of diverse options, especially in the IT and medical sectors, and for multilingual people. Many international firms have settled their business in some of the best cities in Poland.
So, if you're considering moving to Poland from the UK, you're in the right place! Here, we'll talk about the best places to live in Poland and what you can expect from each city.
Top cities to live in Poland
Some of the best places to live in Poland for Brits are Wrocław, Poznań, Kraków, Gdańsk, Warsaw, Łódź, and Torun. The country is not very expensive as a whole, but you can expect higher prices in Warsaw, Wrocław, and Kraków.
Wrocław
Wrocław is the capital of the Lower Silesia Province and has a population of over 631 000 residents. If you're wondering where to live in Poland, this city is a splendid choice.
Wrocław is known as The City of 100 Bridges, also often labelled as the Venice of the North. This is mainly due to its numerous rivers and islands. The medieval Old Town is a pleasant area, filled with colourful buildings and a calming atmosphere. Still, all its merits make Wrocław one of the most expensive places in the country.
This city is home to a diverse population of immigrants from over 120 countries. It attracts with its low crime rates and vivid cultural life. There are plenty of places for entertainment, bars, clubs, and more. British expats also have a variety of excellent job opportunities there. Major companies like Nike, Google, HP, IBM, and others have offices in the city.
These reasons, among others, make Wrocław one of the best places to live in Poland.
Poznań
British immigrants will find Poland's business centre a wonderful place to settle. After all, Poznań is called the city of startups for a reason. It boasts the lowest unemployment rate in Poland, so finding a job as an expat there won't be a challenge.
The variety of career opportunities is not the only thing making Poznań one of the best places to stay in Poland, though. This town has a dynamic and bohemian spirit and is home to numerous party spots – clubs, bars, restaurants, the works.
For those seeking a beautiful location, Poznań is a fantastic choice. In your free time, you can marvel at its many architectural masterpieces, relax in one of the peaceful parks, or have a chat with the friendly locals.
Check also:
Kraków
If you're after a city rich in culture, look no further. Kraków offers impressive historical attractions, galleries, and museums. It has much to show when it comes to architecture, as well, including magnificent Gothic churches, royal palaces, medieval market squares, and cathedrals. You'll also find many bars, shops, and restaurants to visit while wandering through its narrow streets.
As expected, however, Kraków is an expensive place to live in Poland as a foreigner.
This city is one of the most cosmopolitan spots and best cities in Poland for international students. It is home to plenty of students that maintain Kraków's fun, youthful spirit. Residents and visitors alike can take part in a long list of annual festivals – food, music, films, arts, and more.
Kraków is a major academic, economic, artistic, and cultural hub. It offers great opportunities for British expats, making it one of the top choices for your relocation.
Łódź
Łódź was founded due to the success of its textile industry, which unfortunately had a huge decline after the war. Now, it is the third-largest city in Poland and is developing at an astounding speed. Some major companies, such as Philips, Amazon, and Procter & Gamble, have established offices in Łódź. And, when it comes to education, this city has some of the most reputable universities.
Naturally, Łódź has both budget-friendly and more expensive neighbourhoods, so you're sure to find the perfect place. There are a lot of job opportunities for expats. However, the competition for work has become tougher since the introduction of the PesaDart railway, as the commute from the city to the capital shortened drastically.
Warsaw
Warsaw is undoubtedly a fantastic place for British expats to find work. Many international companies operate in Poland's capital, with most of them seeking mainly English-speaking personnel. Google, Philip Morris International, Amazon, J.P. Morgan, and The City Bank are among the top employers in the city.
Be aware that the cost of life in Warsaw is higher than anywhere else in the country. But even so, living there is cheaper than in most major European cities.
Your international move can be so much easier!
Contact Us
Other honourable mentions
Gdańsk
Gdańsk is a stylish and marvellous town in northern Poland, which offers clean air and life near the sea. The town offers a decent cultural life and a convenient transportation system. Although the job options here are not as many as in Kraków or Warsaw, the cost of living is significantly lower. Gdańsk is marked as one of the happiest places in Poland, where you're sure to find a friendly and welcoming community.
Toruń
Toruń is not a big city. It won't be the perfect choice for those looking for a busy life. However, if you want peace and quiet, this is the right place for you.
Toruń is an architectural masterpiece, with many historically important buildings that survived the wars. It was recognised as a UNESCO World Heritage Site and, luckily for science aficionados, is the hometown of Nicolaus Copernicus.
Toruń offers good career opportunities for those looking to work. And if you're after higher education, Toruń University is one of the top places to study Physics and Chemistry.
In conclusion, if you're looking for a calm, peaceful life, Toruń is one of the best places to live in Poland.
Cities and places you should avoid
Big cities are usually not considered very safe to live in, not just in Poland, but all over the world. Some districts of Warsaw, Praga in particular, are said to have higher rates of petty crime, mostly during the night and mainly aimed at children and women. Yet, most of these rumours about Warsaw are disproved by people who have or currently live there. They claim that Praga is perfectly safe, apart from a few specific areas.
Takeaways
Poland is definitely one of the safest places to live in. Brits can easily find work in progressively developing sectors, such as finance, logistics, IT, marketing, tourism, and business management.
Most natives speak English, so you won't have problems with communication. Still, if you learn Polish, you will be more welcomed and feel at ease both at work and in your daily life. And, if you need help planning and carrying out your international relocation, you can always turn to the professionals to make the move as smooth as possible.