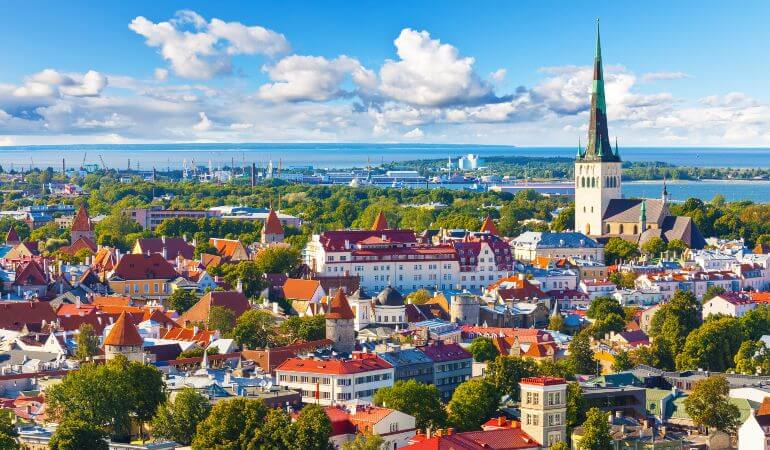 Capital City: Tallinn
Population: 1.329 million (2020)
Official language: Estonian
Commonly spoken languages: Estonian, Russian and English
Currency: Euro (€)
Exchange rate to pound: €1 = £0.98
Are you considering moving from the UK to the less-known Baltic country of Estonia? We don't blame you!
With over 2000 islands on its territory, Estonia offers a lot of magnificent views to appreciate and fascinating places to visit. The nation has one of the most rapidly improving economies in Europe and has a steady growth of the Gross Domestic Product.
Estonia is flourishing with both cultural and technological improvements. The state's officials pay special attention to the e-systems, modern education, and online protection; therefore, the country is home to the world's most advanced digital society. Keep reading to find out why the number of British citizens who live in Estonia has increased by 11% in a single year.
Where to live in Estonia
Tallinn
In case you're moving from the UK to Estonia, there's a decent possibility that Tallinn is among one of the best places to choose from for your new home. It's the biggest city in the country, and tons of organizations and universities are based there.
As indicated by British expats, Tallinn boasts an outstanding quality of public transport, great climate and extraordinary work-life balance. If you live in the capital of Estonia, you'll enjoy fairly moderate utility and accommodation costs. That's why it is undoubtedly turning it into a favoured place for international students from all over the world.
Tartu
This is the second-biggest city in Estonia. It has a cultural personality, and it offers a lot, in terms of sightseeing, in case you like museums, art and sacred buildings. A trip from Tallinn to Tartu takes about 2 to 3 hours, so housing and real-estate prices are in the affordable range.
Regarding leisure options, Brits state that there are few great bars with live music. Tartu's citizens are free-spirits and easy going. In any case, the laid back attitude, so normal among Estonians, is as much on show in Tartu as it is in the rest of the state.
How to become an Estonian resident
First things first, you should get your residential status registered, in order to receive access to Estonian medical coverage, social help, and numerous other benefits. So, to register your residence address in Estonia, you have to:
Fill in a residence notice, which is usually in Estonian
Make a photocopy of your ID
Provide proof of residence – a rental agreement or a real estate contract
Taking an Estonian language test is a mandatory cond step if you decide to apply for citizenship, once settled for a few years in the country. Studying Estonian isn't a child's play, but expats often embark on the journey of learning that beautiful language. Don't worry though, you gain brisk ground once you handle the nuts and bolts of it.
As a third step, you must take a test on the Estonian constitution and the Citizenship Act. The assessment checks your insight not only of the constitution but also on the fundamental rights, responsibilities and commitments of the residents of Estonia.
Last but not least, you need to apply for citizenship through the Estonian Police and Border Guard Board. Present your application in Estonian when you have passed all the necessary assessments. What's more, you'll need to provide:
Proof of salary pay or means of living
Proof of state charge payment
A guarantee that you have cancelled your citizenship of another country or you are in the process of doing it
Be aware that Estonian citizens can't hold citizenship in another country. As an exception, if you own UK citizenship and you have a child, they can keep both their Estonian and UK citizenships. Yet, that right is no longer applicable once your kid reaches the age of 18.
Working in Estonia
Estonia ranks tenth among the countries with the most economic freedom. Though there is a significant amount of government spending and labour wages guidelines that block development in productivity, the Estonians are happy with their financial situation.
Generally speaking, there has recently been an increase of 38% of the average salary rate. The lowest compensation level is in the construction field, and in correlation, the highest salaries are in Education and IT. To that, wages in Estonia start from 690 EUR and may go over 12,500 EUR, depending on the sector.
Fortunately, British residents can enter Estonia without a visa. Remember, though, to work in Estonia for over three months; you need to enlist as a resident in the Population Register of Estonia.
Estonia doesn't have an official work permit document or anything of that sort. As long as your stay there is legitimate and you have a valid residence permit, you can freely take part in labour duties.
Transportation in Estonia
With often light traffic and trustworthy public transport, Estonians enjoy a well-built road network. As a slight disadvantage, venturing outside bigger cities may take longer. Double carriageways are not that common in Estonia, so keep that in mind if you travel outside of Tallinn.
According to expats, the public transport network is prompt and very reliable. Buses, trolleybuses, and trams work from early morning to midnight.
You can get one-time travel tickets directly when onboard in the vehicle. Although, a prepaid travel card is a more cost-efficient choice, and you can buy these in most metropolitan areas. You can use the travel card to get tickets and many rides, remember to top it up with some cash first.

Going via train in Estonia is cheap and straightforward. For example, an express train from Tallinn to Tartu is about two hours and costs around 10 EUR. During your trips, you can enjoy not only the pleasant views that Estonia offers but also a stable Wi-Fi connection.
Driving your own car in Estonia
You can bring your UK vehicle to Estonia for as long as six months of 12 in total, but make sure to have your:
Driving licence
Valid insurance
Personal ID
Documents to prove your ownership of the vehicle
Also, to avoid fines and penalties, remember the following set of rules:
It would be best if you turn your vehicle lights on during all hours of the day
You must have headlamp beam deflectors, based on the type of vehicle you have
Don't forget to carry a first aid kit and a fire extinguisher
As strange as it seems, drivers in Estonia need to have 2 warning triangles
Also, you'll need a couple of wood or plastic blocks to put under your wheels if you've parked on steep ground or ice
As a rule of thumb, you can't park your car on the first free spot you see. Most municipalities offer public parking areas, and if you can't find a place there, try private car spaces.
Whether you live in Tallinn or Tartu, on-street parking is separated into zones, so try to use an app to see how much it would cost you to leave your car there. You can pay via phone application or an instant message.
Education in Estonia
The structure of the educational framework in Estonia has similarities with education in the UK, and it progresses into various stage levels. Everyone starts with preschool training, moving to basic education, then into upper secondary and lastly t, higher education. Children can take part in educational programmes at the age of 7.
As for the financial aspect, related to education, the Ministry of Education and Research covers the overall costs of state schools. To that, municipalities take care of the expenses of local schools, and there are privately funded schools, too.
Being a student in Estonia
Estonian universities invite an ever-increasing number of international students. With some of the highest standards in Europe, the institutions offer degree programmes and shorter courses in English, Russian and Estonian. Curiously, full time higher education in the native language doesn't cost a penny.
For the most part, the yearly tuition fees for English programmes start around 1 600 EUR and may go as high as 7 500 EUR. And if you plan to become a doctor, it can cost you somewhere between 11 000 to 11 500 EUR every year.
Healthcare in Estonia
As in most countries, you can have both public and private healthcare in Estonia. Usually covered by the Estonian Health Insurance Fund, you get access to your public healthcare once you have a valid employment contract in the state.
Estonia is considered one of the most social countries in Europe; therefore, the healthcare system is available to everybody. Secured by reliable medical services, all regions are equally treated.
Takeaways
To summarise, there is a great deal of Brits who are moving from the UK to Estonia, particularly for working and studying. Expats, who live there, get to appreciate life in a state with economic freedom, where stunning nature and innovation combine and function well together. Regardless of whether you move to Tallinn or another town, the odds are individuals' neighbourliness will charmingly astound you.