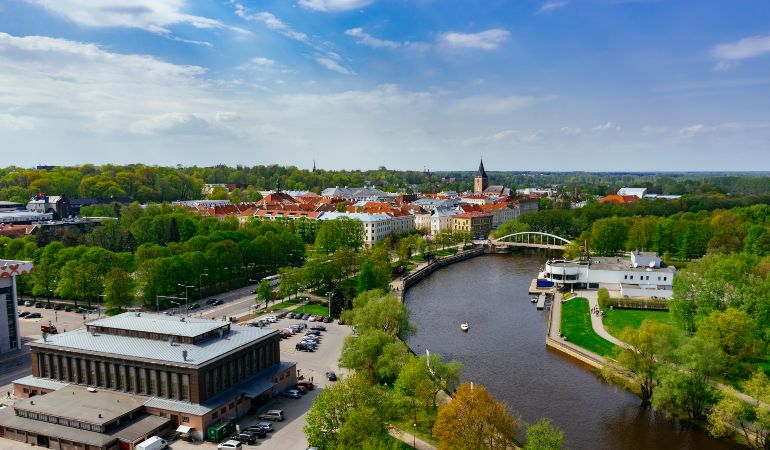 Estonia is one of the most underrated countries in Europe. Is Estonia a good place to live, many ask and may doubt whether it is suitable for entire families or single expats. The truth is that the country offers a lot in terms of living conditions.
Estonia is the most north situated country of the Baltic state, with the Baltic Sea on the east. It has a flat landscape and plenty of lakes and islands. Its capital, Tallinn, is one of the most well-preserved cities in Estonia and Europe, but some of its areas can be more dangerous.
Is it expensive to live in Estonia? This is certainly another question that you want to answer before you jump in and move. You can check our Cost of Living in Estonia article or learn what it is like to move from the UK to Estonia. With all of this being said, here are the best places to live in Estonia for UK expats and other immigrants.
The best cities in Estonia
Here is our selection of the best places to live in Estonia. They impress with their culture, unique landscape features, and breathtaking sights. Let's start off with…
Tallinn
Tallinn is the most important cultural and commercial centre in Estonia. It is a tourist destination as well. The capital has a distinctive medieval spirit, while being a modern city at the same time. Tallinn is part of UNESCO World Heritage List and there are great places to visit in the old town. These include a magnificent medieval fortress – a number one spot for tourists.
These historical places are fascinating – you will really find stunning medieval architecture in the city. There is a 17th century labyrinth of tunnels located under the capital's old town. It used to be open to the public back in 2010. Unfortunately, the tunnels aren't accessible anymore. This labyrinth has 380 secret passageways.
Tallinn has 20 observation towers. These are perfect for enjoying a picturesque view of the city's neighbourhood and the Baltic Sea. From Tallinn you can start your Baltic cruise and visit the other Baltic countries: Latvia and Lithuania.
Tartu
The city of Tartu is one of the most visited and unique areas in Estonia. It stands out with its youthful spirit. Tartu has the oldest universities in Northern Europe and offers a vivid nightlife. The city has plenty of cafes, theatres, museums, and concert halls. If you are into the Bohemian lifestyle, choose Tartu as a place to live.
It's also a favourite tourist attraction and the best place to live for many expats. This is thanks to its architecture, cosy location, and unique atmosphere. Tartu is the second largest city in Estonia with a landscape of hills and lakes. It has turned into a cultural, historical, and sports hub. Places you shouldn't miss in Tartu are its old town and the ruins of Tartu Cathedral.
Pärnu
Those of you who are on the search for a tranquil seaside resort with modern facilities should head to Pärnu. The city is in the southwest area of Estonia and has luxurious sanatoriums and spa centres. Many tourists, especially Finnish ones, choose Pärnu as a holiday destination. Its location between Latvia's capital and Tallinn makes it popular among many Scandinavians. It is a top summer holiday spot for tourists from around the world.
Pärnu is also a spectacular medieval city that is famous for its historical bathhouses. They are ideal for the winter. Since 2014 the city has reopened its mud bathhouses. With their help Pärnu has now turned into one of the best places to live in Estonia.
Haapsalu
If you want to know what is the best place to live in Estonia, Haapsalu is a brilliant choice. It is a tranquil small sea resort on the west coast of the country. There lies the most interesting area of the Estonian Rural. The town has been popular for its healing seawater and mud for many years. Haapsalu is a perfect place to relax and to spend time in delightful walks in the neighbourhoods.
The castle and old area of the town are the most visited sports in Haapsalu. We recommend that you visit the Railway Museum – a spectacular show you won't regret. Other worthwhile features are the wooden buildings, mud spas, spa culture, and restaurants. Mud spa culture has played a big part in the development of Haapsalu, which makes the city widely popular for its medical tourism. In the summer the town offers a diversity of impressive international festivals, too.
Hiiumaa Island
The island is known as one of the best places to live in Estonia and is recommended by travel guides. This is the second largest island in the country and attracts with its stunning scenery. Hiiumaa Island has historical lighthouses, preserved nature, and cosy rural places. One of the lighthouses on the island was built during the 16th century and is recognised as the oldest in the world. Tourists love Hiiumaa Island due to the fact that in the winter months it offers the longest ice road in all of Europe. Surfers, sailors, hikers, and nature lovers are frequent visitors there.
Moving to Estonia?
Let Fantastic Removals handle the international relocation for you!
Contact Us
Other honourable mentions
Undoubtedly, there are a bunch of towns, cities, and islands in Estonia that are suitable for expats. We picked 2 islands and a town: Kihnu Island, Saaremaa Island, and Tuhala.
Kihnu Island
This island can't boast hectic nightlife or modern buildings, but it is a gem in Estonia. It stands out with its diverse culture, magnificent rural architecture, and seaside nature. Most of the local people on the island are fishers, so the cuisine includes fresh seafood. You can try a variety of traditional seafood meals in the restaurants on the island. Those who love the noisy type of life and city vibe won't feel at ease on Kihnu Island. The place is more appropriate for expats looking for a getaway spot where they can learn more about Estonian culture.
Saaremaa Island
Saaremaa Island is the biggest island in Estonia. It offers good rural areas and lets you get acquainted with deep local culture. The natives on the island value their traditions and wear typical costumes for their culture. They live in stone houses and use a dialect to communicate. It may be hard for immigrants to get used to it. Despite that, Saaremaa Island has superb nature spots. These include steep cliffs, plenty of parks, and unique butterfly species.
You will find the large trees, wild orchards, and lowlands fascinating. A must-see spot on Saaremaa Island is the Kaali meteorite crater, which is the largest in Europe. Thankfully, it is open for visitors all year round. Saaremaa Island is known for its sweet bread, Estonia sour, homebrewed beer, and its old windmills.
Tuhala
Tuhala is a tiny village in the north part of Estonia with only 105 residents. The town has won popularity for its large karst area. There are a few underground rivers and sinkholes, known as the Boiling Witch's Well. This is a natural phenomenon created by the overflowing of the brownish waters of the Tuhala river. This takes place in the spring, when the river overflows at a speed of 100 litres per second.
The popular phenomenon lasts from 1 day to 3 weeks at the most. It's not surprising that in 2012 the Boiling Witch's Well was declared the wonder of Estonia.
Cities and areas to avoid
While there are many contenders for the best places to live in Estonia, there certainly are some that aren't a wonderful choice. So, is living in Estonia safe? The answer is an overall yes – the level of crime is generally low. It is represented mainly by acts of mugging and pickpocketing. The most dangerous areas are some neighbourhoods and areas in the capital.
The risk of petty crime, such as pick-pocketing, is medium and prevails in Viru street in Tallinn. Areas like Tallinn's Old Town, mainly the Town Hall Square, known as Raekoja Plats, and the Central Market can be dangerous. The risks of mugging are also low – it is encountered mostly in the neighbourhoods "Kopli" and "Lasnamäe".
Narva is popular as one of the areas with the highest level of unemployment in Estonia. While Narva has many beneficial features, finding a job there can be an issue.
Takeaways
The best places to live in Estonia differ for each person and depend on their priorities. The above-mentioned cities and towns are a good pick and can be a successful choice for British and other expats. If you need help with any type of international relocation to and from the UK, use professional services.