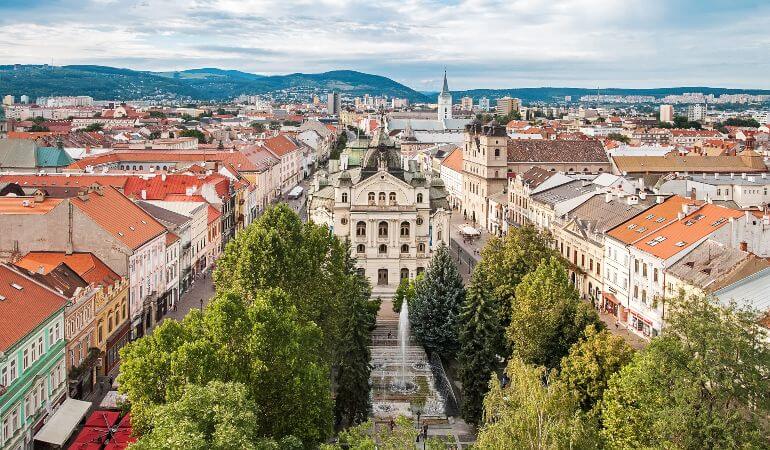 Slovakia is a very popular tourist destination that is located in a cosy landlocked spot. 5 other countries surround it. These are namely Poland, Ukraine, Hungary, Austria, and the Czech Republic. Its population is over 5.4 million and the official language is Slovak. The country is known as the 17th largest producer of cars in the world.
When it comes to the best places to live in Slovakia, there are areas that offer excellent facilities and reasonable cost of living. They stand out as heavily urbanised and usually have a high-income modern economy. Many of the cities boost with skyrocketing ranking of their Human Development Index.
So, if you plan on moving from the UK to Slovakia, this article will help you to pick the best living option.
The best places to live in Slovakia for British expats
Slovakia is in the heart of Europe, in a cosy location close to most European countries. It is an explored place, yet many towns are off the beaten track. Where is the best place to live in Slovakia is a question that many expats need answered and we are going to do exactly that below.
Bratislava
The capital of Slovakia is the cultural centre, as well as the home to several nationalities. Here you can find Hungarians, Slovaks, Germans, Jews, and Czechs. In Bratislava, there are plenty of brewpubs and bars that offer craft beer. The old town is visually appealing – there are a lot of great historic places to wander around and explore.
Bratislava is also the most populated city, with vivid industrial and commercial development. It is one of the major cities in Slovakia and the fastest growing one in the European Union as a whole. After the renovation of the old part of the town, Bratislava sees a boom in tourism. From Slovakia you can travel to many cities in Europe, such as Vienna, which is only an hour drive from the capital.
Kosice
Kosice, the second largest city, and the oldest one in Slovakia, is near the Hungarian border – residents and visitors of both countries can benefit from its location. Kosice and the capital are both two of the biggest cities in Slovakia by population. Kosice is the key industrial centre and the administrative capital of eastern Slovakia. Therefore, finding work will not be a problem for expats and residents.
Kosice was declared the European capital of culture in 2013, together with Marseille. The city is full of different representatives of different nationalities. You will find there mainly Czechs, Hungarians, and Germans. The cultural diversity in Kosice is also very rich. Overall, this is one of the best places to live in Slovakia if you are an immigrant.
Presov
If you still ask yourself if Slovakia is a good place to live, consider relocating to Presov. It's an important regional administrative hub for Eastern Slovakia. The cost of living there is not high. The city is a tourist attraction and is frequently visited, especially the old town. There are many castles, pools, and other tourist attractions in Presov. The old part is a mixture of architectural styles. Its salt and opal mines, with which it was popular in the past, still exist. Residents and travellers can wander inside them whenever they wish.
Trencin
The city of Trencin inspires many with its historic value and the Trencin Castle. The latter is located on the top of a rock. The castle is in medieval style and is split into 2 parts – a lower and an upper part. Both of these deserve to be visited at least once. The city is close to the border of the Czech Republic. The standard of living in Trencin is not high, similar to that in Kosice.
The traditional square of the city is filled with Baroque-style churches and buildings. Tourists often stroll along the windy streets that lead to the town square. This is where you will also find local boutiques, crafts, and art shops and great galleries. Visitors, immigrants, and locals can rejoice in the annual music festival there. Trencin fascinates with its local history and vivid social life.
Nitra
Nitra is another city with a high score in terms of liveability. It is located in the western part of the country. Nitra is home to some of the oldest remnants of history that related to early Christianity. It is densely populated and generally is an attractive place for living. The flourishing agriculture has made Nitra an agricultural centre in Slovakia. It is no surprise that the city is preferred by many tourists.
Zilina
Zilina is another important Slovakian city. It has a growing significance thanks to it being an international manufacturing centre. Regarding its population, it is in third place and is of medium size. Zilina is a cultural hub with plenty of museums, exclusive outlets, and 3D digital theatres. The place offers impressive arcade squares and unique architecture. It is frequently visited by tourists due to these features.
Moving overseas? Rely on Fantastic Removals to handle your belongings!
Contact Us
Other honourable mentions
Banská Štiavnica and Trnavá are two of the many interesting places in Slovenia. Travellers and expats have the opportunity to explore history there. Both towns are ideal for those who seek a quiet life.
Banská Štiavnica
Banská Štiavnica is home to a small population of about 10,000 people. It benefits them and visitors for its unique location and architecture. The town is in the middle of a caldera from a collapsed ancient volcano. It became wealthy thanks to the gold and silver mines that surround the area. Banská Štiavnica is one of the country's UNESCO sites. It has unique technical monuments and a lot of buildings of historic significance.
If you are fascinated by history and want to explore it further, visit the beautiful Calvary. The Old and New Castle are two other attractions that you shouldn't miss. An interesting fact is that Banská Štiavnica used to be a mining centre in Slovakia. Visitors and locals can go to see the open-air mining museum. It offers long, beautiful underground walks in 17th-century dating mines.
During the warmer seasons visitors can swim in any of the artificial reservoirs. These are used to supply the mining industry. The renovated city centre is a great spot to spend your time in the summer. There you will find a diversity of pubs, restaurants, and cafes with traditional folklore live music.
Trnava
Trnava is a peaceful city only less than an hour away from Bratislava. It is the oldest free royal borough in the country. Its town walls date back more than 500 years. Also worth visiting are the main square and the town tower, which has convenient platforms. Using them, you can get a panoramic view of the whole city.
In the past Trnava used to be an important spot for meetings for the Hungarian and Czech kings. It has also been a religious and a Counter-Reformation centre. Since the moving of the Trnava University to Budapest, it has lost some of its significance. Still, the town offers impressive Gothic, Baroque, and Renaissance buildings. Overall, Trnava has a very pleasant, calming atmosphere.
Cities and areas to avoid in Slovakia
Now that we've answered the question "Is Slovakia a good place to live in?", it's time to talk about the areas that you should probably avoid. In general, the country is safe. Of course, there are always exceptions, like, for example, the capital. There is petty crime aimed at foreigners mainly in the Old Town of Bratislava. Make sure to avoid the overcrowded Christmas markets. Avoid the public buses, trains and trams at peak times. This is where pickpockets are likely to be found.
Other places where you can fall prey to thieves are campsites, deserted places, and backstreets. The Zlaté Piesky area has also seen a lot of robberies.
Takeaways
Slovakia is a great country with an attractive location and nature. Many cities have historical importance and stunning architecture. They offer a pleasant atmosphere, decent standard of living, and great facilities. That being said, the best places to live in Slovakia are always going to be different for everyone. To make an informed decision, it is important to set your priorities. Plan your relocation and choose a city or a town that best suits your and your family's needs and preferences.