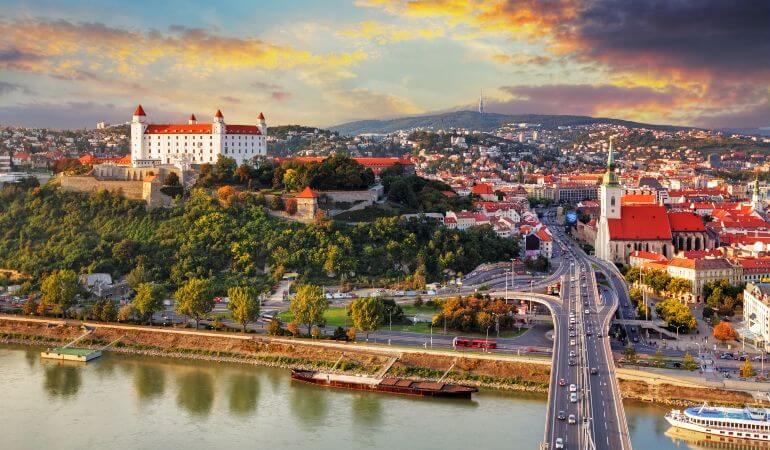 Capital City: Bratislava
Population: 5,459,642
Official language: Slovak
Commonly spoken languages: English, Romani, Czech, Ukrainian, German and Polish
Currency: Euro
Exchange rate to pound: 1 EUR = 0.90 GBP
If you're considering moving from the UK to Slovakia, you've made a sound decision. A landlocked country, situated in the heart of Europe, Slovakia offers visitors plenty to see and experience. From its amazing natural beauty to the fact that there are more castles and chateaus per capita than anywhere else in the world, there's something there for everyone, no matter the age. Considered a high-income advanced economy, the country's automotive sector is one of the largest contributors to the growing economy and there are plenty of work opportunities for expats.
Where to live in Slovakia
One of the first questions a British expat will ask themselves before settling down in Slovakia is where to live. Bratislava and Kosice are among the most popular cities for expats.
Bratislava
When it comes to Bratislava, you need to consider the fact that this city is divided into five districts, with Bratislava 1 being the most popular among expats. This is because there are many refurbished historical buildings and most amenities are within walking distance. Meanwhile, Bratislava 2 has modern residential complexes, shopping centres, business centres and hotels. Bratislava 3 is the most expensive of all the districts and in comparison to the otherwise affordable costs of living in Slovakia. It's also a popular destination for weekend trips. Bratislava 4 offers two international schools, which is ideal if you're considering moving to Slovakia with your little ones. Finally, Bratislava 5 offers popular and modern shopping centres, which are built near residential areas.
Kosice
Another city to consider moving to is Kosice. According to sources, it is a charming place full of friendly people, top-notch restaurants and excellent parks. In addition, it is popular for its cultural events, while the plethora of universities there generates a great workforce for the companies surrounding the city. What's more, Kosice offers easy access to air, road, bus or train all over Europe.
How to become a resident
As a result of Brexit, numerous changes have been made to residency requirements throughout Europe. However, if you're already a resident of Slovakia before the end of the Brexit transition period, which ends on 31 December 2020, you will be able to continue living there without any changes. Furthermore, those living in Slovakia before the end of the transition period will not lose their existing rights to live, work or study there by obtaining a Third Country national Residence Card that complies with the Withdrawal Agreement, which you should obtain before 30 June 2021.
On the other hand, if you plan to settle in Slovakia after 31 December 2020, and you are not yet registered with the Slovak Foreign Police, you must register for residence as soon as possible and you will need to obtain a new Residence Card before 30 June 2021, which is compliant with the Withdrawal Agreement.
Working in Slovakia
According to the Organisation for Economic Cooperation and Development's (OECD's) Economic Outlook, in 2019 and 2020, Slovakia ranked as the fastest-growing developed economy in the world, with the highest Gross Domestic Product (GDP) growth rate among OECD economies. Its automotive sector is very advanced, producing more cars per capita than any other country in the world. This industry accounts for a significant amount of the country's exports. Considered a high-income advanced economy, its main exports include automobiles, machinery and iron and steel, whereas its major imports include machinery, automobiles and mineral fuels.
The most lucrative sector for employment is, unsurprisingly, the automotive sector. Other popular industries include metal and metal products, electricity, gas, coke, oil, nuclear fuel, chemicals, synthetic fibres, wood and paper products, machinery, earthenware and ceramics, textiles, electrical and optical equipment, rubber products, food and beverages, as well as the pharmaceutical industry.
As of June 2020, the minimum wage was 580 EUR per month, while the GDP per capita was 19,442.71 USD in 2018.
Transportation in Slovakia
There are a wide variety of ways to get around in Slovakia. Transport is possible by rail, road, air and even rivers. The country has a well-developed rail network and a lengthy highway system. The Danube river is the most important waterway that's used by passenger, cargo and freight ships.
Moving closer to transportation in and between the towns, mid-sized towns typically have a bus system, whereas most villages are served by local buses, although these services are not very frequent. You will find trams and trolleybuses in Bratislava and Kosice, while the High Tatras towns are linked by an electric railway.
In Bratislava and Kosice, you'll find that public transport typically operates from 5 am to 10:30 pm (up to 11pm in Bratislava), and there are reduced night-bus services in both cities.
If you plan on travelling using the public transport system, you can get city transport tickets as these are suitable for all local buses, trams and trolleybuses. You can purchase your ticket at machines near newsstands and always ensure that you validate it because you might be subject to a hefty fine if you don't.
Driving your own car in Slovakia
According to the government's website, driving rules in Slovakia will stay the same until 31 December 2020 and you can drive in Slovakia with your UK driving licence. If you're already a resident of the country, you can voluntarily exchange your UK driving licence for a Slovak one after 185 days.
If you plan on bringing a vehicle to Slovakia from the UK, you need to inform yourself about the car registration and taxes in Slovakia. However, you might be exempt from some of these taxes, although if that is the case, you will need certificates of exemption.
In terms of Slovak law, it is a legal requirement that you have at least third-party insurance for your car.

Regarding driving regulations, you should be aware that there is zero tolerance for driving under the influence of alcohol or narcotics. Moreover, you need to have your headlights switched on all year round. The speed limit in most towns is 50 km/h.
Education in Slovakia
According to the Slovak constitution, all citizens are guaranteed free public education at the primary and secondary levels. Education is compulsory between the ages of 6 and 15 and typically includes foreign language education, as well. There are some private and church-affiliated schools. Younger children are typically sent to nursery schools, which is then followed by kindergartens, available for children aged three to six. As for secondary schools, Slovakia offers vocational secondary education that provides training in technical, clerical and service industries.
Being a student in Slovakia
The largest and oldest higher education institution in Slovakia is the Comenius University in Bratislava, which was founded in 1919. The capital city is also home to the Slovak University of Technology, the University of Economics, as well as a few art academies. As mentioned earlier, Kosice has several universities, too, and also has a school of veterinary science.
In addition, colleges and universities have opened in Trnava, Banka, Bystrica, Nitra, Presov, Zvole and Trencin. This is especially so after the country reached independence. Furthermore, there is a Roman Catholic university in Ruzomberok.
Healthcare in Slovakia
Slovakia has a healthcare system that requires compulsory contributions. Such contributions are typically income-related and are paid to the relevant insurance company. In addition, 4% of contributions are paid by employees, while 10% are paid by the employer. If you are self-employed, you will need to pay for the full 14%. At present, around 98% of the population is covered by health insurance. Three primary health insurance companies operate in the country, one of which is owned by the government and insures approximately 65% of the population. Some dental treatments and all plastic surgery are not part of the health insurance scheme. Furthermore, the full cost of medication is not always catered for. If you are already a resident in Slovakia, you must not use your UK-issued EHIC for healthcare access in the country.
Takeaways
A beautiful country full of natural and man-made wonders, making Slovakia your next home will be a great idea! You and your family members can take advantage of great educational institutions, a strong job market as well as free healthcare (apart from the medication). As an expat living in Slovakia, you'll find that there's a big community of expats there, but you can also mingle with the locals, many of whom speak English, leaving the language barriers behind. And you can leave the international removal job to us, the professionals at Fantastic Removals.