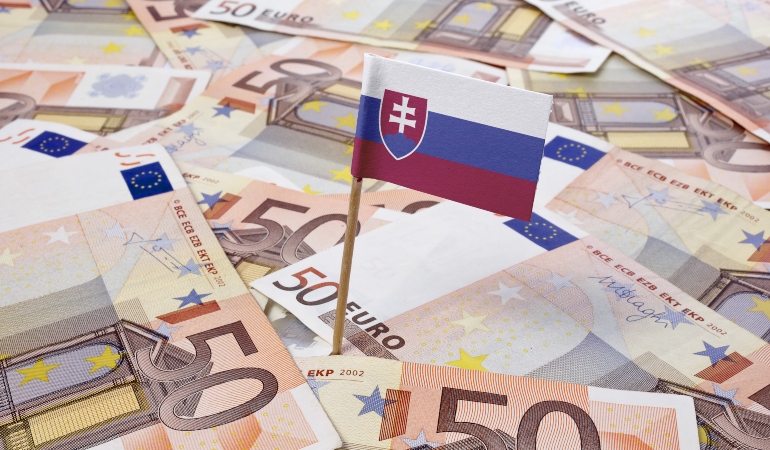 Beautiful natural landscapes, historical castles, and a relatively low cost of living – these are only some of the appealing aspects of seeking residence in Slovakia. If you want to find out how much you can expend to spend living in Slovakia, you're in the right place! Keep on reading.
Bank account
Before opening a bank account, make sure to thoroughly research the offers and conditions of various banks. For instance, you want to compare the information about account maintenance fees, fees for transfers and withdrawals, accessibility of ATMs, availability of online banking, and assistance in your preferred language. The bank sector is quite diverse in Slovakia and each bank has its own unique offers. Don't limit your options from the very beginning and make sure that you choose the service that suits you best.
Can you set up a bank account in Slovakia as a non-resident?
There are no restrictions for foreigners to open bank accounts before obtaining a residence permit, even though it might vary from bank to bank. Some banks even have benefits for foreigners. Contact your bank of choice directly to get full details on the documentation you need to provide to open a bank account as a non-resident.
Can you open a bank account in Slovakia from abroad?
Some banks provide online forms for opening a bank account in Slovakia from abroad. Check beforehand, as others might require a personal visit. Usually, banks demand a confirmation of your address in Slovakia, which might be complicated to obtain if you are located in a different country.
What documents are required to open a bank account in Slovakia?
The process is pretty straightforward, and the documents that you need to provide when opening a bank account in Slovakia are the following:
An identification document – residence permit or passport
Proof of address – if you have your residence permit, usually the address is written there but sometimes banks ask you to provide documented proof
Accommodation costs in Slovakia
Finding accommodation is one of the most important aspects of your relocation abroad. After all, you won't be able to obtain a residency unless you have a confirmation of accommodation.
Depending on your budget, you might decide to rent or purchase a property. To help you better plan your relocation to Slovakia, we have prepared some tips on what you need to pay attention to when you are renting or buying a property in Slovakia.
Renting
The real estate market in Slovakia is quite developed. However, rent prices vary from city to city. That being said – Bratislava is considered to be the most expensive city to rent an apartment in. Same sized apartments in Bratislava can be up to 3 times more expensive than in a city not far from the capital. It's quite common for locals to live in cities closest to the capital, such as Trnava, Nitra, or Dunajská Streda, and have a job in Bratislava, simply due to the extremely high rental prices. Make sure you do thorough research about the city you choose to make your new home.
You have two options for starting your rental journey in Slovakia:
find a real estate agent
search for an apartment independently
When looking for an apartment independently, make sure that you have established proper communication with the apartment owner. If they don't speak your language, your level of Slovak should be good enough to communicate freely and understand all of the owner's requirements.
Seeking help from a real estate agent can be much easier. Firstly, they do the searching for you, therefore, you have more time for other important tasks. Secondly, they can help you negotiate better terms and conditions of your rental agreement, as it is also in their interest to find you a good apartment. And finally, local real estate agents are knowledgeable about the city. They are a great source of reliable information, especially if you are moving to a completely new location.
Usually, real estate agents take a commission equal to one monthly fee. Sometimes, it can be 50/50 with the property owner, depending on the terms.
Here are some examples of the average monthly rent in Slovakia, depending on the location and apartment size:
| Property Size | Prise in EUR |
| --- | --- |
| 1-bedroom apartment in the city centre | €450 – 500 |
| 1-bedroom apartment outside the centre | €400 – 450 |
| 3-bedroom apartment in the city centre | €700 – 750 |
| 3-bedroom apartment outside the centre | €600 – 650 |
Buying
A foreigner can purchase a property in Slovakia regardless of their residency. You also don't need to have a residence permit in order to be eligible for a mortgage loan. Banks might require a confirmation of your income; however, a residence permit is not on the list of required documents. You might be asked to provide your record of the loan registry from your home country.
The average price per square metre is €2000, however, it might vary depending on the city and the neighbourhood.
Cost of utility bills
Utilities might be included in the rental price. Once a year, relevant authorities come to take the readings of electricity, water, heating, and gas meters. These readings are used to estimate a monthly utility cost. Therefore, you can expect to pay a fixed amount each month.
Always check with the apartment owner or the real estate agent what is included in your monthly rent. More often than not, internet and TV are not included in the price, but it is still something that you need to consider when calculating your monthly spendings. Additionally, you need to have a local phone number. Here are some estimates of the monthly utility costs in Slovakia:
| Service | Price in EUR |
| --- | --- |
| Utilities (Electricity, Heating, Cooling, Water, Garbage) for an 85m2 apartment | €170 |
| Television | €10 – 20 |
| Internet | €15 – 20 |
| Phone bills | €15 – 30 |
Transportation expenses
Public transportation in Bratislava operates from 5:00 AM until 11:00 PM. However, in smaller cities, this time may vary. If you are moving to the capital or Košice, you can benefit from using trams and trolleybuses.
You can purchase a ticket at a bus stop or through the IDS BK app. Tickets can be used within their time validity in the respective fare zones. You can easily access information about the schedules and the routes of the public transport online.
To have an idea of transportation costs in Slovakia, take a look at this table:
| Means of transportation | Price in EUR |
| --- | --- |
| Single ticket with 15 min validity in 2 zones in Bratislava | €0.70 |
| Single ticket with 180 minutes and an unlimited number of zones in Bratislava | €3.60 |
| The price of 1L of petrol | €1.30 |
| Taxi | Starting price of €3 + €1 per kilometre |
Cost of necessities
Food costs in Slovakia
Food costs are a significant expense in every household's budget. In Europe, it's the third-largest out of all household expenditures. The average Slovak household spends about 18% of its monthly income on food. Below, we have prepared a breakdown of the most common household food products and how much you can expect to pay on average:
| Product | Unit | Price in EUR |
| --- | --- | --- |
| Milk | Per litre | €0.73 |
| Bread | A loaf | €0.93 |
| Eggs | 12 | €1.89 |
| Cheese | Per kilo | €7.84 |
| Chicken | Per kilo | €4.90 |
| Tomatoes | Per kilo | €2.26 |
| Potatoes | Per kilo | €0.79 |
| Apples | Per kilo | €1.44 |
| Bananas | Per kilo | €1.50 |
| Wine | Per bottle | €4.50 |
| Water | 1.5l bottle | €0.58 |
Recreation and attire
Slovakia offers a lot of options for outdoor sports. It has multiple hiking trails, skiing resorts and various outdoors activities. If you prefer indoor activities, then you might enjoy the variety of fitness centres, tennis courts, and pools. For less active people, cinemas, theatres and restaurants can become your favourite places to spend some free time.
To understand how much you can expect to spend on some of the activities, see this table:
| Activity | Price in EUR |
| --- | --- |
| Tennis court rent (per hour) | €11 |
| Fitness club (monthly pass) | €30 |
| Cinema | €6.70 |
| A three-course meal for two in a restaurant | €30 |
Additionally, you can see the prices for clothes:
| Clothing item | Price in EUR |
| --- | --- |
| Pair of jeans | €55 |
| Summer dress | €30 |
| Pair of Nike running shoes | €65 |
| Pair of men's leather business shoes | €70 |
Takeaways
As you can see, living in Slovakia doesn't seem very pricey, unless you live in Bratislava. And if some costs match the ones that you'd pay in the UK, other products are rather cheap. Still, if you are a student who is tight on a budget, you might want to consider being careful with your expenses.