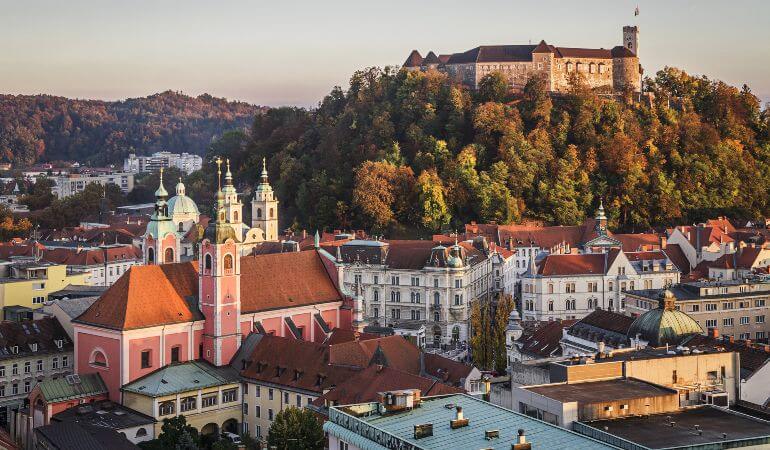 Capital City: Ljubljana
Population: 2.081 million
Official language: Slovene
Commonly spoken languages: Czech, English, Russian, German, Hungarian, Italian
Currency: Euro
Exchange rate to pound: £1.00 = €1.10
Who wouldn't want to live in a country which boasts one vineyard for every 75 inhabitants and where one in twenty of the population keeps bees! Add beautiful countryside and a more relaxed pace of life and it's not hard to see why people are moving from the UK to Slovenia.
The Slovenes themselves have a reputation for quiet conservatism, a broadminded tolerance towards others and deeply ingrained hospitality. Slovenia has been ranked 7th out of 163 nations in the world peace index and is 5th of 180 nations in the Environmental Performance Index, making it one of the world's most environmentally friendly nations. All of these factors, which make Slovenia a popular tourist destination, also combine to make it a strong contender for anyone planning to move away from the UK on a long-term basis.
What should you expect if you're moving to Slovenia and how should you go about maximising your chances of building a successful and happy life there? Well, that starts with attending to the details of the move itself and choosing your removal service carefully, so that the things you hold most dear arrive safely to your destination. Beyond that, finding the right location, evaluating your living costs and understanding what to expect when you get there are also vital. Read on to find out more about what to expect if you're moving to Slovenia.
Where to live in Slovenia
Ljubljana
With a population of less than 300,000, Slovenia's capital is smaller than a medium-sized UK city. The student population of 50,000 gives rise to vibrant and youthful culture. Museums and art galleries, street art and independent shops abound. The vibe of this city is one of interconnected neighbourhoods rather than that of an economic hub. It's among the most popular place to live with both Slovene natives and ex-pats.
In keeping with the ethos of the country as a whole, Ljublijana is both clean and green. Tivoli Park covers an area of 5 square kilometres and stretches right to the centre of the city. Ljubliana is also bicycle-friendly, it tends to be flat, there are lots of dedicated cycle roots and you can get from one side of town to the other in around 20 minutes.
Maribor
Like Ljubliana, Maribor has an international airport. For those who want to maintain a connection with friends and family in the UK, this is a strong advantage. Maribor is also a university town and, like the capital, scores highly on quality of life indexes.
How to become a citizen
You don't need a visa for stays of up to 90 days, but if you're planning to relocate to Slovenia, you should register as a resident at your local town hall. You'll need your passport, proof of healthcare and evidence of sufficient financial resources to live. The latter can be provided through a copy of your work contract, proof of pension, or by showing a bank statement. British citizens registered as permanent or long term residents of Slovenia before the end of 2020 will maintain their current rights to live and work in Slovenia under the withdrawal agreement. Once the transition period has ended different rules may, and probably will, apply.
You can apply for Slovenian citizenship once you've been resident in the country for 10 years, or if you're married to a Slovene national, after just one year. Requirements for citizenship can change over time, at the moment they include being able to demonstrate sufficient knowledge of the language for everyday communication and submission of a UK criminal record check.
Working in Slovenia
If you're a UK citizen legally resident in Slovenia before the end of 2020, your rights to work in the country will be maintained. If you arrive after the end of the transition period or are a non-EU or EEA citizen, you'll need a work permit.
The average salary in the country is 2,883 EUR before tax. Jobs in IT or software engineering command a higher than average wage, work in tourism or basic teaching jobs a lower one.
The job market in Slovenia can be quite competitive, teaching English is one popular choice for native speakers. Some ex-pats work in construction or tourism but will be in competition with Slovenes for these jobs. Good command of the language will be pretty much essential if you're hoping to work anywhere other than in an exclusively English speaking environment.
Transportation in Slovenia
There are three international airports in the country, Ljubliana offers the most flights. There are also coaches that run from many European cities to Slovenia.
Within the country, there is a well-organised and generally reliable public transportation system. Fast, comfortable trains connect the major cities, while buses service more remote areas. Within cities, there are good bus links, public transport is affordable and there are discounts for students, seniors and the unemployed. In both Ljubliana and Maribor, there is a smart card, so payment is made in advance. The card can be used across the various transport options – in Ljubliana you can even pay for cable-car rides to the Ljubljana Castle, using your Urbana card.
Driving your own car in Slovenia
Visitors to Slovenia can drive on a UK licence for a limited period of time – residents in Slovenia should exchange their UK licence for a Slovenian one. You'll be able to use your Slovenian licence to drive in the UK for short periods of time or exchange it for a UK licence if you return permanently.
Car ownership in Slovenia is expensive relative to income, though cheaper than the UK in absolute terms. Third-party insurance is compulsory and there are vehicle registration fees, annual inspections, and road taxes to take into account. You need to purchase and display a vignette when travelling on motorways and expressways. The price of this varies depending on the vehicle class and the duration of the vignette.
Dipped headlights in the daytime are compulsory and winter equipment is mandatory from 15 November until 15 March or in winter weather conditions. All vehicles should be equipped with a fire extinguisher, a first aid kit and a set of replacement bulbs.
There are strict rules around drinking and driving. The legal limit for most drivers is 49 milligrams of alcohol per 100 millilitres of blood but for new drivers who've held their licence for less than 2 years, anyone below the age of 21, or professional drivers the legal limit is 0 milligrams.
Education in Slovenia
Compulsory education in Slovenia starts at the age of 6 and continues to the age of 15. Primary and lower secondary education are unified, higher secondary education can be broad or vocational. Compulsory education is free to Slovenes and EU citizens.
Higher education in Slovenia is based in universities or vocational colleges. Slovene higher education and qualifications gained through it are recognized throughout the EU. While there are tuition fees for higher education in Slovenia, these are relatively low.
Being a student in Slovenia
As you'd expect, the largest cities, Ljubljana and Maribor have the most extensive and best university facilities. Slovenia looks after its students whether they're native to the country or international. Some courses are taught in English and these attract not just native English speakers, but people from around the world, who are fluent enough in English to study in it.
Apart from low tuition fees Slovene, students also benefit from discounts on public transport and subsidised food in many restaurants through a meal voucher system. Accommodation for students is also very affordable, monthly rent in student dormitories costs between 80 and 150 EUR on an all-inclusive basis.
Slovenia also has a program known as student work, which makes it possible for students to work part-time on a specific type of contract. There are agencies that specialise in finding work for students and also take care of payment and deduction arrangements.
Healthcare in Slovenia
British pensioners, some posted workers and those receiving certain exportable benefits who are resident in Slovenia will retain their current rights to life-long health care by the end of 2020 in the country, using a UK-issued S1 form.
Residents of Slovenia have to pay for basic medical insurance through the Health Insurance Institute of Slovenia, this can be supplemented with additional private insurance. Once registered within the system, residents are issued with a card which is shown when treatment is required.
Emergency treatment, including ambulances, are free to all. Most other health care is provisioned on a co-payment system, meaning that the state pays part of the cost, while the patient or their private insurance provider pays the difference.
Takeaways
If you're after a peaceful life and beautiful scenery to go with it Slovenia may just be the place for you! Regardless of where you decide to settle down in the country, the well-organised transportation system will help you reach any needed destination easily. Having some knowledge of the basics of Slovene will definitely improve your chances on the job market and help you go about. If your mind is set and you're ready for the big step, get in touch with us to organise your smooth international move to this wonderful country!