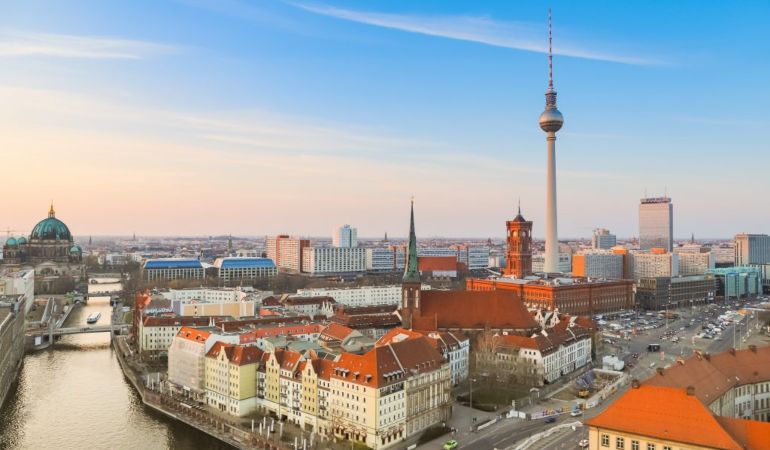 This is very subjective and depends on many factors. Some of them are personal preferences, the standard of living, environment for professional and personal development etc. Websites and media outlets that make lists of best cities to live in Germany take a closer look at the following factors:
Innovation
Job market
Wealth
Pros and cons of living in Germany
Despite the fact that Germany is one of the best countries to immigrate to, there are not only positives about it. This is why we've summed up some of the most popular pros and cons of living in Germany:
Pros
Outstanding public transport
It's following a precise schedule and utilizes advanced road infrastructure. In Germany, you can also travel by train almost everywhere, it's also affordable and convenient.
Amazing location
Germany's location on the continent provides great opportunities for travelling to other countries quickly. The Netherlands, Belgium, Austria, France – you can get to these countries in a few hours flight without any hustle.
High-quality health care
Germany's health care provides insurance that covers most of your expenses when you need medical treatment. If you have a high income, you will be able to afford additional private health insurance. It will give you the peace of mind not to think of any health treatment issues.
Cons
You'll have to learn German
Most people in Germany, including natives, do speak English but prefer to do their everyday communication in German. If you decide to limit your communication by speaking in English only, you will have trouble socializing completely.
Finding a place to for living is hard
It may take up to a few months before you find the perfect accommodation. Real estate agents follow strict procedures before making deal with a client. the competition for a single rented property is very high as well.
High taxation
Germany has very high taxes, especially if you earn more than €250,000 per year. If you earn that much, you will have to spend about 45% of your income on taxes. While earning more than €53,000 you will still have to leave a very significant amount to the government – 42% of the income.
There is also the Solidarity surcharge – it is 5.5% of the assessment basis and is supposed to help for the reunification of Germany.
So, here are some of the best places to live in Germany:
Top cities to live in Germany
Berlin
Most of those who are moving from the UK to Germany, prefer Berlin as their destination and continue their living in a capital city. However, there is a tough procedure for starting a new life in Germany's capital, especially if you are not an EU citizen.
In addition to the complicated work permissions for some, the rental market is expensive and challenging. Finding a place to live in Berlin starts by searching for flats and houses online. Real estate agents require a lot of information from potential tenants before closing a deal. The more information you share with the German real estate agents, the easier it will be for you to find accommodation. A working contract is a must as proof of financial stability when searching for a place for living in Berlin. It's a huge advantage when the contract is for an unlimited period.
Munich
According to the Immigrant Spirit's article, in terms of standard for living Munich ranks 2 among all cities and countries. Surprisingly, Berlin falls behind at rank 224. However, it is also the most expensive city to live in in Germany. The city is popular with Brit expats for many reasons. There are nearby universities, an abundance of professional development and growth, breathtaking architecture, and rich culture. Also, Oktoberfest is held in Munich.
The city also has low crime and poverty rates. It also has the most hours of sunshine in the country, so if you're looking for a sunnier city, Munich is ideal for you.
Düsseldorf
If you're a young professional or a student about to graduate soon, this city offers you a wide range of job opportunities in banking, financial and media niches. The cost of living is said to be higher than in most large cities in Germany. You can see the average costs of living in Germany and compare. Düsseldorf is, however, ranked one of the best in the world for quality of life. It is a beautiful cosmopolitan city with museums, great restaurants, markets, theatres and great cultural activities.
It may not be the most popular destination for British expats to move to but a fair amount of them live there and also the majority of people in the city speak at least some English.
Hamburg
An interesting fact about Hamburg is that buying a home there is actually cheaper than renting one. Many Brits choose this city for their relocation for several reasons. One of which is that the city is large but the population is spread all over it and the city doesn't feel crowded at all.
Additionally, Hamburg is a city with many beautiful rivers and canals with gorgeous bridges and many more architectural wonders. It is the second-largest in Germany and is also ranked highly for quality of life.
Cologne
Being one of the most popular tourist destinations in Germany, Cologne is also a preferred place for expats from Britain and other countries. The city offers plenty of employment opportunities in various fields. It is also ranked as one of the safest and cleanest cities in the country. And best of all, it is a relatively affordable city to live in.
There are lots of several historical landmarks, several famous theatres and musicals in the city, plus regular fun cultural events.
Your international move can be so much easier!
Contact Us
Other honourable mentions
Here are a couple of cities that are also amongst the preferred ones for Brit expats when moving to Germany.
Dresden
If you want to find a place where English is widely spoken, Dresden is the town for you. Furthermore, the city has four distinct seasons which is a great advantage as you can enjoy sunny summers and winter wonderlands. This city is affordable and attractive to students with its high quality of education.
Bremen
Like Hamburg, Bremen's population is also spread out over a large territory and the city doesn't look or feel crowded. Living costs and employment possibilities are reasonable for people of all ages and professions. Bremen is a diverse and inclusive city that values multiculturalism and finding English speakers is a piece of cake.
Cities and areas to avoid
Frankfurt has been said and proved to be one of the unsafest cities in Germany. Based on its population and reports of various criminal activities, it leads the chart. However, that doesn't mean that you will be mugged the second you enter the city. It's still a pretty safe town to move to, it's just compared to other cities crime reports, Frankfurt has more.
Takeaways
Moving to Germany changes a person's life. No matter if one leaves the UK to visit Germany as a tourist or relocates their entire home there. Eventually, this is the start of a new life and it is certainly a journey of a lifetime. And it doesn't matter much in which city you live.
At Fantastic Removals, we help UK citizens to move home outside of UK soil. Most of them prefer countries within the European Union for reasonable purposes.