Moving to Germany changes a person's life. No matter if one leaves the UK to visit Germany as a tourist or relocates their entire home there. Eventually, this is the start of a new life and it is certainly a journey of a lifetime.
At Fantastic Removals, we help UK citizens to move home outside of UK soil. Most of them prefer countries within the European Union for reasonable purposes.
When we receive a call from customers who need an international house move service, they often ask plenty of questions about the country they're moving to. Now, we've created this complete guide on moving to Germany from the UK. It is for those who're planning or have already arranged their relocation to one of the most attractive countries in Europe.
In this guide, we give information on anything you may possibly ask. This includes preparation, documentation, life in Germany, how to find a job there or even how to transport your pet to the country with zero hassle.
Germany Immigration – Why People Leave the UK and Go to Germany
It's not hard to figure out why some UK citizens prefer to leave the island and move to Germany. It is the second most popular destination for migration globally. Since 2005, Germany becomes officially an "immigration country". This led to a new immigration law being introduced mostly because of the increase in the number of refugees seeking shelter in Germany.
Germany provides lots of opportunities for highly skilled workers and scientists. They can easily become part of the German labour professionals. This results in the labour market becoming very difficult for non-skilled workers.
Germany ranks among the best countries in terms of salary and career opportunities. When it comes to earning the most money for the shortest amount of working hours, Germany comes first again. A person can earn an average yearly salary of £33,000 for only 26 hours per week there. Teaching, engineering, journalism, design, and childcare are the fields that offer extremely competitive payment. This attracts many emigrants from the EU each year.
After the vote for Brexit, Germany ranked 1st in the list of countries to immigrate to among Britains.
How to Migrate to Germany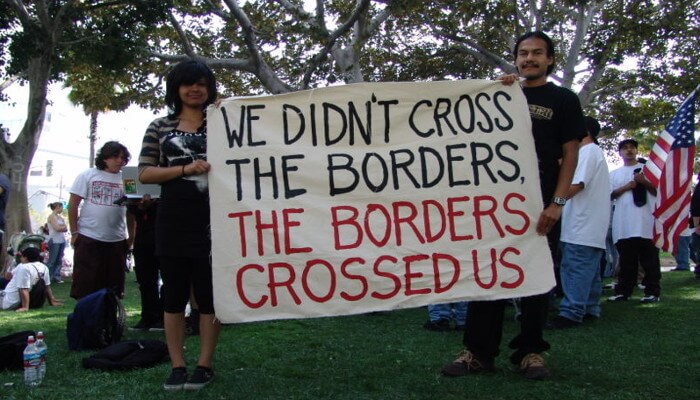 Image Source: Wikimedia / License: CC BY 2.5
For people who are not citizens of an EU country, the easiest way to move to Germany is via a Job Seeker Visa. It basically allows a person to enter Germany and search for an appropriate job there. The Job Seeker Visa allows a stay of 6 months, which is the deadline for becoming officially employed.
After signing a contract with a German employer, the job seeker visa will convert into a Germany work permit. This document later turns into a permanent residence as long as you remain employed.
Some of the requirements for applying for a job seeker visa are the:

Bachelor or Master's degree, equivalent to a German degree
At least 5 years of experience in the same working field
Showing a proof for savings to support a stay in Germany.
You need some money before achieving financial self-sustainability.
Have medical insurance during your stay in Germany
Check out the complete job seeker visa criteria provided by Visas Avenue.
Call Professional International Movers
Enter your postcode to view our rates and availability in your area.
Moving to Berlin From London
Most of those who move house from the UK to a city in Germany, prefer Berlin as their destination and continue their living in a capital city. However, there is a tough procedure for starting a new life in Germany's capital, especially if you are not an EU citizen.
In addition to the complicated work permissions for some, the rental market is expensive and challenging. Finding a place to live in Berlin starts by searching for flats and houses online. Real estate agents require a lot of information from potential tenants before closing a deal. The more information you share with the German real estate agents, the easier it will be for you to find accommodation. A working contract is a must as proof of financial stability when searching for a place for living in Berlin. It's a huge advantage when the contract is for an unlimited period.
See the complete guide on how to find a place to live in Berlin.
How to Move to Germany Without a Job
A lot of people prefer or are forced to move to Germany without having the intention to work there or don't have a previously arranged job. It's not a mission impossible to move to Germany without a job. You just need to have clear intentions of what you're going to do after getting your feet on German soil.
Students
Foreigners who have graduated from the university have up to 18 months to find a suitable job for them in case they want to remain in the country. About 54% of foreign graduates prefer to remain living and working in Germany after they get their degree. English speakers will find it easy to remain in the country without even knowing German. Of course, they will have to learn the local language but will have no trouble finishing their education in English. They will also be able to find a temporary job until they polish their German language.
Family
A highly skilled worker who is already established in Germany usually brings his family to the country within a few months. Families who reunite with someone who already has a work visa in Germany can obtain their own right to work as well. They just have to follow the standard procedure of obtaining a work permit.
EU citizens don't need to have a residence or work permit. Neither do people from the European economic area. Citizens of Switzerland, Liechtenstein, Norway or Iceland don't need a work permit as well. They are free to live and work in Germany without any visas as they are part of the workforce movement freedom. Such people only need to have a valid ID or passport when moving from the UK to Germany. They also need to register themselves at the Civil Registry in the German country of their new residence.
Moving to Germany Without Speaking German
If you're a student and the educational course is in English, you won't need German for your studies. The exams will also be in a language different from German if you have chosen so at the time of applying for the learning programme. However, Germans are used to talk to everyone in German. Even if the person in front of them knows English, the preferred language is the local one.
Finding a job in Germany without having to speak or write in German is also possible, especially if the company uses English as the primary language. This doesn't mean you will feel very comfortable though. Almost everyone around you will talk in German, as well as outside of work. You will miss lots of essential information if you don't understand German speech at least at a basic level.
For more information on the topic, you can check what other people say about it on Quora. You can also read the personal story of Nathan who shares his thoughts on whether you need to know German or it's not that necessary.
Cost of Moving From the UK to Germany
There isn't any fixed price for a removals service that covers your relocation to Germany. At Fantastic Removals, we determine the cost of moving from the UK to Germany based on several factors. All of them are unique for each particular move and depend entirely on the preferences of the customer. This is what we take in mind with a high priority when forming the price quote for an international removals service:
Distance
We transport household goods with the help of moving vans. The longer the route, the higher the expenses get. It's a no-brainer but distance is of great importance when it comes to pricing. We calculate the price based on miles being travelled during the first route (from the UK to Germany).
Volume of belongings
If you have to move a lot of stuff, don't expect the service to be super affordable. A lot of work is required to relocate a whole family from the UK if it requires to transport all of their household and personal belongings to another country.
Additional services
In case you prefer to get full insurance during the move, we will have to do the packing service for you, which will result in additional costs for you. We highly advise that you take very good care of your belongings before the move so they will be well protected inside the moving van.
Note:
The total price for an international move is not fixed. Because of this, we always do a free survey at your address, so we can provide you with a precise estimate price as possible.
Living in Germany
Germany is known for its well-developed infrastructure, labour market, economy and established traditions. It's one of the most preferred places for living among immigrants, especially for skilled workers,
The official currency in the country is Euro, mind this if you are travelling from a country which utilizes a different currency. Of course, you can get to an exchange office in Germany as well but it is a lot easier if you have a valid currency before arrival.
Germans are considered to be а hospitable nation and are popular for being very strict when it comes to rules and law. It's considered a very rude and uncivilized act not to obey the established rules while outside, at work and while among other Germans in general. Get well informed on German laws even though many of them seem very unusual.
One of the greatest pros of living in Germany is education. It's free and students don't have to pay tuition for universities. This way young people avoid education debts, which greatly helps in achieving a high standard of living at an earlier stage of their life. Germans in contrast to UK or US citizens become financially independent earlier n their life.

We Can Help You Move Out of the UK
Enter your postcode to view our rates and availability in your area.
Cost of living in Germany
The cost of living in Germany is not low but is certainly not expensive if you're employed at a full time there and have decent spending habits. The daily expenses for food, clothes, accommodation, and entertainment are very close to the average of other EU countries. An average of 800 Euro is enough to cover some basic expenses, without affording luxurious stuff.
Type of Product
Average Price
Price Range
Meal, Inexpensive Restaurant
10.00 €
8-14€
Domestic Beer (0.5 liter draught)
3.50 €
2-4€
 Water (0.33 liter bottle)
 1.80 €
 1-2.50 €
 Milk (regular), (1 liter)
 0.70 €
0.60 – 1 €
 Loaf of Fresh White Bread (500g)
1.24 €
 0.70-2 €
 Rice (white), (1kg)
 2.03 €
 1-2.80 €
 Eggs (regular) (12)
1.65 €
 1.40-2.50 €
 Beef Round (1kg)
 11.60 €
6-14 €
 Banana (1kg)
 1.60 €
1.20-2.00 €
 Transportation
 One-way Ticket (Local Transport)
2.75 €
 2.75 €
Monthly Pass (Regular Price)
 70.00 €
55 – 85 €
Taxi 1km (Normal Tariff)
 2.00 €
1.60-2.50  €
Gasoline (1 liter)
1.35 €
1.25-1.50 €
Utilities (Monthly)  
Basic (Electricity, Heating, Cooling, Water, Garbage) for 85m2 Apartment
215€
120-320 €
 Internet (60 Mbps or More, Unlimited Data, Cable/ADSL)
29 €
20-40 €
 Rent Per Month
 Apartment (1 bedroom) in City Centre
 690 €
450-1000 €
Apartment (3 bedrooms) Outside of Centre)
 970 €
600-1500 €
 Sports And Leisure
Fitness Club, Monthly Fee for 1 Adult
 28 €
20-50 €
 Cinema, International Release, 1 Seat
 10 €
9-13 €
You can check out Numbeo's statistics for the average cost of living Germany. The data is as close to the actual as possible. There may be some data, which is not 100% accurate due to the extremely dynamic changes in prices for each item from the category.
Cost of Living in Germany vs the UK
Surprising for many, Berlin turns out to be a lot more affordable for a living than London, for example. A good comparison can be made when you compare the expenses of living in the capital cities of both countries. According to Numbeo – the most sophisticated tool for this purpose, a meal in an inexpensive restaurant in Berlin cost an average of 50% less than in London.
Cost of Living in Germany for Students
The cost of living for students is close to what is required for adults. An average of 850 Euro will be enough to cover basic expenses depending on which city you're studying and living in. Smaller cities are respectively more affordable than the bigger ones.
200 – 370 Euro is the average cost of student accommodation in Germany, which most affects the price is the size and location of the property. The positive side of studying in Germany is that students may benefit from a reduction in prices for various utilities. With a student status, a person can get cheaper tickets to theatres, physical activity centres or free public transport in some areas.
Check out the complete list of the benefits of being a student in Germany.
Best Places to Live in Germany
This is very subjective and depends on many factors. Some of them are personal preferences, the standard of living, environment for professional and personal development etc. Websites and media outlets that make lists of best cities to in Germany take a closer look at the following factors:

Innovation
Job market
Wealth
According to Immigrant Spirit, Munich ranks 2 among all cities and countries in terms of standard for living. Surprisingly, Berlin falls behind at rank 224. You can see their statistics and see the reason for this rank list.
Living in Germany Pros and Cons
Despite the fact that Germany is one of the best countries to immigrate to, there are not only positives about it. This is why we've summed up some of the most popular pros and cons of living in Germany:
Pros

Outstanding public transport
It's following a precise schedule and utilizes advanced road infrastructure. In Germany, you can also travel by train almost everywhere, it's also affordable and convenient.
Amazing location
Germany's location on the continent provides great opportunities for travelling to other countries quickly. The Netherlands, Belgium, Austria, France – you can get to these countries in a few hours flight without any hustle.
High-quality health care
Germany's health care provides insurance which covers most of your expenses when you need medical treatment. If you have a high income, you will be able to afford additional private health insurance. It will give you the peace of mind not to think of any health treatment issues.
Cons

You'll have to learn German
Most people in Germany, including natives, do speak English but prefer to do their everyday communication in German. If you decide to limit your communication by speaking in English only, you will have trouble socializing completely.
Finding a place to for living is hard
It may take up to a few months before you find the perfect accommodation. Real estate agents follow strict procedures before making deal with a client. the competition for a single rented property is very high as well.
High taxation
Germany has very high taxes, especially if you earn more than 250 000 Euro per year. If you earn that much, you will have to spend about 45% of your income on taxes. While earning more than 53 000 Euro you will still have to leave a very significant amount to the government – 42% of the income.
There is also the Solidarity surcharge – it is 5.5% of the assessment basis and is supposed to help for the reunification of Germany
Check what people share on Quora on the topic.
Signs That Someone Has Been Living in Germany for a Long Time
Cheryl Howard

Founder of Cherylhoward. Canadian expat in Berlin. Frequent traveller.
You scold people for breaking rules in public without a second thought. You see someone with their feet up on the seat in the S-Bahn? Someone's not sitting on a towel in the sauna? You tell them straight up the proper way to do things.
You wait to cross the street until the light is green, even when there are no cars in sight or there are no children around.
You nail that look of disdain perfectly whenever you hear people speaking loudly on public transit or see them riding their bike on the sidewalk in the wrong direction.
Without even thinking much about it, you discovered a newfound passion for soccer and become Germany's biggest fan during the World Cup and the Euro Cup.
After spending some time in Berlin to experience the infamous nightlife and epic party scene, you're never the same again. No other bars and clubs anywhere else in the world will ever match that experience.
You have more types of insurance than you can count and you're not even sure what all of them cover.
You're always on time or even early to meetings.
You'd never dare to make noise on Sundays.
You've come to appreciate the honesty and frankness of Germans, even when the feedback is hard to hear. After all, it's real and isn't veiled in false praise.
You've mastered the metric system and know the size of your flat in square meters and your weight in kilos.
Before Moving to Germany From the UK – How to Prepare for the Move
Research the city in Germany you're moving to
There's a solid amount of city guides on the web for all of the popular cities around the world and Germany is not an exception. Try to find detailed information on the important aspects of the city you'll relocate to.
Take a closer look at the cost of living, access to utilities and institutions, local opportunities for work and education. Don't forget public transportation availability and opportunities for international travel on air.
If you to travel by plane a lot, you will need easy and fast access to an airport. In the bigger cities in Germany, this convenience is easy to find.
Learn German on a basic level
You're not supposed to do this at any cost but it will greatly help if you do it. Having solid foundations of the German language will ease the process of perfecting the language skills later. Even learning some basic German phrases will get you far when you get into casual situations once you move to Germany.
Check out these 92 German phrases that will help you survive in your first conversation with a native.
Plan the education goals of your family
Moving to Germany from the UK is only the beginning. Once you get into Western Europe, learning new things and obtaining new skills turns out to be an everlasting process. You'll also have to secure the flawless education of your kids if you have any. This means your new home will have to be located in proximity to a public or private school. Germany does not allow domestic forms of self-education (homeschooling), take this in mind when you're about to leave the UK.
Get Your International Removals with Us
Enter your postcode to view our rates and availability in your area.
Applying for a Visa for Germany From the UK – (For non-EU citizens)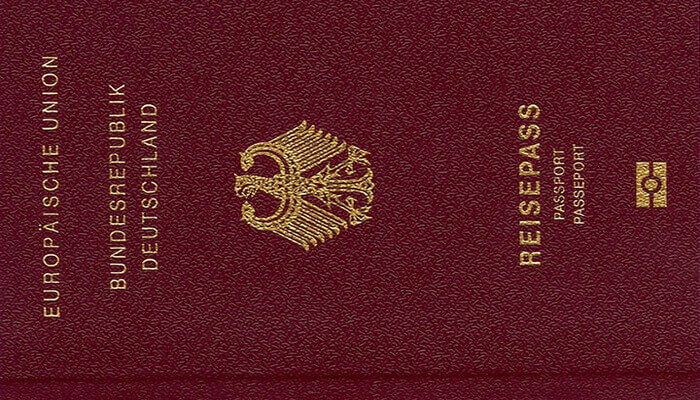 Image source:Wikipedia / License type: Public Domain
If you're not a citizen of the European Union and want to move to Germany and become employed there, you'll need to apply for a visa to Germany. Submit all visa applications at the Germany Visa Application Centres. They are located either in London or Manchester. The Embassy of Germany, located in London, will then process all applications.
How to apply:
Get more information about your country's jurisdiction.
Pick the most appropriate category for your visa – a tourist visa, visitor (of family or friend), business visa, minors visa or more.
Complete the application form that you will receive at the Application Centre.
Schedule an appointment for submission of the submission of your personal application.
Learn more information on how to apply for a visa, you can do the first steps online as well.
After Application
Wait for the German Embassy in the UK until it is ready with its decision about your visa. The process takes about 5 working days. Contact the Embassy if you don't receive any answer a few weeks after successfully applying for your visa.
Germany Work Visa Requirements (When Applying for a Visa in Germany)
You can apply for a work visa after your arrival in Germany. The residence permit for work purposes is a must for those who do not have citizenship from a country in the EU. The Aliens' Office (Berlin Foreigners Registration Office) and the Work Office in Germany will take a close look at your application and will give its conclusion whether you'll receive the permit
Required Documents for Germany Working Employment Visa
Two application forms, fully completed with your personal data.
Two passport photographs.
Mind that Germany has specific requirements for these photos.
Valid passport from your country.
A document for proving residence in the consular of application. (utility bill would usually be enough).
Pay a visa fee of 60 Euro and submit copies of all documents listed above. You also need to be insured with travel health insurance.
See the 3 types of work permits for Non-EU Nationals and the requirements for each of them.
How Long Does it Take to Get a German Visa
There isn't any way to figure out the approximate time for your visa to become obtainable. This is a complex process that gets done very quickly for some but takes a lot longer for others.
Simply track your progress and see how much longer you have to wait until your German visa is ready. Once you receive a notification that your document is ready, go to the local Passport Collection centre and receive your documents.
Schengen Visa for Germany
If you travel to more than one Schengen country, you have to apply for a visa to the German Embassy, located in your country. When moving from the UK to Germany, go to the Embassy of Germany in London.
Check out the complete list of requirements when applying for a Schengen visa. People who have never had a Schengen visa before, have to apply in person at the German Embassy when handling their documents.
The list of documents required for obtaining a Schengen visa in a German Embassy/Consulate depends on the type of visa you are applying for.
Germany Job Seeker Visa
The Germany Job Seeker Visa is another document which immigrants try to acquire as soon as possible after moving to Germany. It is basically a long-term residency permit and gives its owner a 6 months permission to remain in the country in search of a job.
If someone with а job seeker visa becomes employed within this period, they will receive a work permit. It allows residence and further permission for employment.
The job seeker visa itself doesn't give permission for working in Germany. It only provides you with permission to remain in the country and look for a job. You need to receive the working visa after a successful job interview and то officially sign a job contract.
Read more about the job seeker visa and get to know the details.
Healthcare in Germany – General Information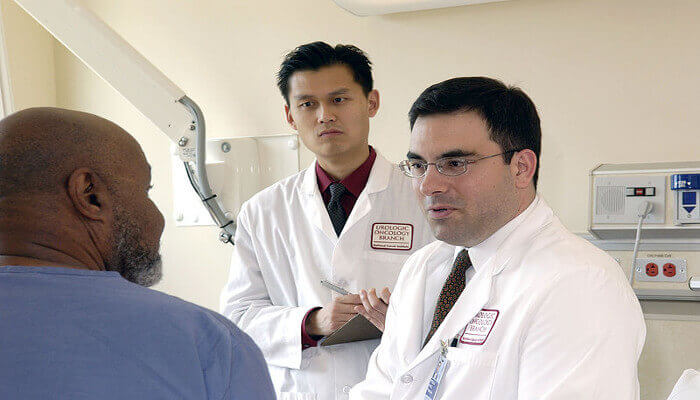 Image source: Wikimedia / License type: Public Domain
Germany's healthcare is considered to be one of the best available in Europe. It relies on 2 funds that support the income of financial resource. The first one is the statutory health insurance which anyone in Germany is obliged to pay taxes for. The second one is private health insurance, which is affordable only to people with an income exceeding specific levels of a minimum yearly salary.
Is Healthcare Free in Germany
Everyone who works full time in Germany and has a monthly income up to 4 687 Euro (gross amount) must be publicly insured. As this is the minimum income for being health insured, the amount of money that should be paid by the employee is about 14.6% as of 2016. Half of this amount is secured by the employer.
Learn more on how to apply for public health insurance in Germany and fill the application form if necessary. You can also apply by calling a regional office and schedule an appointment.
Individuals working for more than 4 687 Euro/month are lawfully approved to opt in for private health insurance. Sending an application for such type of health insurance is a little more complicated. You may be asked to go through specific medical tests and answer plenty of questions related to your health status.
Healthcare in Germany for Foreigners (from the UK)
In the case of temporary residence in Germany, you'll need to have a European Health Insurance Card (EHIC). It covers the costs of any emergency medical treatments during stays in countries within the EU. Foreign travel insurance from the UK covers any possible health issues that the EHIC does not.
Check out all the information on accessing healthcare in Germany from the UK's NHS, provided by the UK's National Health Care System (NHS).
Cost of Healthcare in Germany
This is subjective and depends on the type and specifics of each person's health insurance. Those with additional private health insurance will enjoy extra care and treatments of higher quality.
People, relying on the basic public health insurance should have in mind that it does not fully cover many of the health treatments in hospitals or when visiting a dentist. A daily fee of 14 Euro is required in case you get hospitalized in a public hospital in Germany.
Bills for dental care are usually covered by the statutory (public) health insurance up to 70% of the full amount. The rest should be paid by the patient.
Healthcare in Germany vs the UK
There isn't any effective way to make precise calculations of which healthcare is more effective or pricy. Instead, you should focus on determining the factors that influence the cost of the insurance. In the UK, the cost of private healthcare varies mostly based on the personal information of a person's health status.
Getting a private insurance in Germany becomes possible after a precise determination of a person's risk profile. There is a criterion to meet in order to receive access to public health insurance benefits:

You have to earn more than 59,400 Euros per year (2018 figures)
Self-employed
Have a status of German civil servant
Working part-time and earn less than 450 Euros per month
Patients, being operated in Germany, share information that in the UK they have to wait for 3-4 weeks to get a date for the operation. In Germany, it is unusual to wait for getting a routine healthcare procedure. Germany also has more doctors and beds per number of population, compared to the UK.
Quality of Healthcare in Germany
Germany's healthcare is advanced and in various aspects offers more than the healthcare of other countries. An advantage is a diagnosis and long-term relationship between a patient and a doctor.

⅔ of the sick adults in Germany believe that their Healthcare does not need and structural changes, the rest think it should be reformed completely.
Germany provides the information, required from a patient more effective than a lot more countries in the world.
Germans are more likely to receive detailed information about the risk of their treatment prior to its completion.
Learn more facts about the German Healthcare system from a report by the US National Library of Medicine.
Working in Germany as a UK Citizen
For those with a UK citizenship, there is full permission for work in any country within the European Economic Area (EEA) as well as in Switzerland. Germany is not an exception and with citizenship from an EU country, you don't need a visa. One is required for those who move from the UK to Germany but are not UK citizens officially.
Staying more than 3 months in Germany requires registration with the German authorities a.k.a the Einwohnermeldeamt. Applying for a residence permit is not necessary for EU citizens.
Is it Easy to Get a Job in Germany
The current unemployment rate in Germany is 3.5% as of 2018, which ranks the country very high in terms of providing good opportunities for employment.
Workers who are most skilled in their job provide the best possibility for finding a job with a good environment for personal growth. If you don't know German, a competitive employer will provide you with anything necessary to get integrated into the country as quickly and as easy as possible.
UK citizens may greatly benefit from the service of EURES. This is the European Employment Services centre which is in fact controlled by the European Commission. EURES is basically a job portal network that organizes job fairs within German as well and may be of great help to UK immigrants who're looking for a job in Germany.
Check out the information, which EURES provides for the job market in Germany. If you prefer to go on a hunt for a job yourself, we highly recommend checking out the step by step guide on finding a work in Germany by Expatica.
Working in Germany Without Speaking German
German is the official language in the country. While most prefer to know at least some German, before moving to Germany from the UK, many others get to the country and start seeking a job without having even basic German language skills.
If you start work in an international company, most probably the internal communication will be conveyed in English. However, if you want to progress in your social efforts with other Germans or progress faster in the workplace, you will have to start learning German.
There is a good opportunity for government-subsidized language courses in Germany.
Average German Salary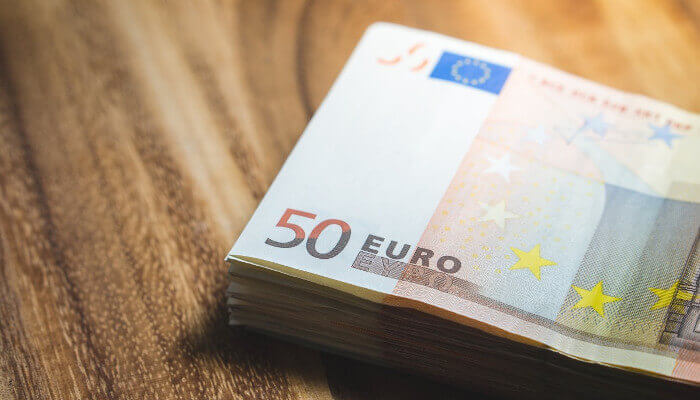 Image source: Pxhere / License: Public Domain
According to Payscale the average salaries in Germany for the following positions are as follows:

Business Development Manager – €52,390
Civil Engineer – €37,341
Information Technology (IT) Consultant – €53,351
Marketing Manager – €49,113
PHP Developer – €44,022
Project Engineer – €50,156
Project Manager, Information Technology (IT) – €60,149
SAP Consultant – €58,678
Browse all jobs offered on the website of Payscale and the average salaries for each in Germany, in case you're looking for any particular job position/professions.
Call Fantastic Removals to Assist!
Enter your postcode to view our rates and availability in your area.
German Teacher Salary
Germany's salaries for a teacher are among the highest in Europe. The total income for teaching in school is influenced by the amount of teaching time each teacher spends, but the fixed minimum salary is very high as well. A primary school teacher in Germany earns on average from 38 000 Euro up to more than 52 000 Euro/year.
The experience of the teacher results in higher payment proportionally to the length of service. However, in Luxembourg teachers are able to learn about twice as much as in Germany – up to 100 000 Euro/year.
On the other side of Europe, Balkan countries like Bulgaria have teachers working for the humiliating yearly income of approximately 5 000 Euro/year.
German Doctor Salary
Medical graduates in Germany have the privilege to earn some of the highest salaries in Europe for their job. Currently, a German doctor who has just graduated earn on the average 50 000 Euro/year. There is almost no other academic discipline which provides better opportunities for graduates when it comes to payment.
Check out the statistics for the German doctors' salaries by Glass Door to get a better insight on doctor salaries in Germany.
German Professor Salary
Germany professors are appointed by a specific scale known as the W scale. Junior academic teachers in the industry fall within the W1 salary scale and receive a salary of at least 3 500 Euro/month.
W2 professors earn an average 10-15% more and earn salaries up to 3 900 Euro/month.
W3 professors have a basic salary of about 5 000 Euro/month. Of course, there are performance bonuses, available to all German professors that have the potential to bring additional income into their budget.
Read more about how much academics earn in Germany.
Taxes During and After the Relocation to Germany
Leaving the UK doesn't mean you won't have to pay taxes there anymore. Anyone with a property in the UK, no matter his nationality, they still have to pay taxes for the ownership of the property. Having a double income – one from the UK and one for Germany also results in paying taxes in both countries.
Tax if You Leave the UK to Live Abroad
Leaving the UK and moving to Germany starts by notifying the HM Revenue and Customs about the reason of your leave. For business trips and holidays, there is no need to notify the HM Revenue and customs
Check out the complete procedure with the HMRC and the applications you'll need to fill if leaving the UK for a long period of time.
Tax on Your UK Income if You Live Abroad
Moving to Germany from the UK doesn't leave you irresponsible of taxes for your UK income. If you receive any financial resource from any of the following sources, you will be lawfully obliged to still pay taxes for it, no matter what you no longer reside in the UK:

Rental income
Pension
Savings interest
Wage from the UK
Since 2010 there is a double agreement between Germany and UK for double-taxation. Which means that if you live in Germany but also pay taxes in the UK, you are probably able to opt in for a tax relief procedure. See when and how you become subject to tax relief for your UK income when living abroad.
Paying Income Tax in Germany
The basic tax allowance in Germany, as in 2018 is 9 000 Euro/year for people who are not married. If you receive this amount or more than this, you are forced to pay a fixed percent of this income as taxes. It doubles for married people or for a couple who has a civil partnership – the allowance for such is 18 000 Euro/year. 14% tax on the income is applied to the minimum allowance, the more your income increases, the higher the tax amount becomes. The highest taxation available in Germany is 42% and is applied to individuals with an allowance in Germany of more than 250 731 Euro/Year for unmarried and 501 462 Euro/year for married couples.
Read more about taxation in Germany.
Pensions in Germany
The pensions system in Germany relies on 3 pillars. The first one is the mandatory state pension insurance. It's also known as the gesetzliche Rentenversicherung is the foundation of the social security system for retired people in Germany. Anyone working there pays a fixed percent from his income to cover their Basic pension insurance.
Second pillar – this one relies on voluntary insurance for a pension which is not mandatory but many Germans opt in for it, as an additional source of income after retirement.
Thirds pillar – private pension plan. We highly recommend a consultation with an expert before considering to spend any finances on a private pension. The requirements and conditions for this procedure are complex and often turn out to be not that beneficial as expected.
Read more about the private pension plans in Germany.
State Pension from the UK For People Retired Abroad
If you move to Germany from the UK after having retired in the UK, claim your state pension before moving abroad. Anyone who has paid the minimum amount of insurance contribution to the UK's state fund is able to receive a pension from there.
If only 4 months remain until you reach the age for a state pension in the UK, you'll be able to fill the application for the acquisition of the pension.
See how to go through the whole procedure of getting your UK state pension in case you have retired while living abroad.
State Pensions in Germany
Someone who has worked in Germany must meet and exact criteria of requirements before applying for state pension there. Applying for pension in Germany becomes available after working and paying taxes to the Deutsche Rentenversicherung Bund for at least 5 years, depending on the type of pension you want to receive.
The main factors which influence your German pension are:

Number of years paying taxes to the pension system
Age of the retired person
The average salary for a certain period of time
Currently, people in western parts of Germany receive a little higher pension but by 2025 both regions of Germany will get even in this aspect.
See the official website of the Deutsche Rentenversicherung Bund (German Federal Pension Insurance Fund) for more information on requirements and application of state pension in Germany.
What is the German pension age?
The current pension age in Germany is 65 years for men and women but is expected to increase up to 67 by 2029. Working in Germany for 35 years and making contributions to the state pension institution is a must in order to receive a pension. If you have done this, you will receive permission to get a state pension earlier at age of 63.
If you follow this procedure, the number of months required for the full pension will be subtracted from the amount of your state pension. You will receive a bit less compared to what you could get at the full pension age of 65 or 67 for those born after 1963.
It is possible to claim early retirement in Germany if you have made contributions for at least 35 years. The number of months between required age and the age at which you have actually retired will be deducted from your pension entitlement. As an example, retiring two years before the pension age could mean a reduction in your German pension of up to 14.5 percent.
However, if someone working in Germany has contributed to the state pension fund for 45 years, they are eligible to retire at 63. They can do it without having any German pension entitlement deducted.
Driving in Germany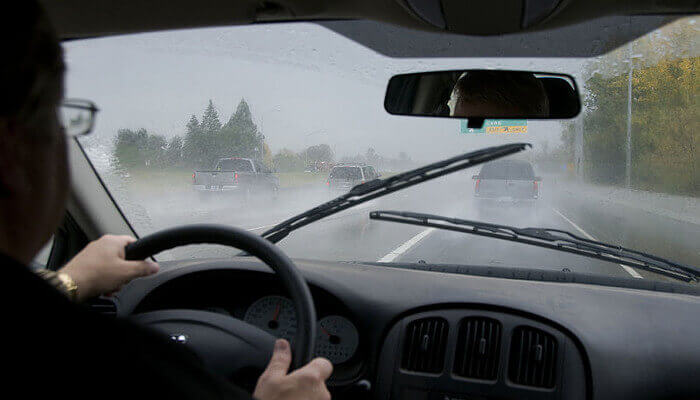 Image source: Wikimedia/ License: CC BY 2.0
After moving to Germany from the UK you can use your UK driving license without any worries. In fact, anyone who has EU citizenship and driving license from a country within the European Union is allowed to drive in Germany without getting a new driving license there.
Driving a vehicle registered anywhere else is easy to get tracked by German authorities via the DVLA. This means you should pay attention to the laws on the road there and watch for speed cameras and police patrols.
Requirements for Driving in Germany
Carrying a valid driving license with you is a must when you're on the road with a vehicle in Germany. If the vehicle is not yours officially, you must bring with you a permission from the registered owner who has given you the right to drive their vehicle.
You have to be at least 18 years old to drive a car in Germany without breaking the law. No one has the right to organize or take part in illegal races with motor vehicles of any kind on roads at the territory of Germany.
After moving to Germany from the UK with your UK-registered car you can drive the vehicle for up to 12 months without having to register it there. After one year, you need to contact the German authorities and officially register the vehicle within Germany.
Driving Rules in Germany
Driving on the right side of the road in Germany is a must. When you go there with your UK-registered vehicle you will start feeling a bit comfortable, which is normal. Overtaking on the left with a steering wheel on the right is a lot harder because visibility of the road is greatly reduced.
You can also overtake on the right but this is allowed to do in stationary traffic.
EEA and foreign driving licences represented by an international driving licence (IDP/IDL) are accepted in Germany
Don't forget to learn the driving rules in Germany when you are driving on an Autobahn. Here is the full set of rules for driving on a German Autobahn.
Driving Age in Germany
You can get a driving license in Germany even at 16 but without permission to drive anything else but a motorcycle with an engine up to 125 cm³. At 17, Germans are able to drive but with a guardian sitting next to them. At 18, driving is unrestricted but driving bigger vehicles such as buses requires an age of 21.
You need to finish high school and go through a theory and road test before obtaining a driving license in Germany. An eye examination is also a must as well as a first aid course that lasts up to 8 hours.
Driving in Germany in Winter
The requirements for driving during the winter season in Germany are strict and you should follow them for your own safety. There is a new German law, introduced 8 years ago, that when there are icy conditions, winter tires are a must, no matter the time of the year. The period between October and Easter is considered as the time of the year during which there is a risk of icy conditions on the road. Many Germans are used sticking to this simple rule and keep their winter tires for that period of the year.
Voting in Germany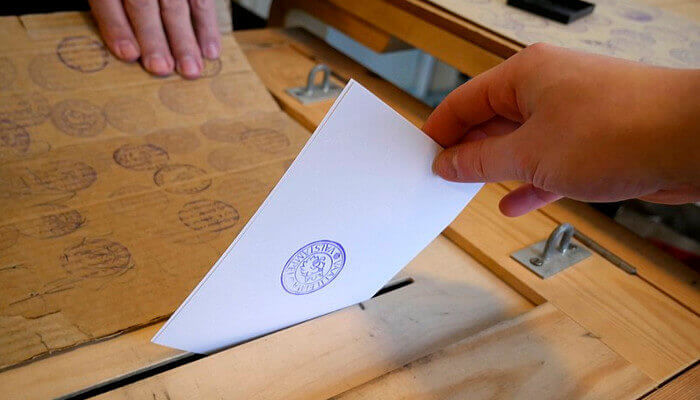 Image source: Wikimedia / License type: CC BY-SA 4.0
Citizens of an EU country who have spent 3 months in Germany have the right to vote there for some German elections such as:

Local communal election
European parliamentary elections
People who don't have citizenship within EU are not allowed to vote in Germany but may opt in for the Foreigner's Advisory Councils which deals with local politics. This will give them the opportunity to still take part in politics-related events happening in the area and express their political interests as immigrants.
Call Fantastic Removals to Help You Move to Germany
Enter your postcode to view our rates and availability in your area.
Voting in the UK from Germany as a Registered Overseas Voter
As a UK citizen, you can vote for UK elections even if you no longer live on the island. After moving to Germany anyone with UK citizenship has the option to apply for becoming an overseas voter. To get approved you have to be officially recognized by the UK government as a registered voter in the UK who has participated in UK Parliamentary elections for the last 15 years.
If such background is impossible because of your age, don't worry, application for overseas voter will still be approved as long as your parent in the UK was registered to vote there. Read more on how you can vote overseas.
Voting as a German Resident
The member of the German parliament is elected in two stages of voting. With the first vote is for choosing a direct candidate who gets a plurality vote in a specific election district. The other voting stage is for selecting a list of party members for each state. This results in half of the parliament getting filled with candidates from the first electoral stage, while the other half consists of people from the party list.
Learn more about the German electoral system.
Dealing with Birth Registration in Germany
If you give birth after moving to Germany from the UK, don't worry, the procedure of birth registration in Germany is not that complex. It can get messed up only if you don't know how to follow the procedure.
After giving birth, you'll have 7 days to complete the registration, so don't waste any time, we suggest going for it on the second or third day if you feel well. Registration can be completed by many people including:

Any of your parents
The obstetrician who attended the birth
The doctor who was there during the birth of your baby
Learn more about birth registration in Germany, especially if you are pregnant at the time of your relocation.
Renewing UK Passports from Germany
After moving from the UK and establishing in Germany, at some point your UK passport will expire. You don't have to get back to the UK in order to renew it. Don't ignore the expiration of your UK passport at any cost. You need the passport even in Germany for plenty of administrative work.
Apply instantly online on the UK government's website for passport renewal from overseas.
Moving to Germany With a Pet – Transportation and Pet Care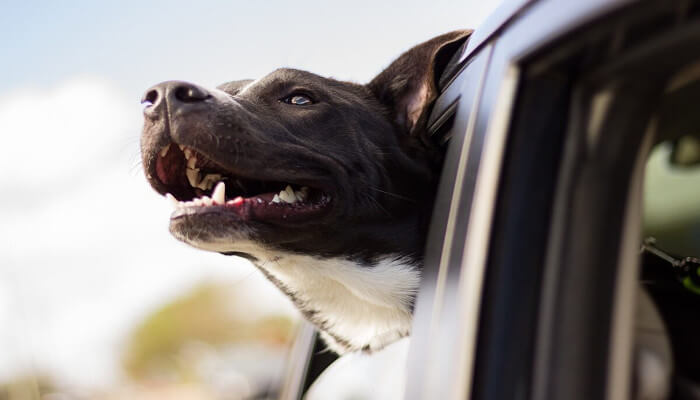 Image source: Pxhere / License type: Public Domain
Anyone entering Germany can bring with them up to five animals, which are considered as part of their personal items. All such animals should officially be family pets and should be transported to Germany for the sole purpose of being companions. It's illegal to trade or sell any of them.
When moving from the UK to Germany, take in mind the EU regulation for importing pet animals. According to this regulation, animals such as cats, dogs, and ferrets must be certified for having taken a rabies shot 30 – 365 days before you take the animal with you in Germany. There's also a law for microchip implants on certain pets that make their location identification a lot easier.
Some pets up to 10lbs may be taken into with the passenger in the passenger cabin but this rule is not valid for any pets. Larger animals are considered as a "live cargo" and the airline should have specified pet kennel for pets of larger size. Read more about taking a pet abroad.
Germany Pet Health Certificate
The pet passport is a must for any pet owner residing in countries within the EU. Traveling with your pets requires you to carry the documents of your pets with you as they serve for their legitimation.
Pet passports provide essential information if the pet has a microchip implanted for easier tracking or a tattoo number for better identification. Any records for vaccines and treatments are listed in the pet's passport as well. The customs agents at an airport will certainly check these documents, take them with you when moving to Germany with your pets.
Learn more about how to take care of your pet and get a health certificate for it while in Germany.
Emergency Numbers in Germany – How to Call for Help Quickly
Don't expect to never have any troubles once you move to Germany. Currently, there are plenty of reasons you may need to call an emergency number there. You have to be prepared to act quickly in an urgent situation for your own safety and for the safety of others.

Call 110 to reach the police department in Germany.
Dial 112 for the fire brigade and the German ambulance service.
Public call boxes are free of charge when someone dials emergency numbers.
Do not worry if your German skills are poor. The emergency line may be answered in English and other EU languages as the call centre are successfully utilizing speech interpreters.
Accommodation and Buying Property in Germany
Short after arriving in Germany you will be forced to find a place for living. The options are either buying your own property, which is not the best option for an immigrant who has just arrived or finding accommodation. Each choice has its pros and cons and we have analyzed some of them for your convenience while moving from the UK to Germany.
Buying Property in Germany
Buying is certainly a more tedious task than renting. You will have to work with local retail agents as no one in Germany buys directly from the owner. The only way to avoid a real estate agency is to look for a private sale, which in Germany is labelled as "von Privat" or "privatverkauf". If you see these words online or at advertisements, this means you'll be able to skip working with a real estate agency when buying this particular property.
Learn more about buying a property in Germany.
Returning to the UK – How to Get Back to the UK With Minimum Hussle
Many of those who move from the UK to Germany decide to get back to their motherland at some point. There is a strict procedure to follow when leaving Germany if you have registered yourself there already.
Contact your local registration office known as "Einwohnermeldeamt". The staff there will guide you through the procedure of deregistration. You also need to apply similar changes to your personal health insurance, bank, and local service accounts that you have registered with your German details of residence.
One of the final steps is to redirect your German pension to the UK if you have earned the right to have one. See how to do this at the official website of the International Pension Centre.
See tax if you return to the UK.
See bringing your pet to the UK.
Call Us for Your International Move!
Enter your postcode to view our rates and availability in your area.